Walter Chimborazo The Tortoise Expert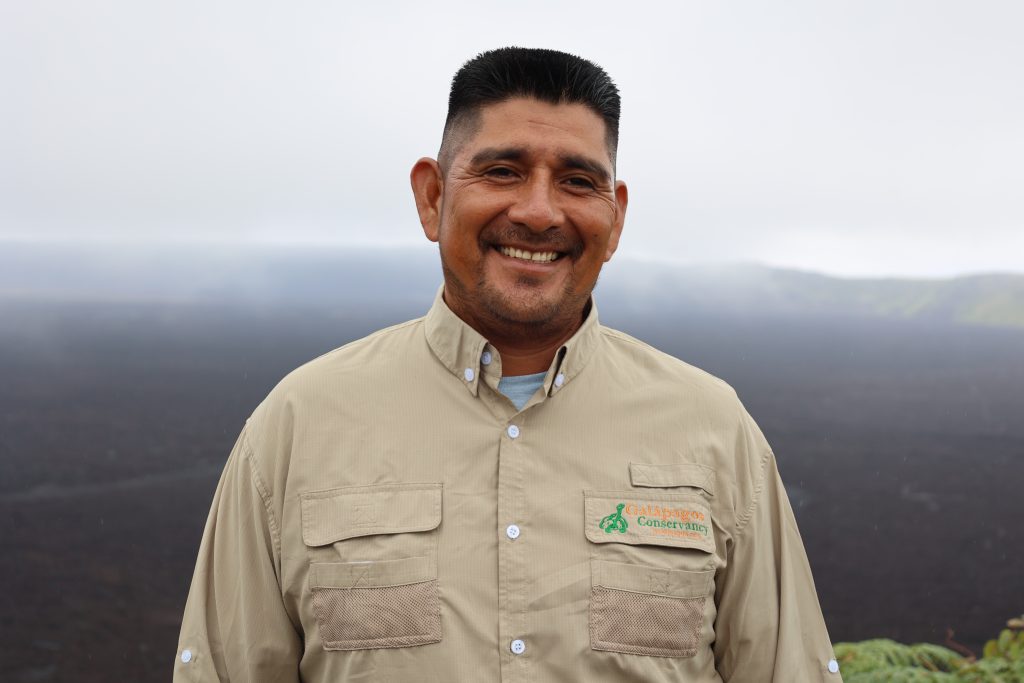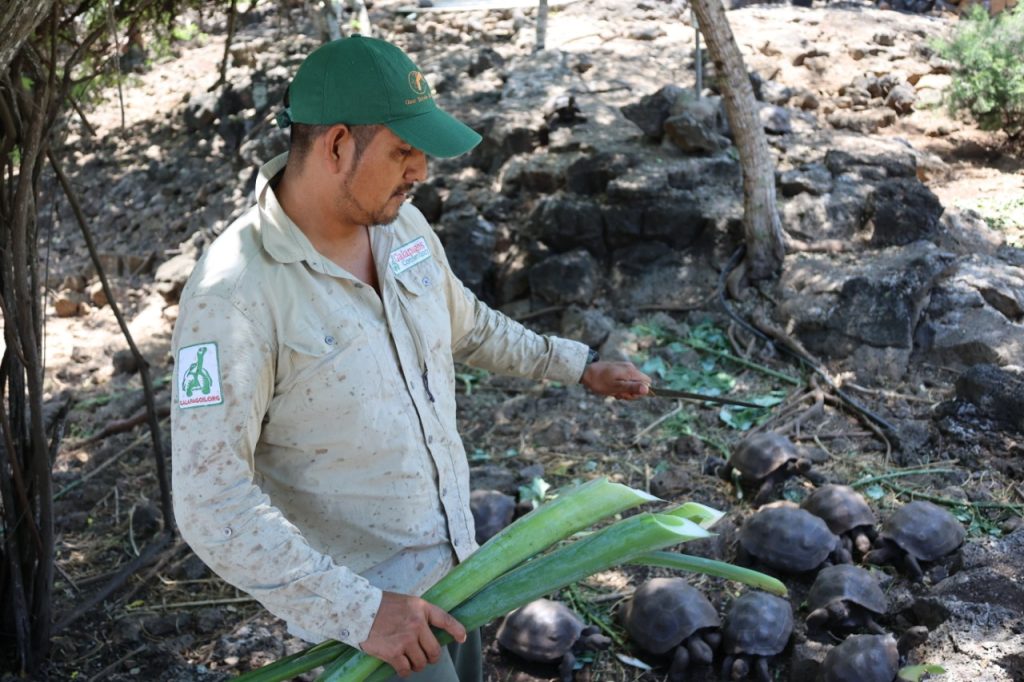 Almost every day you can find me, Walter, at the Fausto Llerena Giant Tortoise breeding center on Santa Cruz Island. I work alongside other field assistants from the Galápagos National Park Directorate to restore the most iconic endangered species of Galápagos by ensuring their daily needs are met.
On Mondays, Wednesdays, and Fridays, the animals are fed, mainly fresh plants such as Porotillo (Common Coral Bean) and Otoy (Arrowleaf). On non-feeding days, we focus on maintaining the tortoises' corrals, which we set up to be as natural as possible. Everything inside the corrals must be cleaned regularly, including the platforms on which the tortoises feed, as well as the pools they use to cool down their body temperatures and quench their thirst. Vegetation control is also a regular task, especially in the corrals where adult tortoises live. It is important that they get enough sunlight to regulate their body temperatures which requires access to sunny spaces that the plants have not taken over.
The hard day-to-day work to raise these tortoises begins at 7:00 AM and ends at 5:00 PM. Some weeks, especially during nesting season, I can work seven days in a row, checking on eggs kept in incubators and adjusting machine temperatures for optimal incubation.
My favorite thing about this work is seeing the tortoises grow, a privilege not afforded to many people. But now, through the new and innovative sponsorship program, people can adopt a Giant Tortoise of their own and watch them thrive in the breeding center before release. Visit adopt.galapagos.org to care for these incredible animals with me.
"Walter Chimborazo, together with our Park Rangers, collaborates in the specialized care of the Giant Tortoises of Galápagos. His contribution to the conservation of this species is very important to us. We are grateful to have him and Galápagos Conservancy on our side."
Walter Chimborazo El experto en tortugas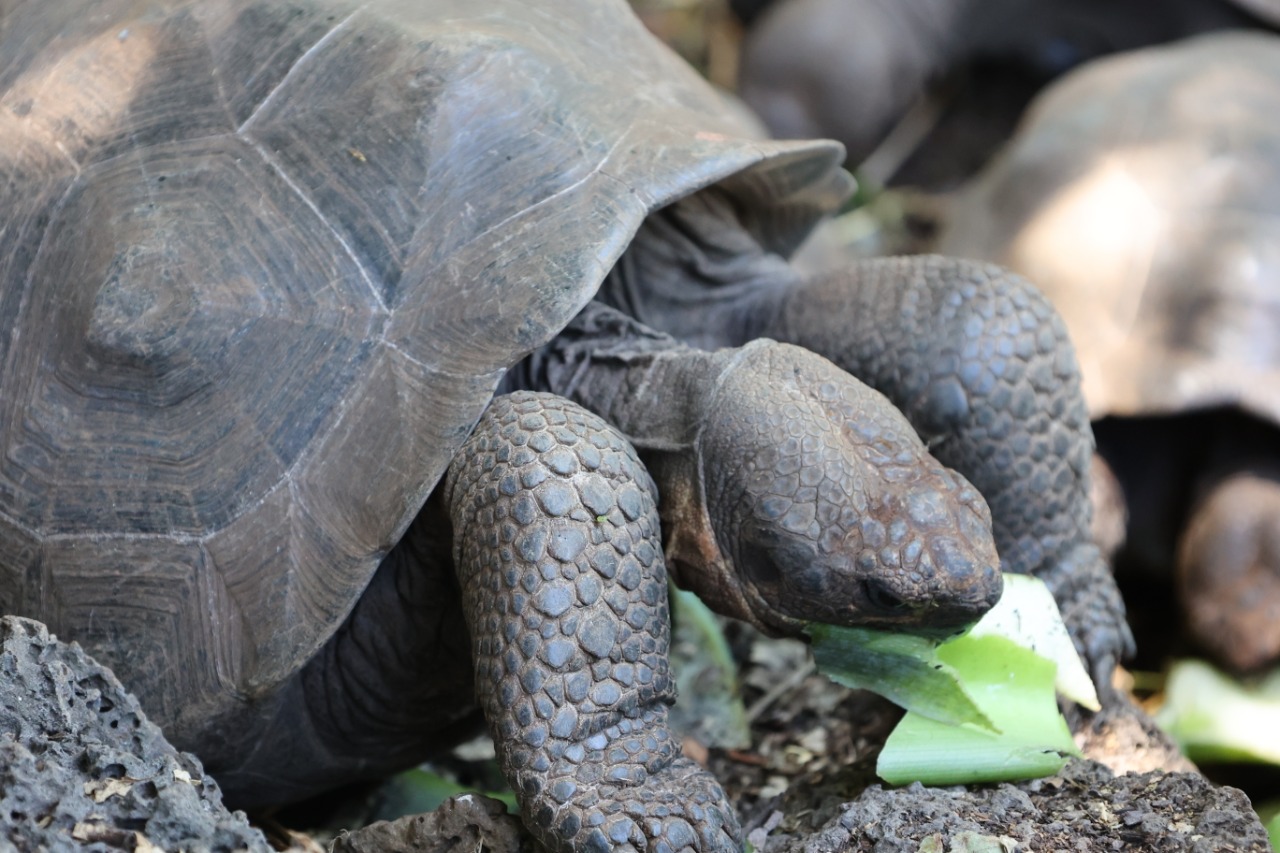 Soy Walter y puedes encontrarme casi todos los días en el Centro de Reproducción y Crianza de tortugas gigantes Fausto Llerena, en la isla Santa Cruz. Trabajo con los técnicos de la Dirección del Parque Nacional Galápagos en la recuperación de la especie más emblemática y en peligro de extinción de Galápagos, para asegurar que sus necesidades diarias sean atendidas.
Los lunes, miércoles y viernes alimentamos a las tortugas, principalmente con plantas frescas como el Porotillo y el Otoy. Los otros días nos enfocamos en el mantenimiento de los corrales de las tortugas para que se asemejen lo más posible a su hábitat natural. También nos encargamos de limpiar con regularidad el interior de los corrales, incluidas las plataformas en las que se alimentan las tortugas, así como los estanques que utilizan para refrescar su temperatura corporal y saciar su sed. El control de la vegetación también es una tarea regular, especialmente en los corrales donde viven las tortugas adultas. Es importante que reciban suficiente luz solar para regular su temperatura corporal, esto requiere limpiar las plantas para asegurar el libre acceso a espacios soleados.
Este arduo trabajo diario para la crianza de las tortugas comienza todos los días a las 7:00 de la mañana y termina a las 5:00 de la tarde. Algunas semanas, especialmente durante la temporada de anidación, trabajo  los siete días seguidos, controlando los huevos que se guardan en las incubadoras y ajustando su temperatura para una incubación óptima.
Lo que más me gusta de este trabajo es ver crecer a las tortugas, ciertamente es un privilegio que muy pocos lo pueden tener. Pero ahora, a través del nuevo e innovador programa de apadrinamiento, la gente puede adoptar una tortuga gigante y ver su crecimiento en el Centro de Crianza antes de su liberación. Visita adopt.galapagos.org para que juntos cuidemos a estos increíbles animales.
"Walter Chimborazo, junto a nuestros guardaparques, colabora en el cuidado especializado de las Tortugas Gigantes de Galápagos. Su contribución a la conservación de esta especie es muy importante para nosotros. Estamos agradecidos de tenerlo a él y a Galápagos Conservancy de nuestro lado."
The Latest Conservation News from Galápagos