Tackling Invasive Plants and Restoring Native Flora on Santa Cruz Island
Date: December 6, 2022.
//Versión en español abajo.//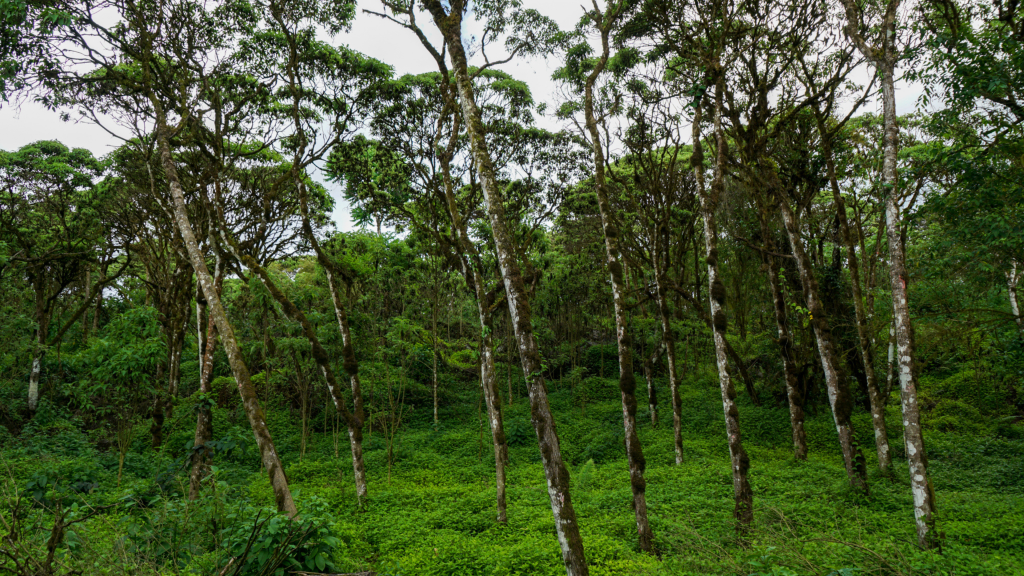 Throughout 2022, Galápagos Conservancy through the Celebrity Fund  has worked with the Galápagos National Park Directorate (GNPD) to control invasive plants and restore native flora on Santa Cruz Island. 
The Galápagos Islands are home to approximately 900 species of introduced plants (now outnumbering native species), 50 of which are highly invasive. On Santa Cruz Island, fast-spreading invasive plants threaten biodiversity in the Scalesia forest around the twin craters of Los Gemelos.
The GNPD team removed invasive plants from nearly 90 acres around Los Gemelos to mitigate their destructive effects and prevent spreading. These included the most aggressive invasive species: blackberry (Rubus niveus), elderberry (Cestrum auriculatum), cedrela (Cedrela odorata), elephant grass (Pennisetum purpureum), and cascarilla (Cinchona succirubra). 
This joint effort by Galápagos Conservancy and the GNPD resulted in the reforestation of almost 7,000 native and endemic plants in the area of Los Gemelos and Salasaca:
3,858 Lechoso (Scalesia pedunculata)
2,280 Cafetillo (Psychotria rufipes) 
509 Darwinian daisies (Darwiniothamnus tenuifolius)
111 Darwinian shrubs (Pleuropetalum darwiniii)
In addition, park rangers manually introduced plants in the nesting sites of the Galápagos Petrels (Pterodroma phaeopygia), which are listed as critically endangered on the IUCN Red List. Conservation of these sites is critical because fast-growing invasive plants, such as blackberries, can make it impossible for the endemic seabirds to access their nests.
Dr. Jorge Carrión, the Director of Conservation for Conservando Galápagos, a Galápagos Conservancy partner, celebrates this achievement as invasive species pose not only a great threat to flora and fauna, but also the local economy. "We are committed to Galápagos and will continue to assist the GNPD in the fight against invasive species," Carrión said.
Invasive species are one of the biggest threats to native and endemic plants and wildlife in Galápagos. Galápagos Conservancy is proud to be involved in projects that support our mission to protect and rewild the unique ecosystems of the islands.
Help us protect Galápagos from invasive species.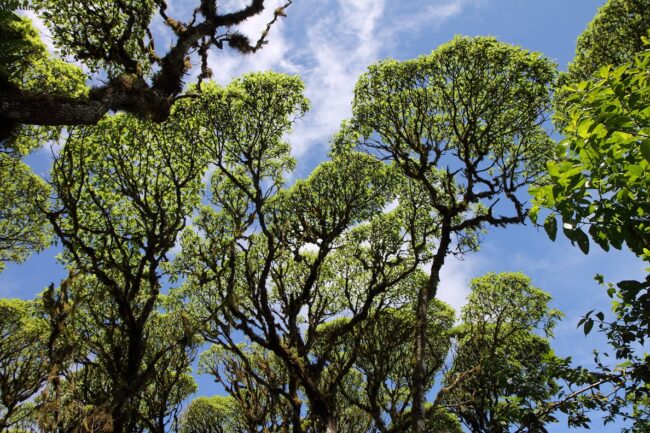 En Santa Cruz continúa el proceso de restauración de zonas de alto valor ecológico 
Durante el año 2022, Galápagos Conservancy a través del Celebrity Fund continuó apoyando a la Dirección del Parque Nacional Galápagos (DPNG), en sus esfuerzos para la restauración ecológica de sitios de alto valor ecológico en la islas Santa Cruz, mediante acciones de control de plantas invasoras y la posterior siembra de especies nativas y endémicas propias de cada zona. 
Según los registros de la DPNG, se estima que en Galápagos hay al menos 900 especies de plantas introducidas, superando a las especies nativas y endémicas de las islas, 50 de las cuales son altamente invasivas. Las especies invasoras tienen una gran capacidad de dispersión, lo cual hace que colonicen e invadan rápidamente las áreas donde arriban, como ha sucedido en la zona de Scalesia en la Isla Santa Cruz. 
Durante este período el equipo de la DPNG eliminó las plantas invasoras en un área de 34,25 hectáreas en el bosque de Scalesia de Los Gemelos para evitar su proliferación y disminuir los efectos negativos de su invasión. Las especies eliminadas fueron mora (Rubus niveus), sauco (Cestrum auriculatum), cedrela (Cedrela odorata), pasto elefante (Pennisetum purpureum), y cascarilla (Cinchona pubescens), las cuales son altamente invasoras. 
Posterior a las acciones de control de especies invasoras, el equipo contratado por la DPNG con fondos provistos a través de Galápagos Conservancy plantó 3.858 plantas de Lechoso (Scalesia pedunculata), 2.280 de Cafetillo (Psychotria rufipes), 509 de Margarita de Darwin (Darwiniothamnus tenuifolius) y 111 de perlas negras (Pleuropetalum darwinii), todas endémicas de Galápagos
Por otro lado, con la intención de proteger al Petrel de Galápagos (Pterodroma phaeopygia), especie endémica y en peligro crítico de extinción según la Lista Roja de la UICN, los guardaparques realizaron control manual de plantas introducidas en los sectores donde anida esta especie.
El Director de Conservación de Conservando Galápagos, filial de Galápagos Conservancy, Dr. Jorge Carrión, felicitó este logro, considerando que  Galápagos así como muchos archipiélagos a nivel mundial sufre los efectos de las invasiones biológicas, lo que constituye uno de los mayores peligros no solo para la flora y fauna de Galápagos, sino para las actividades productivas.
Las especies invasoras son una de las mayores amenazas para las plantas y la fauna endémica del Archipiélago. Galápagos Conservancy se enorgullece de participar en proyectos que apoyan nuestra misión de proteger y recuperar los ecosistemas propios de las islas. 
Ayúdanos a proteger a Galápagos de las especies invasoras. 
The Latest Conservation News from Galápagos