GNPD Reintroduces 461 Land Iguanas to Santiago Island
Rangers with the Galápagos National Park Directorate (GNPD) have reintroduced 461 land iguanas (Conolophus subcristatus) from North Seymour to Santiago Island to continue an ecological restoration project designed to return a species that went extinct on Santiago.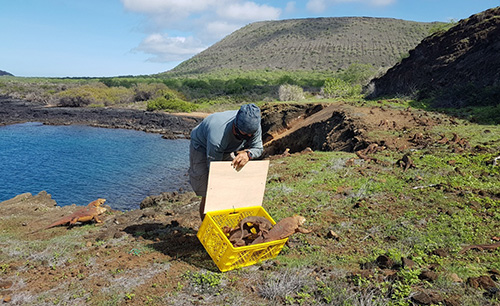 The iguanas were released in Puerto Nuevo, a site selected to meet the natural habitat conditions needed by the species, following a thorough quarantine process, the recording of morphometric data, physical examinations, deworming and marking with an identification chip.
Danny Rueda, director of the Galápagos National Park, commented: "This action will allow a species considered extinct to be returned to Santiago Island, and the relocation of this species from North Seymour Island is part of an action plan that will allow an ecosystem balance to be restored to this region of the Archipelago. In the coming weeks, rangers will return to the release zone to evaluate the adaptation of the reptiles to their new habitat."
At the end of 2020, a monitoring effort was carried out that revealed that the reptiles were successfully established approximately two miles from the beach where they were released. During monitoring activities, the rangers recorded data such as burrows, possible nesting areas, juvenile iguanas and food availability.
The process of ecological restoration of Santiago Island began with management measures such as the eradication of feral pigs, donkeys and goats in recent decades. In January 2019, Santiago Island received the first group of land iguanas, whose adaptation has already benefited the island.
Based on a news release from the GNPD, translated with their permission.
The Latest Conservation News from Galápagos