Galápagos Damsel in Distress
//Versión en español abajo.//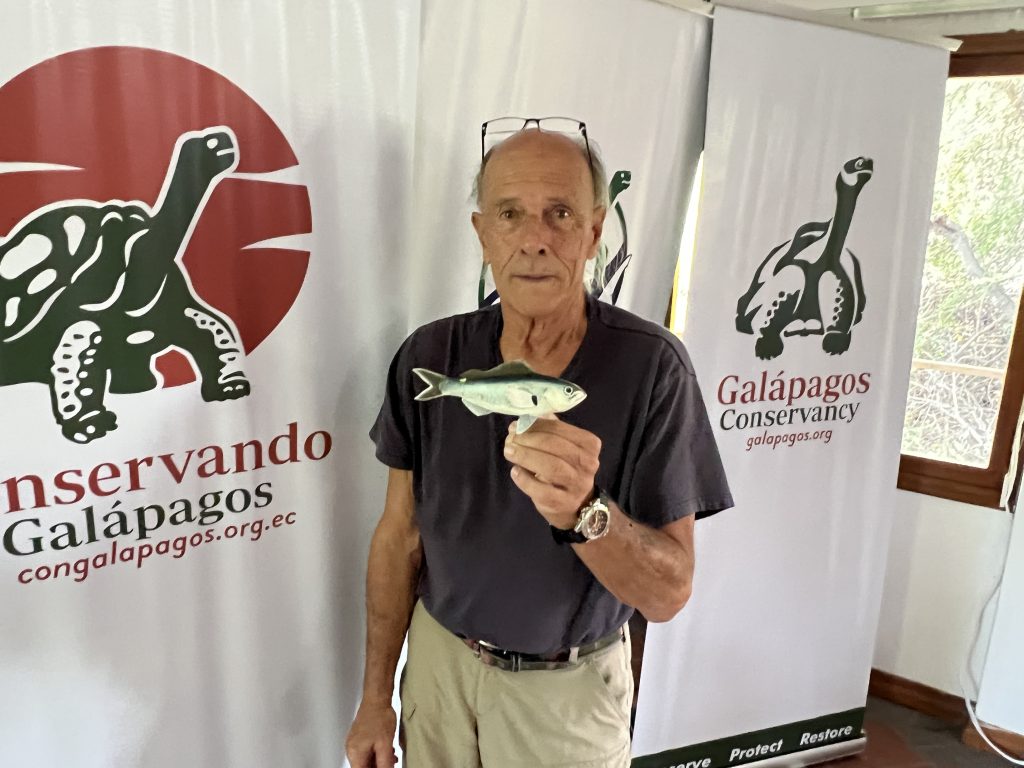 The Galápagos Damsel (Azurina eupalama), a silvery sardine-like fish found only in Galápagos, may have gone extinct. This fish was commonly seen by snorkelers in the shallow water just west of Pinnacle Rock at Bartolomé Island prior to the severe 1982-83 El Niño event. The increase in the temperature of Galápagos waters during that El Niño event caused a sharp decrease in plankton production that lasted over a year. Many plankton-eating fish species, such as the Galápagos Damsel, suffered as a result. Before this event, the Galápagos Damsel had previously been recorded in many regions of Galápagos, including around Floreana, Isabela, San Cristóbal, Santa Cruz, and Santa Fé Islands.
Despite intensive searches in the last three decades, no Galápagos Damsels have been found. It is a conspicuous fish that forms large schools in nearshore waters and is hard to miss if it is present. On March 27, 2008, the species was classified as "Critically Endangered (Possibly Extinct)" on the International Union for Conservation of Nature (IUCN)'s Red List of Threatened Species. In September 2022, an IUCN workshop on Santa Cruz Island reviewed the status of all endemic Galápagos fish species and concluded that the Galápagos Damsel's status could be Extinct. But in order to officially recognize this tragic status, the IUCN is awaiting a final search.
The Galápagos Damsel reaches a length of 15 centimeters. It is olive-gray with a blue tinge, silver accents, and a black spot at the base of each pectoral fin. It has a prominent lateral line. It is our great hope that this lovely Damselfish will once again be found in the Archipelago.
Galápagos Conservancy is supporting efforts for one last major search of the Galápagos Marine Reserve in the hope of finding the Galápagos Damsel. Saving species is one of the three pillars of Galápagos Conservancy's mission, and stories like that of the Galápagos Damsel are why we work every day to prevent the extinction of endemic species in Galápagos.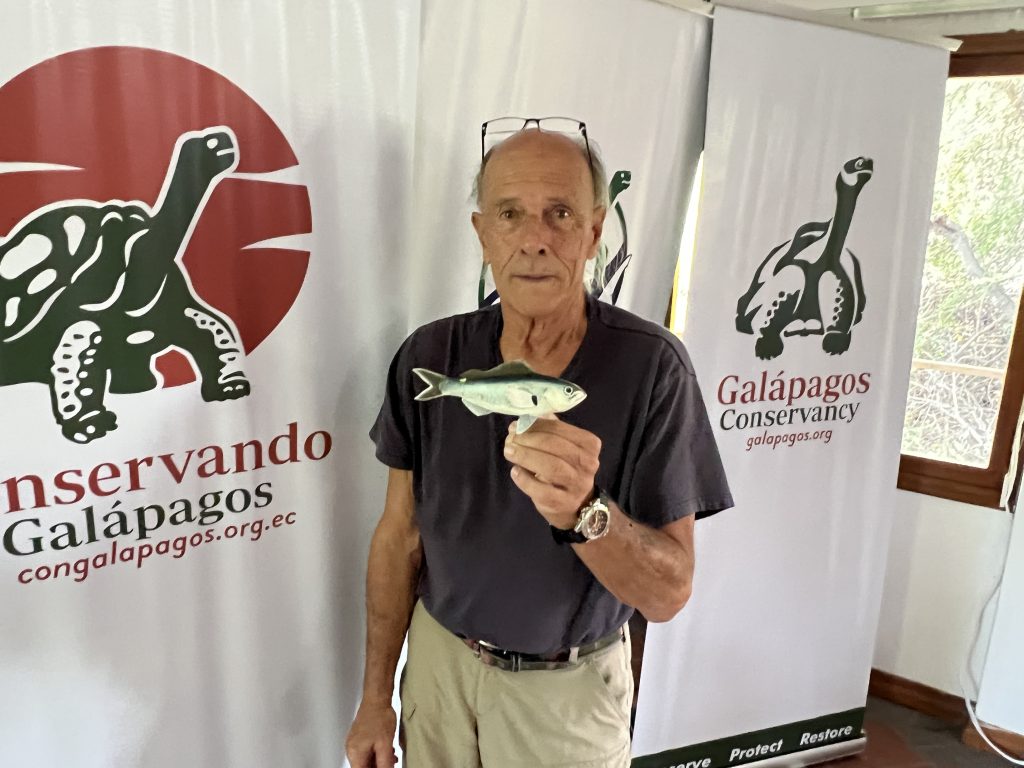 Tres décadas sin ver a la damisela de Galápagos
La damisela de las islas Galápagos (Azurina eupalama), una especie de pez plateado parecido a la sardina, endémica de este archipiélago, tristemente podría estar extinta. Expertos aseguran que antes del evento de El Niño de 1982-83 los buzos solían observar frecuentemente a este pez en aguas poco profundas al oeste del Pináculo de la isla Bartolomé. Sin embargo, el aumento de la temperatura de las aguas durante estos años causó una disminución importante en la cantidad de plancton marino disponible en el Archipiélago, afectando a los peces damisela y otras especies, cuya alimentación depende del plancton. Antes de este fenómeno, había registros de la presencia de esta especie de damiselas en muchas zonas del archipiélago, incluidas las islas Floreana, Isabela, San Cristóbal, Santa Cruz y Santa Fe.
La damisela de las Galápagos era conocida por su llamativo color y por formar grandes bancos de peces en aguas costeras. Sin embargo, a pesar de las intensas búsquedas realizadas en las últimas tres décadas, no se ha encontrado ningún individuo de esta especie. 
En marzo de 2008, la damisela de Galápagos fue clasificada como especie "En peligro crítico (posiblemente extinta)" en la Lista Roja de Especies Amenazadas de la Unión Internacional para la Conservación de la Naturaleza (UICN). Este cambio de estatus se debió a que en los últimos años no se habían registrado avistamientos de esta especie. 
En septiembre de 2022, en un taller de la UICN, realizado en la isla Santa Cruz, los expertos revisaron el estado de las especies de peces endémicos de Galápagos y concluyeron que el pez damisela A. eupalama podría estar extinto. No obstante, antes de declarar oficialmente extinta a esta especie, la UICN espera los resultados de una búsqueda final.
El pez damisela de Galápagos alcanza una longitud de 15 centímetros, y tiene un característico color gris oliva con matiz azul, detalles plateados y una mancha negra en la base de cada aleta pectoral con una línea lateral prominente. Es nuestra esperanza que este encantador pez damisela sea visto nuevamente en el archipiélago.
La posible extinción de la damisela de Galápagos es una triste noticia para la conservación y también nos alerta sobre la importancia de seguir sumando esfuerzos para proteger y conservar la fauna y flora endémica de las islas. Es esencial además fortalecer y continuar con las investigaciones y búsquedas que permitan determinar el estado real de esta especie y al mismo tiempo, también es crucial tomar medidas que aseguren la conservación de las especies en peligro de extinción.
Galápagos Conservancy está financiando una última y exhaustiva búsqueda en las aguas de la Reserva Marina de Galápagos con la esperanza de encontrar al pez damisela. Salvar especies es uno de los tres pilares de la misión de nuestra organización, e historias como las de la damisela de Galápagos son la razón por las que trabajamos con pasión cada día para evitar la extinción de especies endémicas de este maravilloso Archipiélago de Galápagos.
The Latest Conservation News from Galápagos