Galápagos Conservancy Awarded Top Rating for Efficiency, Accountability, and Transparency
This month, the largest and most-utilized evaluator of charities, Charity Navigator, awarded Galápagos Conservancy their top 4-star rating. Since 2001, the independent Charity Navigator evaluates over 160,000 nonprofits each year, using 27 metrics to assess fiscal management, accountability, and transparency.
Only ten other mid-sized nonprofits working internationally within the Environmental Protection and Conservation category have this exceptional high rating.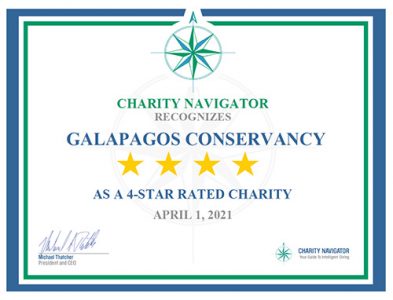 "This is our highest possible rating and indicates that your organization adheres to sector best practices and executes its mission in a financially efficient way," said Michael Thatcher, Charity Navigator's President and CEO. "Attaining a 4-star rating verifies that Galápagos Conservancy exceeds industry standards and outperforms most charities in your area of work. This exceptional designation from Charity Navigator sets Galápagos Conservancy apart from its peers and demonstrates to the public its trustworthiness."
With a mission to "make impactful philanthropy easier for all," Charity Navigator works to advance a more efficient and responsible philanthropic marketplace.
"We are extremely proud to be recognized as one of the most efficient and effective conservation organizations in the U.S." said Galápagos Conservancy President Dr. Paul Salaman, "Our mission to protect the unique biodiversity and ecosystems of Galápagos is achievable only through the generosity of our supporters, and this 4-star rating is a testament to our commitment to use their funding wisely for conservation action in Galápagos. We are grateful to those that invest in our programs that save endangered wildlife, restore land- and seascapes, and contribute towards a sustainable future for this world treasure."
Read Galápagos Conservancy's Charity Navigator assessment here.
The Latest Conservation News from Galápagos