In Search of the Endemic Rodents of Santa Cruz, Santiago, and San Cristóbal Islands
Date: 11/9/2022
//Versión en español abajo.//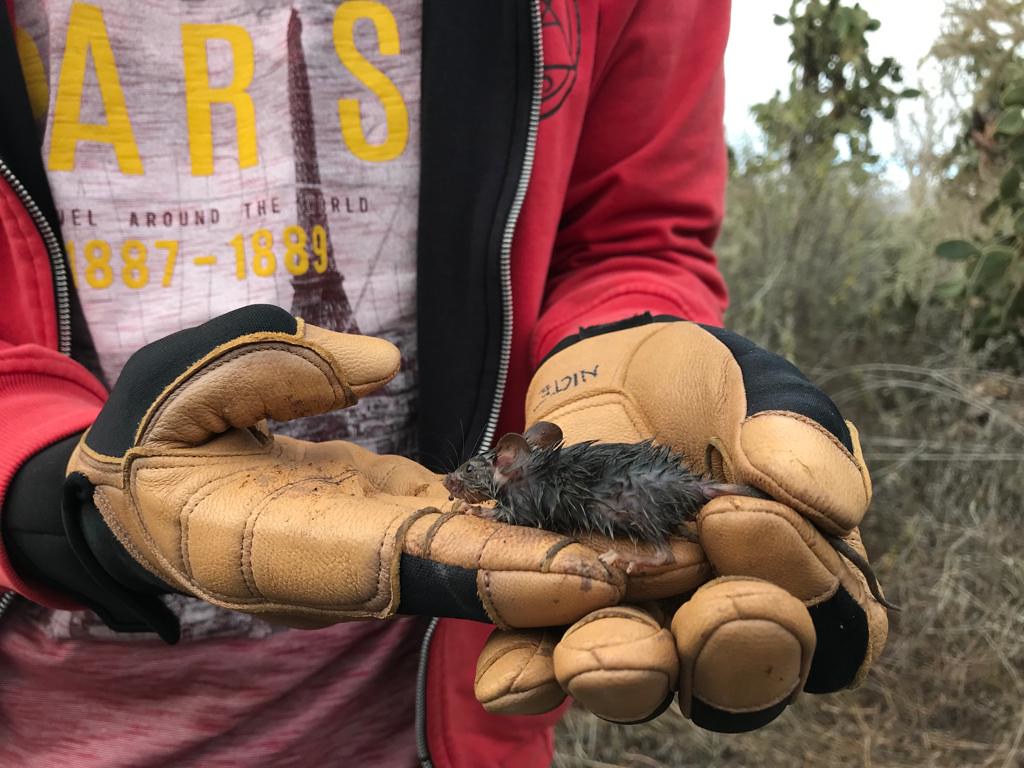 The endemic rodents of the Galápagos Islands have experienced among the highest extinction rates of any animal group (Clark 1984; Dowler et al. 2000). Galápagos Conservancy has been funding surveys since March of this year to locate remnant populations of the native rodents, also known as Galápagos rice rats. The surveys are looking for the species Aegialomys galapagoensis on San Cristobal Island and Nesoryzomys indefessus and Nesoryzomys darwini on Santa Cruz Island, which are currently considered extinct on both islands, as well as monitoring populations that still persist of the endemic Santiago rat Nesoryzomys swarthi.
The biologist Johanna Castañeda, a resident of the Galápagos Islands, is leading the surveys with support from a conservation grant from Galápagos Conservancy. Surveys may yield rediscoveries of species thought extinct as well as produce results to update the conservation status of and provide the environmental authority with strategies for restoration of the species that persist.
Three genera of rice rats are known from Galápagos: Nesoryzomys, Aegialomys, and Megaoryzomys (the latter considered extinct), which diversified into 13 endemic species. Of these, nine species are now considered extinct, and four are classified as vulnerable (Weksler 2006; Harris and McDonald, 2007; Jiménez-Uzcátegui et al., 2007). The decline and, in many cases, extinction of these species are related to the introduction of exotic rodents (black rats and house mice), predators such as the feral cats, diseases, and possibly climate change (Clark 1980; Harris and McDonald, 2007).
Sampling stations were set up by Johanna Castañeda with Tomahawk and Sherman traps baited with a mixture of peanut butter, oatmeal and vanilla essence. "Most of the sampling was carried out in drier areas of islands dominated by the presence of prickly pear cacti, but on Santa Cruz Island we also monitored the Los Gemelos area, where the Scalesia forest dominates; we chose this site because a relatively recent record of the endemic species was identified in the digital science platform iNaturalist," she reported.
So far, the research results show that the three introduced rodent species (Rattus rattus, Rattus norvegicus and Mus musculus) coexist in Santa Cruz and San Cristóbal, but no evidence of the persistence of the endemic species.
On Santiago Island, the endemic species are restricted to the Prickly Pear cactus and Palo Santo tree zone on the north-central coast (Harris 2006). Despite the existence of black rats and house mice, the endemic species, N. swarthi, was found to have healthy body weights. A higher number of females and sub-adult males were also recorded in the endemic species than in the introduced species, possibly because N. swarthi is better adapted to surviving on the limited resources that occur in their habitat during the cold season.
Based on the results obtained so far, a more intensive survey scheme is recommended for San Cristóbal and Santa Cruz. Health status of the N. swarthi population are also recommended to examine if disease is being transferred from the introduced rodents. Expanding the search for N. swarthi to other areas of Santiago Island should be conducted, and more in-depth studies carried out on the ecological role of the endemic rodents on each of the islands where they are still present.
"This study is significant because it redirects attention to endemic rodents, one of the least studied groups in all of Galápagos, which are important for maintaining the balance of ecosystems. We recognize Galápagos Conservancy for the trust placed in professional residents in Galápagos for the resources provided for the implementation of this research of the imperiled native rodents of the archipelago," emphasized Johanna.
For Dr. Jorge Carrión, Conservation Director of Galápagos Conservancy, research is a fundamental conservation tool since having up-to-date information on the status of Galápagos species is essential for implementing management measures, "which is why we are pleased to support this type of study led by Galápagos professionals," he said.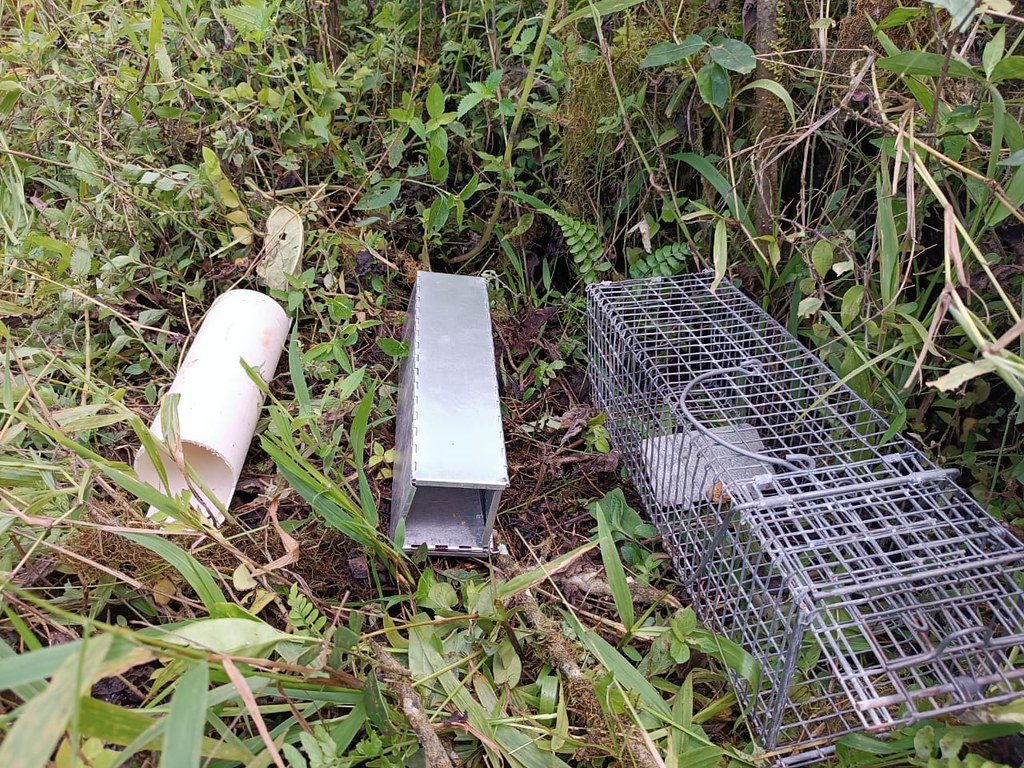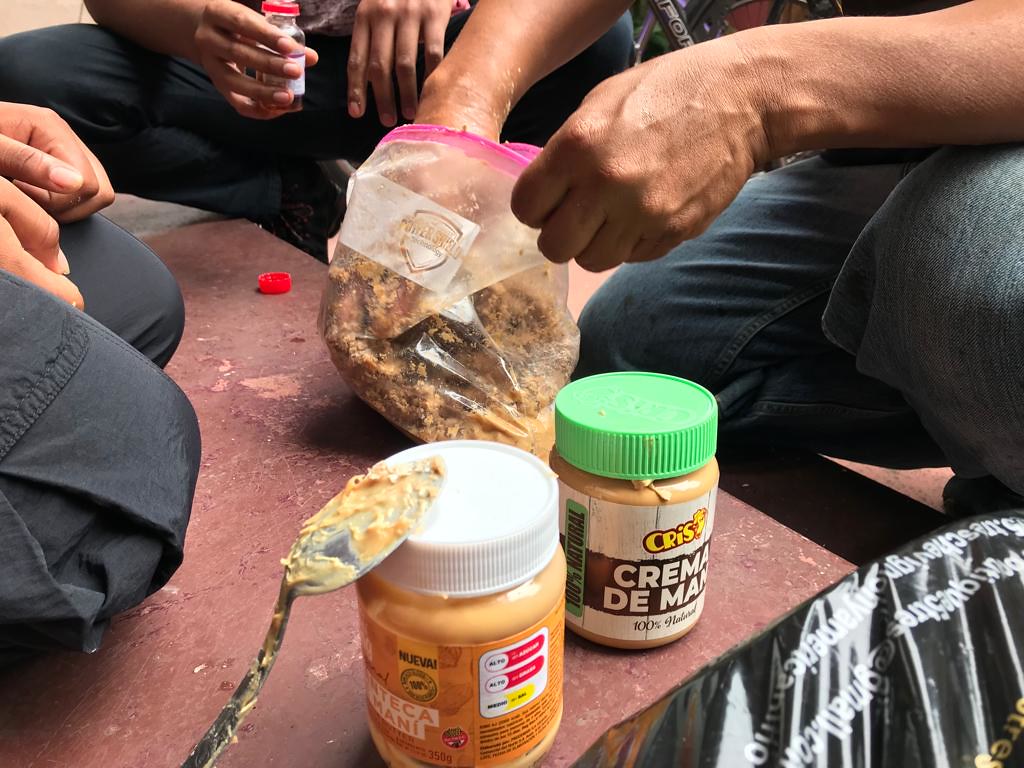 En búsqueda de los roedores endémicos de Santa Cruz, Santiago y San Cristóbal
Estudios indican que el grupo de roedores endémicos de Galápagos ha experimentado la tasa de extinción más alta que cualquier otro taxón de vertebrados (Clark 1984; Dowler et al. 2000), por este motivo, Galápagos Conservancy financia desde marzo del presente año una investigación con la finalidad de localizar poblaciones remanentes de las ratas costeras también conocidas como ratas arroceras de Galápagos, de las especies Aegialomys galapagoensis en la isla San Cristóbal, Nesoryzomys indefessus y Nesoryzomys darwini en la isla Santa Cruz, consideradas actualmente extintas en ambas islas. Por otro lado, la investigación también centra su atención en monitorear poblaciones  de la rata endémica de Santiago Nesoryzomys swarthi. 
La Blga. Johanna Castañeda, es residente de las islas Galápagos y lidera esta investigación en base a una subvención de conservación otorgada por Galápagos Conservancy y sus resultados permitirán actualizar el estado de conservación de estas especies de roedores endémicos y además proporcionar a la autoridad ambiental estrategias para su manejo.
Galápagos registra tres géneros de ratones arroceros: Nesoryzomys, Aegialomys y Megaoryzomys (Este último considerado extinto), los cuales se diversificaron en 13 especies endémicas. De estas, nueve especies se consideran extintas y cuatro están catalogadas como vulnerables (Weksler 2006; Harris and McDonald, 2007; Jiménez-Uzcátegui et al., 2007). La extinción y/o declive de las poblaciones de estas especies están relacionadas con la introducción de roedores exóticos (Rattus sp. y Mus musculus), predadores como el gato (felis catus), enfermedades y cambio climático (Clark 1980; Harris y McDonald, 2007).
Johanna explica que para la captura de los roedores se instalaron estaciones de muestreo con trampas Tomahawk y Sherman, cebadas con una mezcla de mantequilla de maní, avena y esencia de vainilla. "La mayor parte de los muestreos se llevaron a cabo en áreas dominadas por la presencia de cactus del género Opuntia; en la isla Santa Cruz, también se monitoreó la zona de los Gemelos la cual es dominada por Scalesia, escogimos este sitio porque se identificó un registro relativamente reciente de la especie endémica en la plataforma digital de ciencia iNaturalist," informó. 
Hasta el momento, los resultados de la investigación evidencian que en Santa Cruz y San Cristóbal coexisten las tres especies de roedores introducidos (Rattus rattus, Rattus norvegicus y Mus musculus) sin indicios de la presencia de las especies endémicas.
Mientras que en la isla Santiago, la especie endémica se encuentra restringida a la zona de Opuntia y Bursera graveolens en la costa centro norte (Harris 2006). A pesar de la existencia de Rattus rattus y Mus musculus, se encontró a la especie endémica, N. swarthi registrando pesos altos en machos y hembras. También se registró un mayor número de hembras y machos subadultos en la especie endémica que de las especies introducidas, posiblemente porque N. swarthi está mejor adaptada a la limitación de recursos durante la temporada fría. 
Con base en los resultados obtenidos hasta el momento, se recomienda establecer un esquema de monitoreo más continuo en San Cristóbal y en Santa Cruz para incrementar el esfuerzo de búsqueda. También se exhorta a verificar el estado de salud de la población de N. swarthi a través de la toma de muestras de ectoparásitos, sangre y heces, comparándolas con las introducidas. Según los expertos involucrados en esta investigación, es necesario además ampliar la búsqueda de N. swarthi a otras zonas de la isla Santiago y realizar estudios más profundos en cuanto al rol ecológico que desempeñan los roedores endémicos en cada una de las islas en donde aún se encuentran presentes.
"Este estudio es muy importante, pues redirige la atención a los roedores endémicos, uno de los grupos menos estudiados en todo Galápagos, los cuales son importantes para mantener el equilibrio de los ecosistemas, por eso agradecemos a Galápagos Conservancy por la confianza depositada en los profesionales galapagueños y por los recursos brindados para la ejecución de este proyecto de investigación y conservación", enfatizó Johanna.
Para el Dr. Jorge Carrión, Director de Conservación de Galápagos Conservancy y su filial Conservando Galápagos, la investigación es una herramienta fundamental de conservación, pues disponer de información actualizada sobre el estado de las especies de Galápagos es elemental para la implementación de medidas de manejo, "por eso nos complace apoyar este tipo de estudios liderados por profesionales galapagueños," señaló.
The Latest Conservation News from Galápagos