Ecological monitoring in Baltra and North Seymour Islands
//Spanish version bellow.//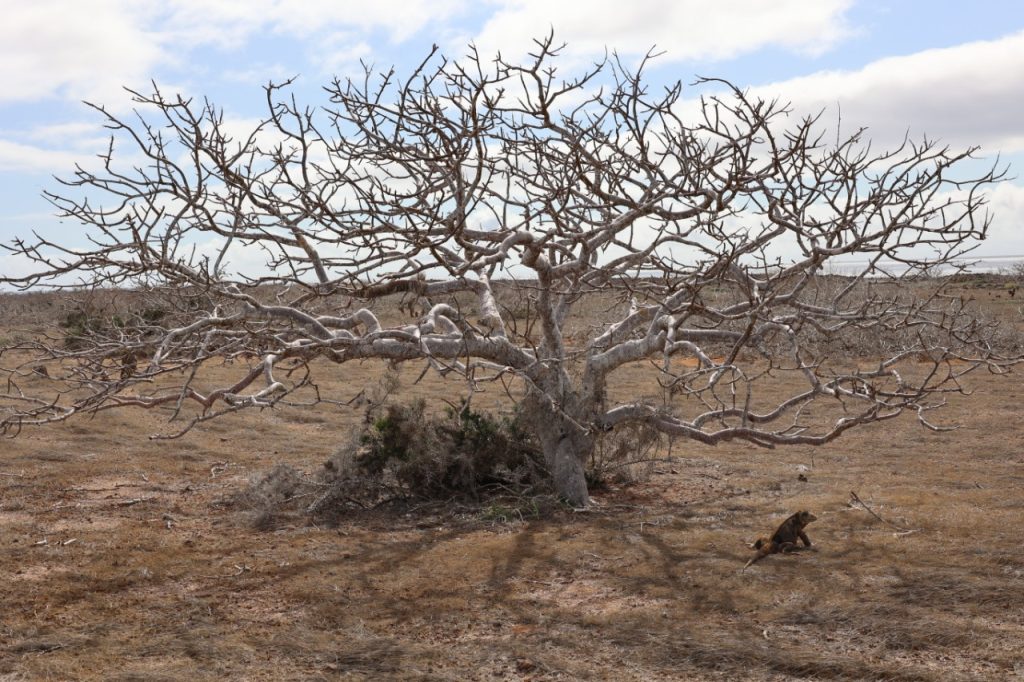 A team of 30 people, including park rangers and scientists from Galápagos Conservancy and the Charles Darwin Foundation, monitored 6770 acres between Baltra and North Seymour Islands to learn about the status of the populations of several ecosystem engineering species such as Land Iguanas, Opuntia cacti and various woody plant species. Ecosystem engineering species are those whose activities play integral roles in the health of their habitats.
The results obtained from this intensive fieldwork will allow the Galápagos National Park Directorate (GNPD) to make informed management decisions to guarantee, in the case of North Seymour, the maintenance of the island's ecological integrity and, in the case of Baltra, direct the process for its ecological restoration.
Washington Tapia, General Director of Galápagos Conservancy, indicated that similar work was done ten years ago but that it was a census focused solely on Land Iguanas, and "now several plant species have been incorporated that are important for their role in the dynamics of the ecosystem of these islands and as such, knowing their status will allow us to provide more precise recommendations for their management," he said.
Dr. James Gibbs, Vice President of Science and Conservation of Galápagos Conservancy, highlighted the recovery evidenced in the population of Land Iguanas (Conolophus subcristatus) on Baltra Island, with an estimated population of around 2,467 individuals, while on North Seymour a population of at least 3,930 iguanas was estimated.
"In the case of Baltra Island, the success in the recovery of the iguana population — which until a few decades ago was extinct — is the result of the conservation efforts of the GNPD in cooperation with the Ecuadorian Air Force and other entities such as the Charles Darwin Foundation," Gibbs noted.
The monitoring of ecosystem engineering species is part of the activities of Iniciativa Galápagos, which is carried out jointly between the Galápagos Conservancy and the Galápagos National Park Directorate and seeks the long-term restoration of the integrity of the ecosystems of the Galápagos archipelago.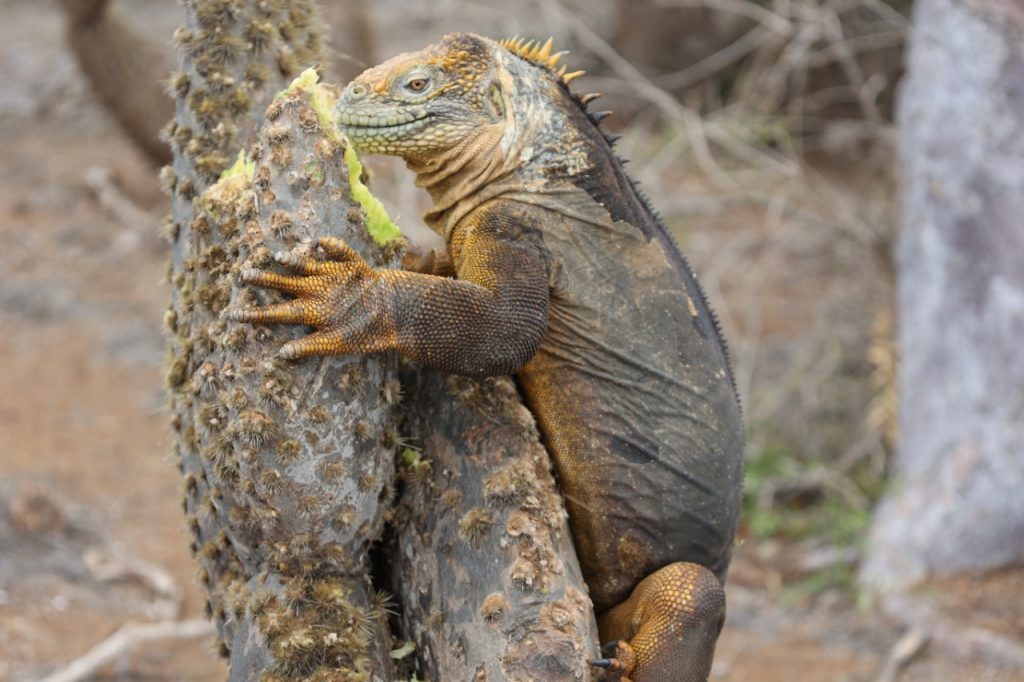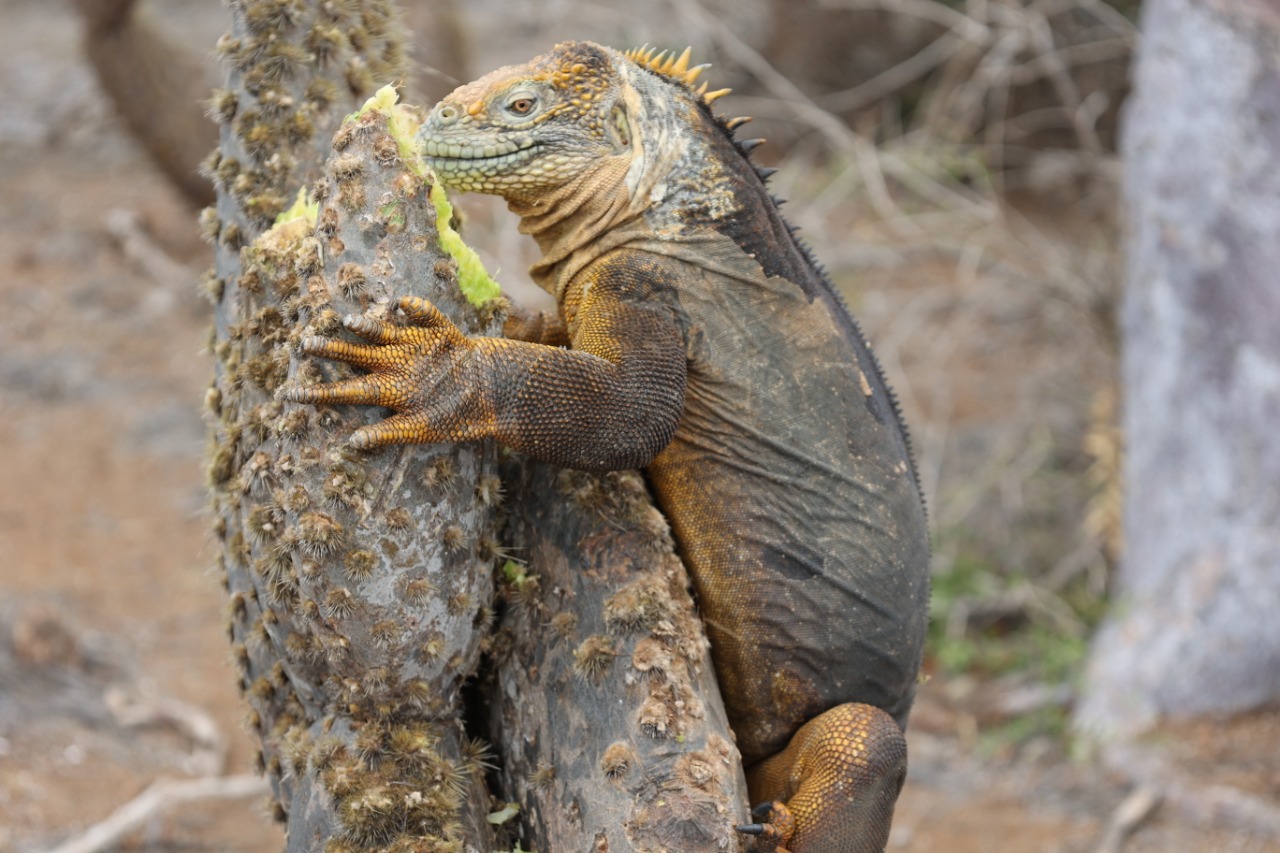 Monitoreo ecológico en las islas Baltra y Seymour Norte
Un equipo de 30 personas entre guardaparques y científicos de Galápagos Conservancy y la Fundación Charles Darwin monitorearon 2740 hectáreas entre las islas Baltra y Seymour Norte para conocer el estado de las poblaciones de algunas especies ingenieras de sus ecosistemas como iguanas terrestres, cactus Opuntia y varias especies leñosas.
Los resultados obtenidos de este trabajo intensivo permitirán a la Dirección del Parque Nacional Galápagos tomar las medidas de manejo informadas para garantizar, en el caso de Seymour Norte, el mantenimiento de la integridad ecológica de la isla y, en el de Baltra, direccionar el proceso para su restauración ecológica.
Washington Tapia, Director General de Galápagos Conservancy, indicó que hace diez años se hizo un trabajo similar, pero que fue un censo enfocado únicamente en iguanas terrestres, "ahora se incorporó varias especies vegetales que son importantes por su rol en la dinámica de los ecosistema de estas islas y como tal conocer su estado, permitirá brindar recomendaciones más precisas para su manejo", señaló.
Por otro lado, el Dr. James Gibbs, Vicepresidente de Ciencia y Conservación de Galápagos Conservancy resaltó la recuperación evidenciada en la población de iguanas terrestres Conolophus subcristatus en la isla Baltra, con una población estimada de alrededor de 2.467 individuos, mientras que en Seymour Norte se estimó una población de al menos 3.930 iguanas.
"En el caso de la isla Baltra, este éxito en la recuperación de la población de iguanas que hasta hace pocas décadas estuvo extinta, es el resultado de los esfuerzos de conservación de la DPNG en cooperación con la Fuerza Aérea Ecuatoriana y otras entidades como la Fundación Charles Darwin", destacó Gibbs.
Los trabajos de monitoreo de especies ingenieras del ecosistema es parte de las actividades del programa denominado Iniciativa Galápagos, el cual se ejecuta en conjunto entre Galápagos Conservancy y la DPNG y busca a largo plazo la restauración de la integridad de los ecosistemas del archipiélago de Galápagos.
The Latest Conservation News from Galápagos