ARTE + VIDA (ART + LIFE) = Creative Conservation in Galápagos
Date: 6/20/2023.
//Versión en español abajo.//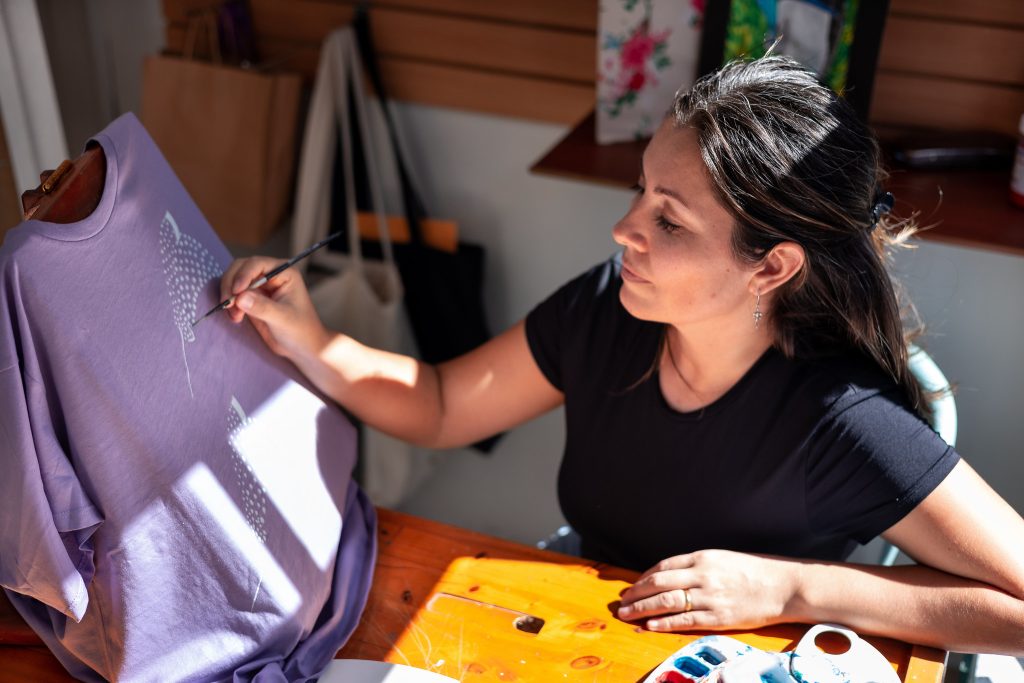 Galápagos Conservancy is pleased to highlight the inspiring story of Vanesa del Valle Enrique, a Galápagos local who has been leading an innovative project called ARTE + VIDA since November 2022. With the support of Galápagos Conservancy's conservation grants, Vanesa transforms discarded materials into works of art that beautify the environment and promote care for the archipelago.
ARTE + VIDA focuses on creatively upcycling tin cans, glass jars, cardboard, and scraps of fabric and old clothes into paintings that Vanesa hopes will create an aesthetic and expressive space that inspires the community. By transforming discarded materials into artworks, Vanesa contributes to reducing waste and pollution while fostering environmental awareness and appreciation of the beauty of Galápagos.
The ARTE + VIDA founder is a passionate advocate for conservation, and her initiative not only promotes creative reuse of traditional waste materials but also educates and encourages the local community to care for and protect the archipelago. Her work is a shining example of how entrepreneurial ideas can make a difference in conserving the Enchanted Islands.
Galápagos Conservancy is honored to support individuals like Vanesa as they bring their innovative projects to life. We thank Vanesa and everyone involved with ARTE + VIDA for their valuable contribution to Galápagos conservation, which exemplifies the local community's commitment to protecting this natural gem.We will continue working together for this marvelous archipelago, fostering innovation and creativity to conserve its beauty and biodiversity for future generations.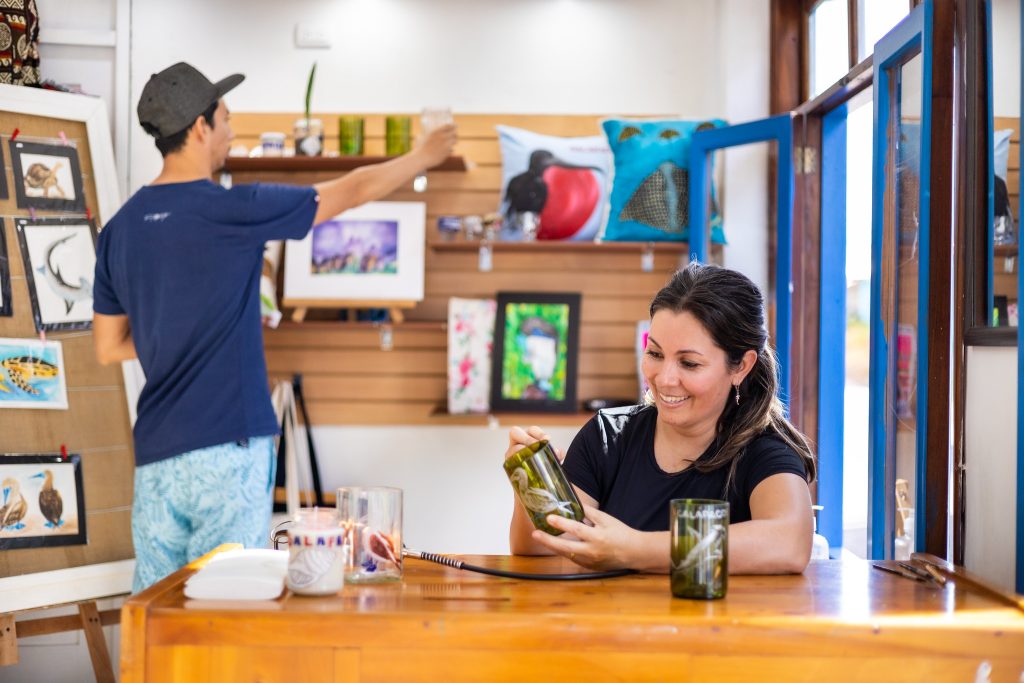 Fomentando la Innovación para la Conservación de las Islas Galápagos
Galápagos Conservancy se complace en destacar la historia inspiradora de Vanesa del Valle Enrique, una residente permanente de Galápagos que lidera un proyecto innovador llamado ARTE + VIDA desde noviembre de 2022. Con el apoyo de las subvenciones de conservación de Galápagos Conservancy, Vanesa convierte materiales desechados en obras de arte que no solo embellecen el entorno, sino que también fomentan la recreación y el cuidado del archipiélago.
ARTE + VIDA se enfoca en la reutilización creativa de latas de conservas, frascos de vidrio, cartón y retazos de tela y ropa vieja. El proyecto de Vanesa busca crear un espacio estético y expresivo que inspire a la comunidad a través de la pintura. Al transformar estos materiales desechados en obras de arte, Vanesa contribuye a un entorno libre de contaminación, al tiempo que fomenta la conciencia ambiental y la apreciación de la belleza en Galápagos.
La fundadora de ARTE + VIDA es una mujer apasionada por la conservación, su iniciativa no solo promueve la reutilización creativa, sino que también educa y empodera a la comunidad local para cuidar y proteger el archipiélago. Su trabajo es un claro ejemplo de cómo las ideas emprendedoras pueden marcar la diferencia en la conservación de las islas encantadas.
Galápagos Conservancy agradece sinceramente a Vanesa y a todos los involucrados en ARTE + VIDA por su valiosa contribución al cuidado de las riquezas naturales de Galápagos. Su dedicación y esfuerzo son inspiradores y ejemplifican el compromiso de la comunidad local en la protección de este tesoro natural único.
En Galápagos Conservancy, estamos comprometidos con la protección y conservación de Galápagos, y nos sentimos honrados de apoyar a personas como Vanesa y proyectos como ARTE + VIDA. Continuaremos trabajando juntos en beneficio de este maravilloso archipiélago, impulsando la innovación y la creatividad para conservar su belleza y biodiversidad para las generaciones futuras.
The Latest Conservation News from Galápagos