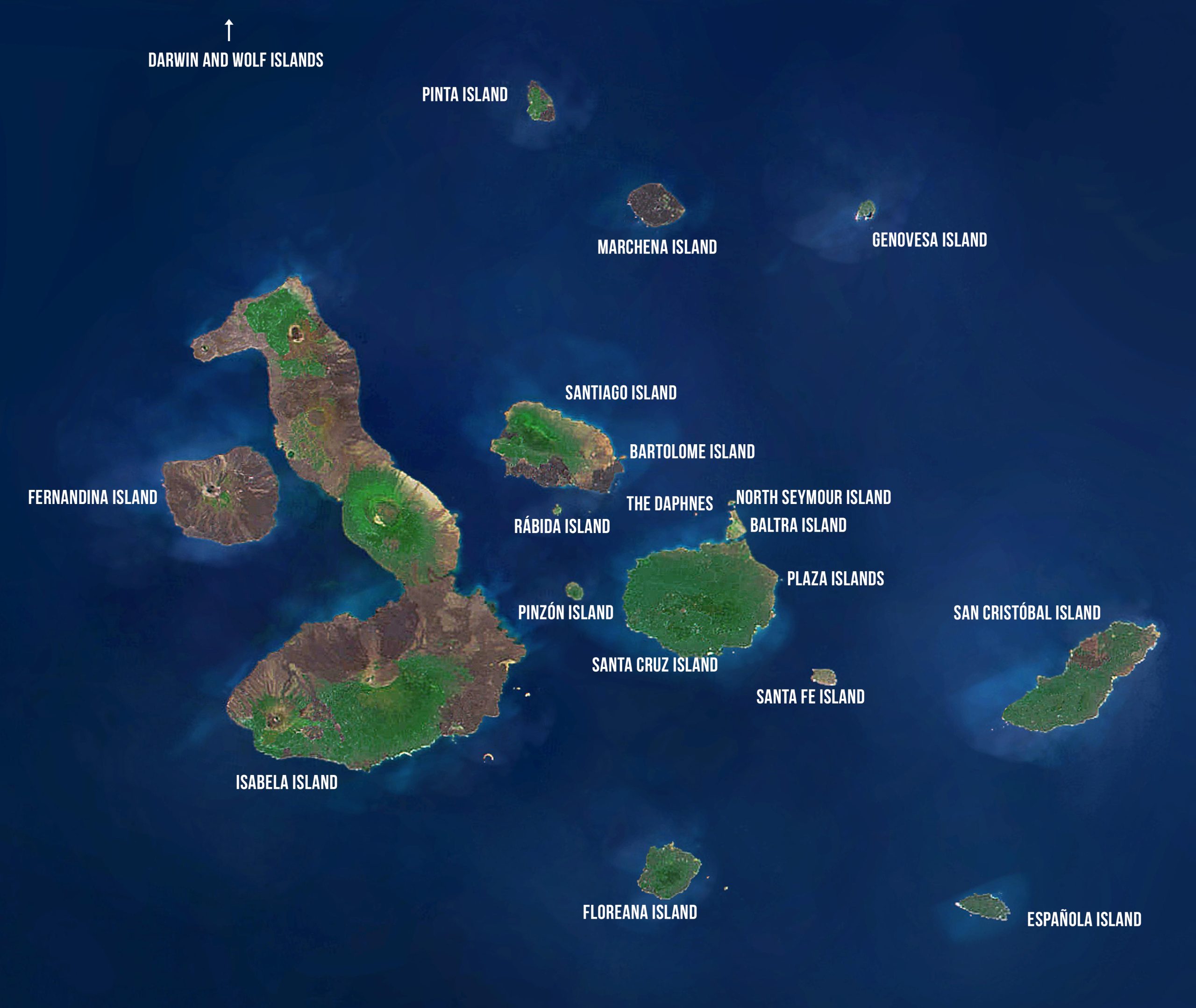 Area: 2.33 km2 or 0.9 mi2
Maximum Altitude: 168 m or 550 ft
Human Population: 0
HISTORY
Darwin Island (also known as Culpepper Island, after the famous naturalist and English Lord Culpepper) was named after Charles Darwin. Its exceptional underwater life is an important reason that Galapagos is considered one of the Seven Underwater Wonders of the World. It is the northern-most island, located some 160 km NW of Isabela on the Wolf-Darwin volcanic ridge. Darwin and Wolf Islands are the most remote in the archipelago, with Darwin about 21 km to the north of Wolf. Large schools of Hammerhead Sharks frequent the waters around Darwin Island. The first terrestrial visit to Darwin Island took place in 1964 with the aid of a helicopter. Darwin, like Wolf Island, is the tip of a massive, mostly subsurface volcano that rises over 1,000 m above the sea floor. Now extinct, it is estimated to be from 400,000 to 1.6 million years old.
TODAY
Darwin Island is inhabited only by sea birds and is rarely visited by tourists other than master divers. There is no terrestrial visitor site on the island. The island is well-known among divers for its diverse and abundant marine wildlife. It is not unusual to see large schools of Hammerhead Sharks. A main attraction of this tiny island is the impressive stone arch formation, known as Darwin Arch. This arch is home to many endemic birds. Darwin Island is the only island in the archipelago where the Sooty Tern (Sterna fuscata) breeds.
CONSERVATION CHALLENGES
Given the great distance from the central islands, both Darwin and Wolf Islands are vulnerable to unregulated fishing and dive tourism. To improve management in the area, in the fall of 2008, the Galapagos National Park established a permanent floating base at Wolf Island for patrolling these northern waters.
Marine Site: Darwin Arch
A small islet off the southeast coast of Darwin Island, Darwin Arch is one of the best dive sites in the archipelago. Whale sharks and large schools of Hammerhead Sharks are the principal draw to this site. Also present are sea turtles, manta rays, dolphins, large schools of pelagic fish species, as well as other species of sharks.
The Latest Conservation News from Galápagos