Celebrity Cruises Galápagos Fund Helps Renovate Galápagos National Park Plant Nursery
Date: 5/30/2023.
//Versión en español abajo.//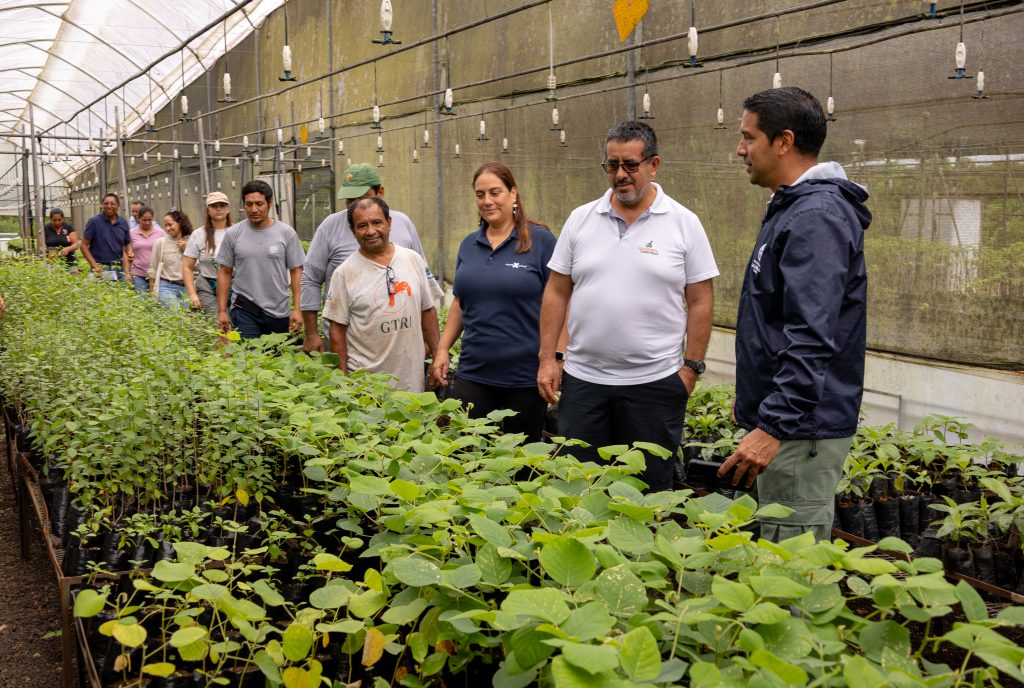 Since 2006, Celebrity Cruises has partnered with Galápagos Conservancy to protect and preserve the Islands through the Celebrity Cruises Galápagos Fund, which has raised over $1.5 million in contributions from Celebrity and its guests. As fund administrator, Galápagos Conservancy recently allocated resources to carry out comprehensive maintenance and improvements at the plant nursery of the Galápagos National Park Directorate (GNPD), located in the highlands of Santa Cruz Island.
Washington Tapia, General Director of Galápagos Conservancy, stated that the maintenance and additional works at the nursery are of great importance, as the seedlings grown at the greenhouse are later replanted as part of restoration projects, such as the unique Scalesia forest in Los Gemelos. The new plantings restore natural ecosystem dynamics, including providing shelter, food, and other resources to threatened species, such as finches, vermilion flycatchers and the Galápagos hawk.
Rehabilitation of the plant nursery will allow for the expansion of the restoration project for Scalesia pedunculata and other unique species in the Archipelago, thanks to a joint initiative between Celebrity Cruises, Galápagos Conservancy, and the GNPD since 2014. Currently, guests aboard Celebrity Flora participate in weekly tree plantings in the Los Gemelos area. 
Celebrity Xpedition and Xploration ship guests will soon be able to participate in conservation activities, contributing to preserving the Galapagos as a top ecological tourist destination. This activity will enhance their legacy and positive impact on the area.
Fausto Arcos, General Manager of Celebrity Cruises in Ecuador, highlighted the company's commitment to conservation and the local community, emphasizing the value of providing a unique opportunity for guests and collaborators to participate in these significant efforts that foster direct contact with nature in this pristine corner of the world.
Danny Rueda, Director of the Galápagos National Park, stated that the planned maintenance works at the nursery would facilitate an improved technical plant propagation by park rangers. These actions will ensure the success of restoration efforts and enable park rangers to carry out their work more effectively.
The Santa Cruz nursery produces 20,000 to 25,000 seedlings each year, including Scalesia, Coffee Senna, Darwin's Giant Daisy, and Galápagos Croton. Jibson Valle, a GNPD park ranger, said, "I've loved plants since childhood, and now that I work to conserve key species for Galápagos, I'm proud to do so in this nursery."
The forest nursery in Santa Cruz plays an essential role in the conservation and restoration of Galápagos ecosystems, and its upgrade will further enhance these contributions. Support from Galapagos Celebrity Cruises Fund for such conservation efforts exemplifies how tourism can be educational and sustainable for visitors to the Islands. 
Galápagos Conservancy looks forward to its continued partnership with Celebrity Cruises and the involvement of Celebrity's guests and employees in our conservation and community initiatives. Construkgal, a local company, signed the contract for the nursery maintenance, represented by Mr. Alfonso Criollo.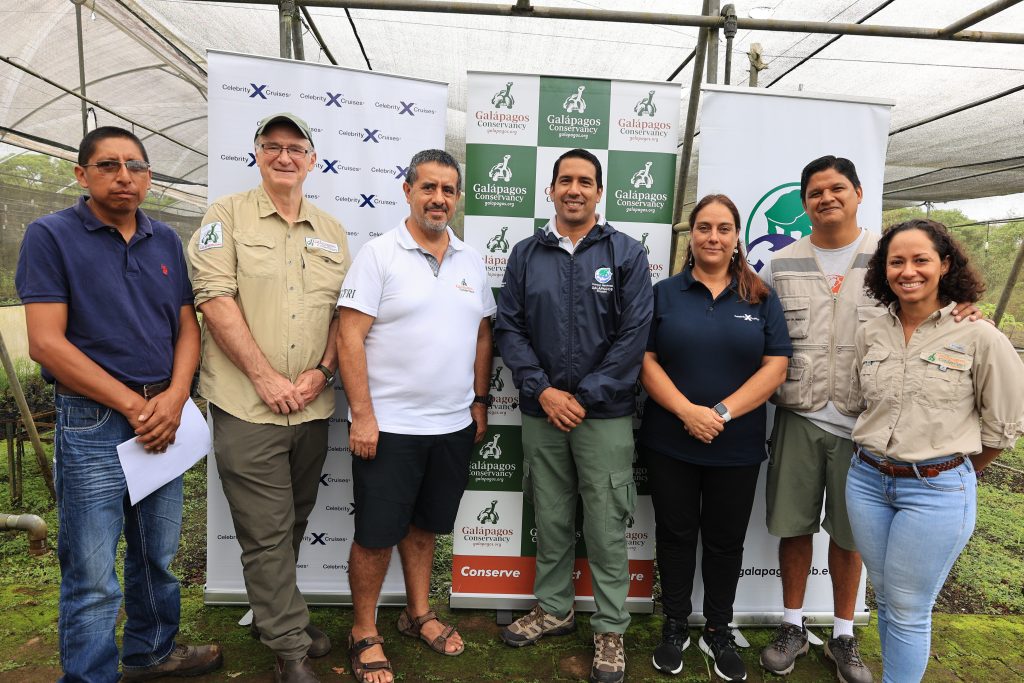 Celebrity Cruises destina recursos a través de Galápagos Conservancy para mantenimiento del Vivero Forestal del Parque Nacional Galápagos
En el marco del convenio de cooperación entre Celebrity Cruises y Galápagos Conservancy, se destinó recursos del Fondo Celebrity Galápagos, para realizar el mantenimiento integral y adecuaciones en el Vivero Forestal de la Dirección del Parque Nacional Galápagos (DPNG), ubicado en la parte alta de la isla Santa Cruz.
Washington Tapia, director general de Galápagos Conservancy dijo que tanto el mantenimiento como las obras adicionales en el Vivero son de gran importancia, pues las plantas que se reproducen en este lugar y luego son utilizadas para ser sembradas en proyectos de restauración como el del bosque de Scalesia en Los Gemelos, contribuyen a restablecer la dinámica natural de los ecosistemas, incluyendo la capacidad de proveer refugio, alimento y otros recursos a especies amenazadas como los pinzones y el pájaro brujo.
La rehabilitación del Vivero permitirá expandir el proyecto de restauración de Scalesia pedunculata y otras especies únicas del archipiélago, gracias a una alianza entre Celebrity Cruises y la DPNG desde 2014. Actualmente los huéspedes de Celebrity Flora realizan plantaciones cada semana en el área de Los Gemelos. En un futuro cercano, los huéspedes de las embarcaciones Celebrity Xpedition y Xploration tendrán la oportunidad de participar en actividades de conservación, fortaleciendo la imagen de Galápagos como un destino turístico ecológico de primer nivel.
Fausto Arcos, gerente general de Celebrity Cruises en Ecuador, destacó el compromiso de la empresa con la conservación y la comunidad local,  y enfatizó el valor que tiene el brindar la oportunidad única para los huéspedes y colaboradores,  de participar en estos esfuerzos significativos que fomentan el contacto directo con la naturaleza en este rincón prístino del mundo. 
Por su parte, el director del Parque Nacional Galápagos, Mgs. Danny Rueda, dijo que los trabajos de mantenimiento planificados en el Vivero facilitarán la reproducción profesional de las plantas por parte de los guardaparques y que estas acciones garantizarán el éxito de los esfuerzos de restauración y permitirán a los guardaparques llevar a cabo su labor de manera más efectiva.
Cada año se reproducen exitosamente entre 20 y 25 mil plantas en el Vivero de Santa Cruz, incluyendo especies como Scalesia, cafetillo, chala, margarita de Darwin, entre otras. "Me gustan las plantas desde la infancia y ahora que trabajo para conservar especies claves para Galápagos me enorgullezco de hacerlo en este vivero", aseguró Jibson Valle, guardaparque.
El Vivero Forestal es crucial para contribuir a la conservación y restauración de los ecosistemas en Galápagos. El contrato para desarrollar el mantenimiento y adecuaciones del Vivero se formalizó el 18 de mayo del 2023 y estará a cargo de la empresa local Construkrugal, representada por el señor Alfonso Criollo, y Galápagos Conservancy, organismo responsable de la administración del Fondo Celebrity Galápagos. 
The Latest Conservation News from Galápagos