Thirty-Six San Cristóbal Tortoises Return to their Natural Habitat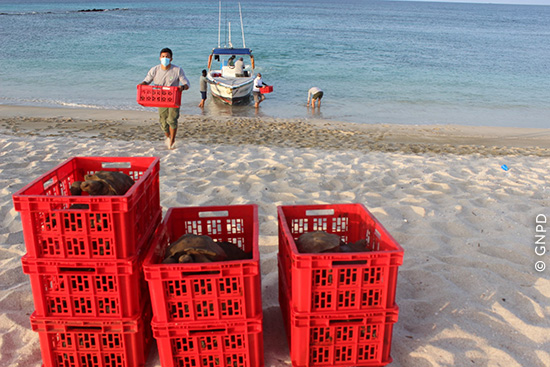 September 29, 2020
Rangers from the Galápagos National Park Directorate (GNPD) recently reintroduced 36 tortoises from the Chelonoidis chathamensis species to the northwest portion of San Cristóbal, their home island, as part of the Giant Tortoise Captive Breeding and Reproduction Program that has been carried out since 2002. The tortoises are between six and eight years old and weigh between seven and ten pounds — large enough to be safe from predators.
The tortoises were transferred by speedboat from the dock of Puerto Baquerizo Moreno to an area about 30 miles from the port. From the shore, 14 Park rangers began the four-mile journey through rugged terrain to the release site. Once in their habitat, the rangers ensured that the tortoises began to mobilize or feed before returning to the breeding center.
San Cristóbal Island has an estimated population of 6,700 giant tortoises, according to a comprehensive 2016 census. Seventy-five tortoises have been repatriated from the San Cristóbal breeding center, including this group; 30 were released last year and nine in 2012.
Based on a news release from the GNPD, translated with their permission
The Latest Conservation News from Galápagos