The Resurgence of the Vermilion Flycatcher
Date: 6/04/2023.
//Versión en español abajo.//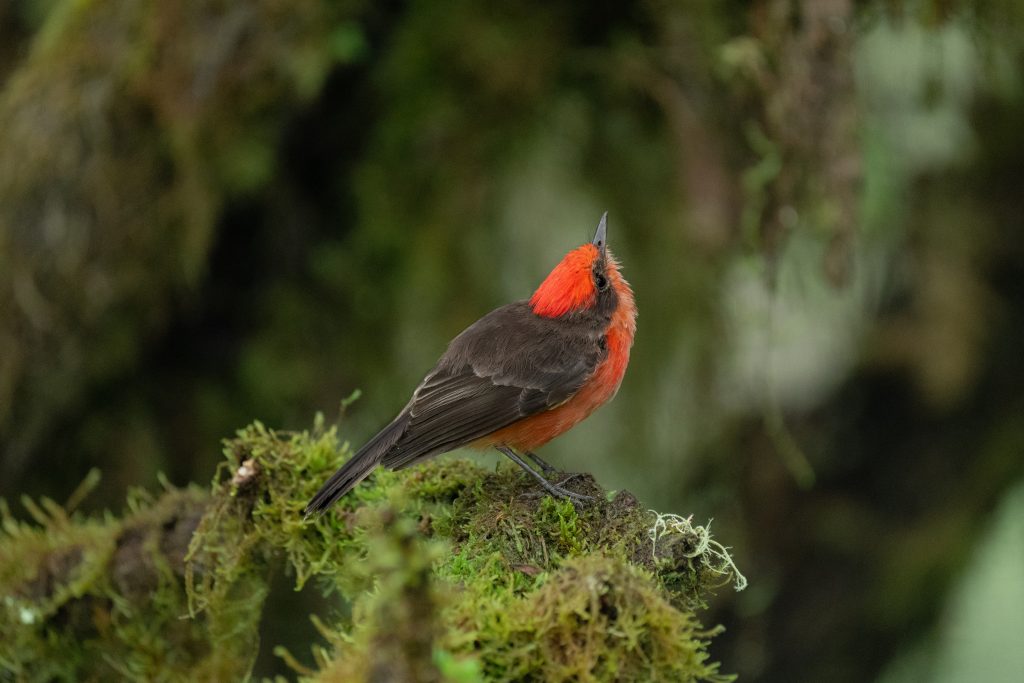 Even amid the vibrant and colorful Galápagos Islands, the endemic Vermilion Flycatcher (Pyrocephalus nanus) turns heads with its striking red plumage.. Unfortunately, the brilliant-colored birds face the threat of extinction due to invasive species and disappearing habitat. However, thanks to unwavering conservation efforts, the iconic birds seem to be making strides toward recovery.
The International Union for Conservation of Nature (IUCN) lists the Vermilion Flycatcher as a Vulnerable species. This classification indicates that the species is at high risk of extinction if proper conservation measures are not taken. Despite only 15 adult pairs remaining on Santa Cruz Island, the ongoing efforts of the Galápagos National Park Directorate (GNPD) and its strategic allies, including Galápagos Conservancy, have resulted in the birth of 12 chicks on the island this year. 
Conservation efforts for the Vermilion Flycatcher include restoring habitat that has been overrun by invasive blackberry plants and protecting nests from the Avian Vampire Fly. The chicks have now reached the fledgling stage, meaning they have left the nest but have yet to develop the ability to fly skillfully and sustain flight. Fledglings are in a transitional phase between being dependent chicks and fully independent adult birds. This achievement highlights Galápagos Conservancy's commitment to working together for conservation and fills us with enthusiasm and optimism for ensuring a promising future for this emblematic bird.
At Galápagos Conservancy, we are deeply proud to witness the remarkable achievements and outstanding environmental management by the GNPD, with whom we have forged a strong partnership in our conservation projects. This exciting milestone fills us with hope for a future where the renowned Vermilion Flycatcher undergoes a full population recovery. Together with the GNPD and our strategic partners, we are tirelessly working to save this magnificent bird and its habitat for future generations.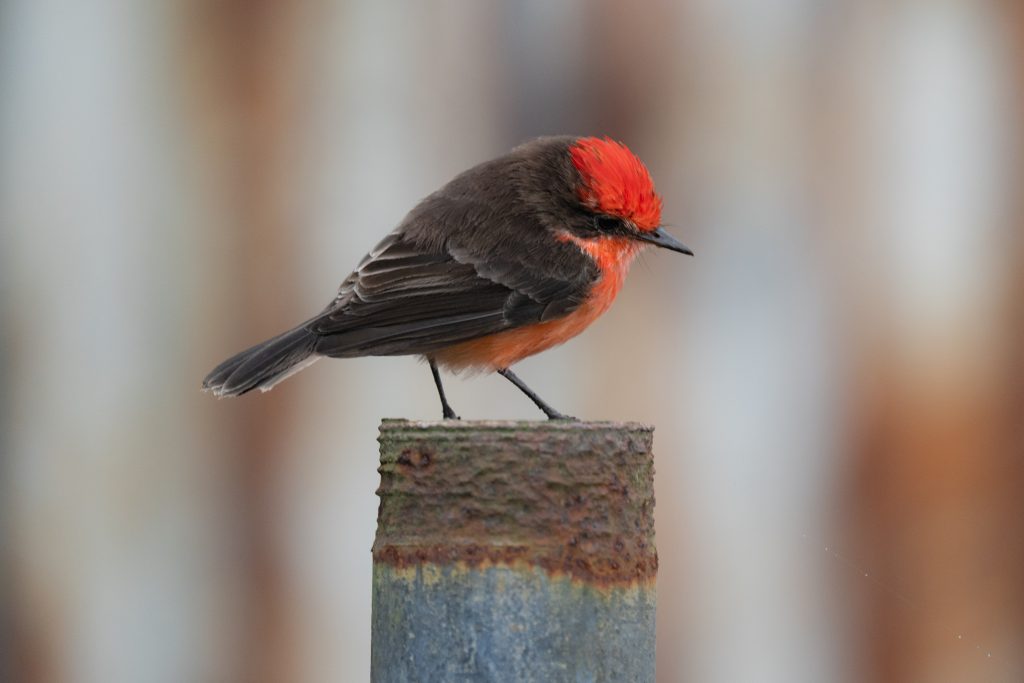 Resurgimiento del pájaro brujo: Un trabajo conjunto por la conservación en Galápagos
En las asombrosas Islas Galápagos, el pájaro brujo (Pyrocephalus nanus), una especie de ave endémica del Archipiélago caracterizada por su llamativo plumaje de tonalidad roja intensa y brillante, se enfrenta a la amenaza de la extinción. Sin embargo, gracias a los esfuerzos inquebrantables en materia de conservación, estas aves guardan esperanza y parecen estar abriendo paso hacia su recuperación.
La Unión Internacional para la Conservación de la Naturaleza (UICN) ha clasificado al pájaro brujo como una especie "vulnerable". Esta categorización indica que la especie está en riesgo de experimentar un declive significativo en su población si no se toman medidas adecuadas de conservación. Durante el presente año, los esfuerzos continuos de la Dirección del Parque Nacional Galápagos (DPNG) y sus aliados estratégicos han dado lugar al nacimiento de 12 pichones en la isla Santa Cruz. 
Estos pichones han alcanzado la etapa de volantones, lo que significa que han abandonado el nido, pero que aún no han desarrollado por completo la habilidad de volar de manera hábil y sostenida. Los volantones se encuentran en una fase de transición entre ser polluelos dependientes de sus padres y aves adultas plenamente desarrolladas. Este logro destaca el compromiso de Galápagos Conservancy para trabajar juntos en pro de la conservación y nos llena de entusiasmo y optimismo para asegurar un futuro prometedor para esta ave icónica.
Como Galápagos Conservancy, nos sentimos profundamente orgullosos de ser testigos de los notables logros y la destacada gestión ambiental llevada a cabo por la DPNG, con quienes hemos forjado una sólida alianza en nuestros proyectos de conservación. Este emocionante descubrimiento nos llena de esperanza y nos impulsa a aspirar a un futuro en el que el famoso pájaro brujo pueda experimentar un proceso de restauración poblacional. Juntos, estamos trabajando incansablemente para asegurar que esta magnífica ave y su hábitat sean preservados para las generaciones venideras.
The Latest Conservation News from Galápagos