Exploring the Depths: Galápagos Teens Learn To Be Marine Conservationists
Date: March 22, 2023.
//Versión en español abajo.//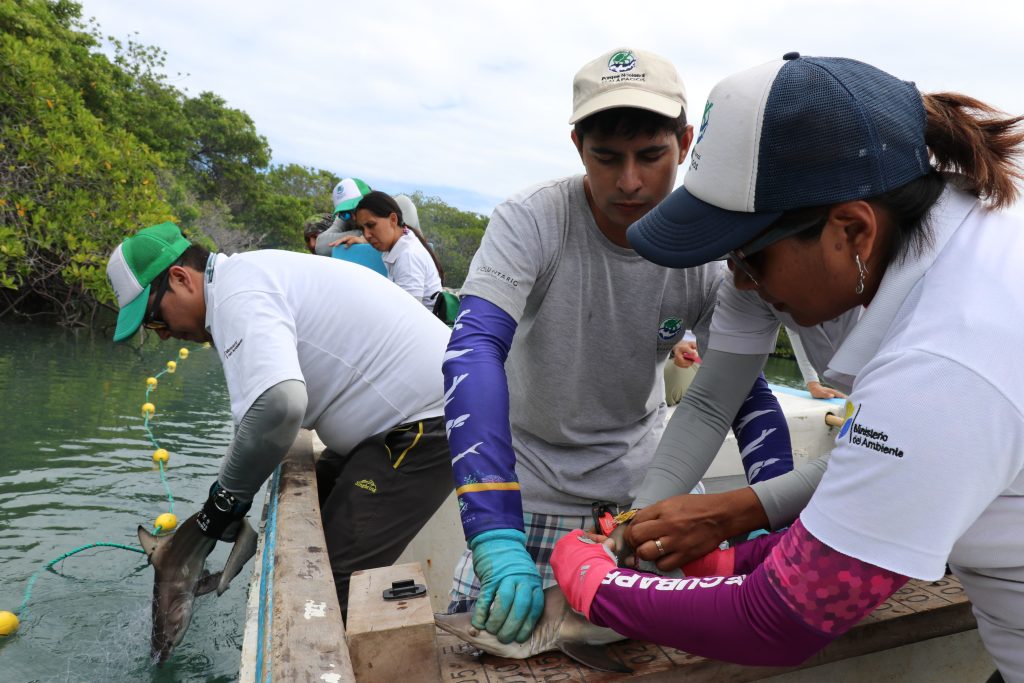 The Galápagos National Park Directorate (GNPD), our key partner in conservation, has been striving to create a balance between human activities and environmental conservation in the Galápagos ecosystem for over two decades. As part of Galápagos Conservancy's commitment to promoting sustainability education, we sponsored an educational project by the GNPD that provides Galápagos high school students with experiential learning opportunities in the Galápagos Marine Reserve (GMR).
Last school year, park rangers specialized in marine resource conservation and environmental educators from the GNPD collaborated with eight Galápagos academic units to provide 65 students with 100 hours of training and experiential learning about the marine-coastal environment. The project aimed to raise awareness about the importance of understanding and caring for Galápagos ecosystems. Additionally, more than 600 members of the community were reached through various student-led activities, such as open houses and exhibitions.
The program included several memorable activities, such as visiting sea turtle habitats in Calera, Isabela Island, where students observed their behavior and feeding habits. They also participated in monitoring and tagging juvenile sharks in different nursery areas, gaining valuable experience in measuring, weighing, tagging, and releasing sharks.
Galápagos Conservancy is proud to support educational initiatives that promote conservation across the Archipelago. We congratulate the GNPD rangers and educators who participated in this project and provided young Galápagueños with an unforgettable and unique opportunity to explore, learn, and enjoy the privilege of being in the GMR.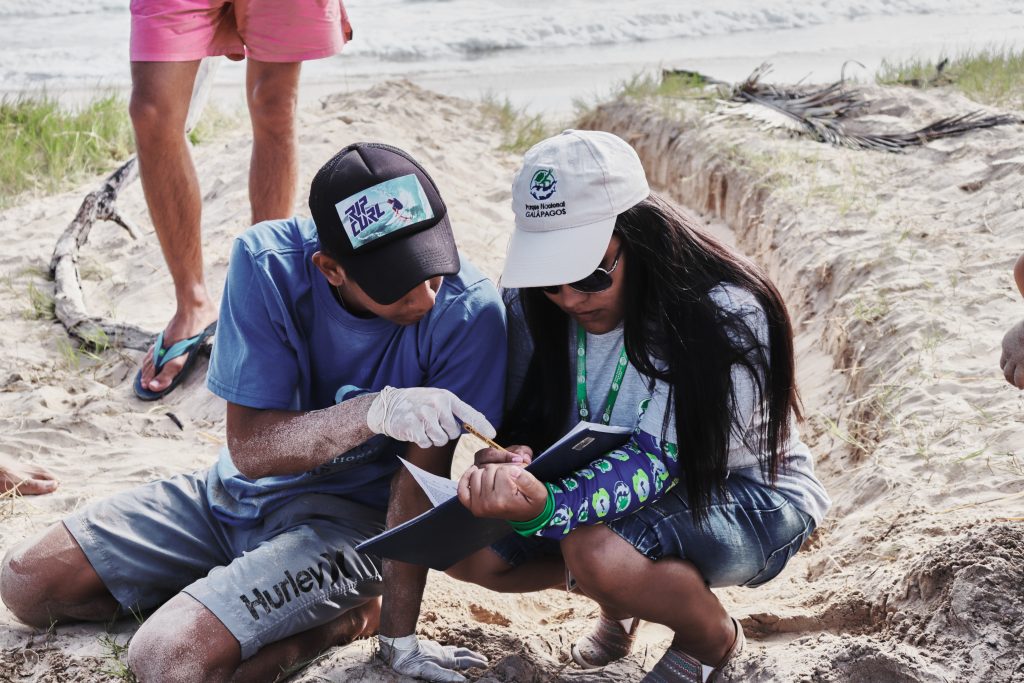 65 estudiantes aprendieron sobre especies marinas de Galápagos de forma divertida
Nuestro principal aliado en la conservación, la Dirección del Parque Nacional Galápagos, trabaja desde hace más de dos décadas en la articulación del equilibrio entre el ser humano y el cuidado del ambiente para fomentar la reflexión y el conocimiento respecto a la fragilidad de los ecosistemas de Galápagos.
La educación con enfoque de sostenibilidad es una de nuestras prioridades y líneas de acción, por eso financiamos un proyecto educativo a la DPNG que vincula de manera experiencial a jóvenes galapagueños de bachillerato en las acciones de ciencia y manejo que se realizan en la Reserva Marina de Galápagos (RMG).
El pasado año lectivo, guardaparques especialistas en conservación de recursos marinos y educadores ambientales de la DPNG trabajaron con ocho unidades educativas de Galápagos y 65 estudiantes, brindándoles a cada uno 100 horas de capacitación y aprendizajes experienciales sobre el entorno marino-costero y la importancia de conocerlo y cuidarlo. Adicionalmente, a través de diferentes intervenciones que realizaron los estudiantes, como casas abiertas y exposiciones de sus trabajos, se alcanzó a más de 600 personas de la comunidad.
Algunas de las actividades destacadas fueron la visita a los hábitats de las tortugas marinas en Calera, isla Isabela, donde observaron su comportamiento y sus hábitos alimenticios. También participaron en monitoreos y marcajes de tiburones juveniles en diferentes zonas de crianza, y tuvieron la oportunidad de medir, pesar, marcar y liberar a los escualos.
Galápagos Conservancy se complace en apoyar acciones de educación que fomenten la conservación en todo el Archipiélago. Felicitamos a los guardaparques y educadores de la DPNG que participaron en este proyecto que brindó los jóvenes galapagueños la oportunidad única de explorar, aprender y disfrutar de experiencias inolvidables en sitios privilegiados de la RMG.



The Latest Conservation News from Galápagos