New Hammerhead Shark Breeding Area Discovered in Galápagos
Date: January 19th, 2023.
//Versión en español abajo.//
The Galápagos Islands are known for their rich biodiversity, both on land and in the surrounding waters that are home to 3,000 species of marine life. To protect this biodiversity, the Galápagos National Park Directorate (GNPD) has launched a shark research and monitoring program in the Galápagos Marine Reserve with the help of Galápagos Conservancy, Save our Seas, and the Universidad San Francisco de Quito. 
The project aims to identify and characterize breeding and nursery areas of Scalloped Hammerhead Sharks (Sphyrna lewini) and Blacktip Sharks (Carcharhinus limbatus). Thanks to this research, a new Hammerhead Shark breeding site has been discovered off the east coast of Isabela Island, in addition to two other previously known "nurseries" of Hammerhead Shark hatchlings less than a year old. 
Eduardo Espinoza, the park ranger leading the project, noted that this finding is a milestone for conservation. "The discovery of this new Hammerhead Shark breeding area excites us and gives us renewed hope for the conservation of this iconic species of Galápagos in critical danger of extinction according to the International Union for Conservation of Nature (IUCN)".
"Shark populations worldwide are under immense pressure, primarily from the Chinese demand for shark fins, so our discovery of an Endangered Hammerhead Shark nursery inside the Marine Reserve gives us hope for their survival," said Dr. Paul Salaman, President of Galápagos Conservancy. 
"And while this discovery further cements Galápagos as a global hotspot for sharks, Galápagos Conservancy will assist the National Park team to step up protection of the reserve from the ever-present threat of the massive Chinese fishing fleet lurking nearby in the eastern Pacific Ocean." 
Park rangers closely monitor the welfare of the sharks, making monthly visits to the nurseries to capture and measure some juvenile sharks and collect data for research purposes. Tracking devices are also placed on the sharks to determine their migration patterns and interactions with other areas.
Galápagos Conservancy is excited about this discovery and grateful to its donors for making it possible to protect this iconic species in the Galápagos Marine Reserve.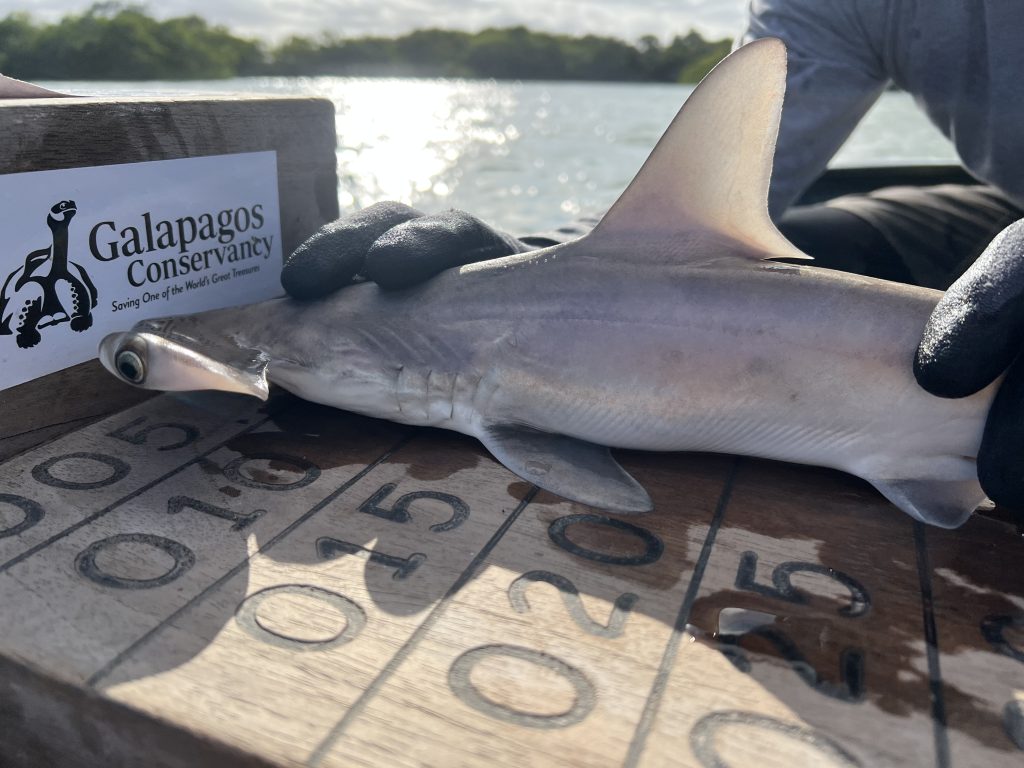 Se descubre una nueva área de crianza de tiburones martillo en Galápagos
Al igual que la biodiversidad de los ecosistemas terrestres de las islas Galápagos, la del ambiente marino también constituye un sistema de elevada importancia ecológica que exige un manejo y tratamiento especial, por eso, Galápagos Conservancy se complace en ser parte del programa de investigación y monitoreo de tiburones en la RMG de la Dirección del Parque Nacional Galápagos (DPNG)
Gracias al apoyo financiero de Galápagos Conservancy, sumado al de la organización Save our Seas y la cooperación de la Universidad San Francisco de Quito, se puso en marcha un proyecto para identificar y caracterizar zonas de reproducción y crianza de tiburones martillo (Sphyrna lewini) y punta negra (Carcharhinus limbatus), que proporcionará información científica para impulsar medidas de manejo que aseguren la protección de estas áreas.
Los técnicos buscaron por diferentes islas del archipiélago y descubrieron un nuevo sitio de crianza de tiburones martillo en el este de la isla Isabela, el cual se suma a otras dos "guarderías" de ejemplares de menos de un año de esta especie que fueron encontradas anteriormente en el archipiélago. 
Eduardo Espinoza, guardaparque que lidera el proyecto, señaló que este hallazgo es un hito para la conservación, "el hallazgo de esta nueva área de crianza del tiburón martillo nos emociona y nos da una esperanza alentadora para la conservación de esta especie icónica de Galápagos en peligro crítico de extinción según la Unión Internacional para la Conservación de la Naturaleza (UICN)", enfatizó.
Los guardaparques monitorean periódicamente esta guardería y han constatado la presencia constante de tiburones martillo en el sitio, lo que demuestra que se trata de una nueva "guardería" que ofrece refugio y protección para el desarrollo de los escualos durante las primeras etapas de su crecimiento.
Con fines de investigación, los técnicos realizan visitas mensuales a las "guarderías" para capturar algunos tiburones juveniles en las zonas de crianza y tomar medidas morfométricas y otros datos ecológicos, siguiendo un riguroso protocolo de monitoreo para garantizar el bienestar de los tiburones. También se colocan unos dispositivos para darles seguimiento y determinar los patrones de migración de los tiburones y su interrelación con otras áreas.
Nos emociona saber que hay una nueva guardería en Galápagos que ofrece refugio y protección para el desarrollo de los tiburones martillo durante las primeras etapas de su crecimiento. Galápagos Conservancy se complace en este descubrimiento y agradece a todos sus donantes comprometidos con la conservación que hacen posible la protección de esta especie icónica de la Reserva Marina de Galápagos.
The Latest Conservation News from Galápagos