Searching for the Extinct Least Vermilion Flycatcher on San Cristóbal
Date: 10/19/2022
//Versión en español abajo.//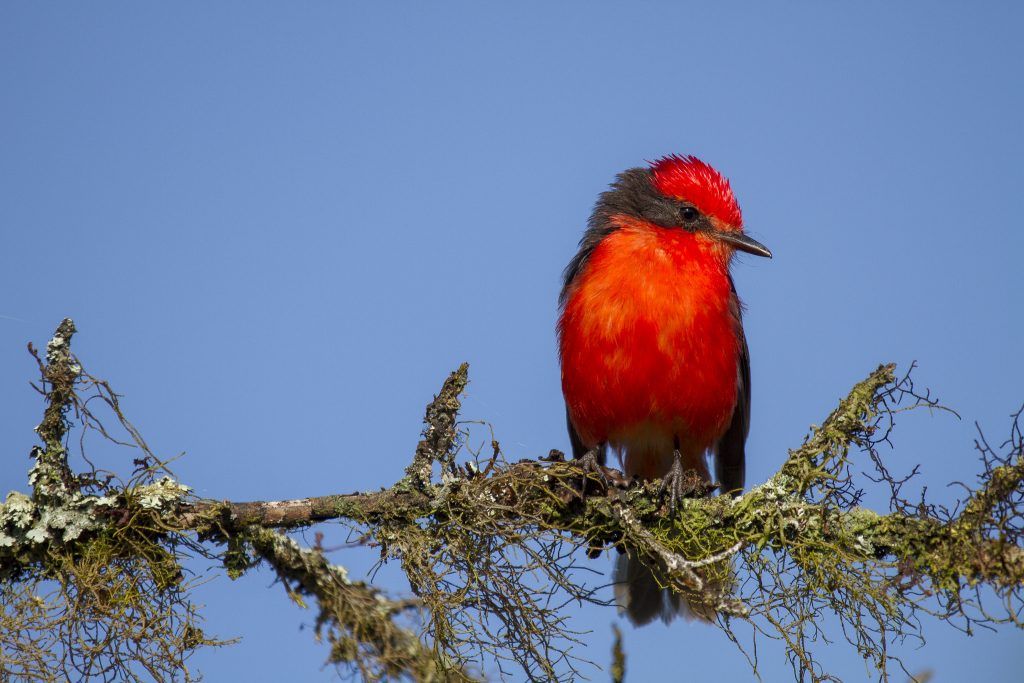 The International Union for the Conservation of Nature (IUCN) declared the Vermillion Flycatcher (Pyrocephalus dubius) extinct in Galápagos in 2016. But despite this listing, there have been recent reports that this tiny red bird is indeed alive on San Cristóbal Island. So this year, Galápagos Conservancy decided to fund the search to confirm the survival of this iconic species.
Because people have reported sightings of Vermilion Flycatchers in the wild, Pablo Escarabay, a young Galápagos resident and beneficiary of a Galápagos Conservancy Action Grant, began an intensive search for this seemingly extinct bird.
Together with Diana Calderón, he was able to create a solid research team. They are conducting frequent search camps and organizing daily group hikes to look for the Vermillion Flycatcher, Pablo said. "We are very optimistic because there are reports of some sightings of this iconic Galápagos bird."
The team uses modern technology, such as acoustic recordings of bird sounds, placed in the search areas' trees, to attract the witch-bird (the local name for the species). They have also setcamera traps in strategic locations in order to capture evidence by film. As Pablo emphasizes, the community, specifically the owners of San Cristóbal farms, must be involved in the identification of the search areas, and their support is essential to the process.
There have been several species of birds captured using the camera traps so far, including finches, canaries, flycatchers, owls, and Smooth-billed Ani, all attracted to the sound of birdsong emitted by the recordings.
The experts emphasize the identification of strategic search areas with ideal habitat for the Vermilion Flycatcher, and where farm owners have reported recent sightings of the animal. "We will continue to exhaust all necessary resources and efforts to corroborate these sightings; in the meantime, we remain hopeful that the San Cristóbal Vermilion Flycatcher will not [remain on] the list of extinct species," added Pablo.
The Vermilion Flycatcher is endemic to Galápagos, and there are two subspecies of this bird on this island, Pyrocephalus dubius of San Cristóbal, which has been listed as extinct by the IUCN and Pyrocephalus nanus, which exists on more than ten islands of the Archipelago, except San Cristóbal, but has unfortunately suffered a steep decline and has now been classified as vulnerable by the IUCN.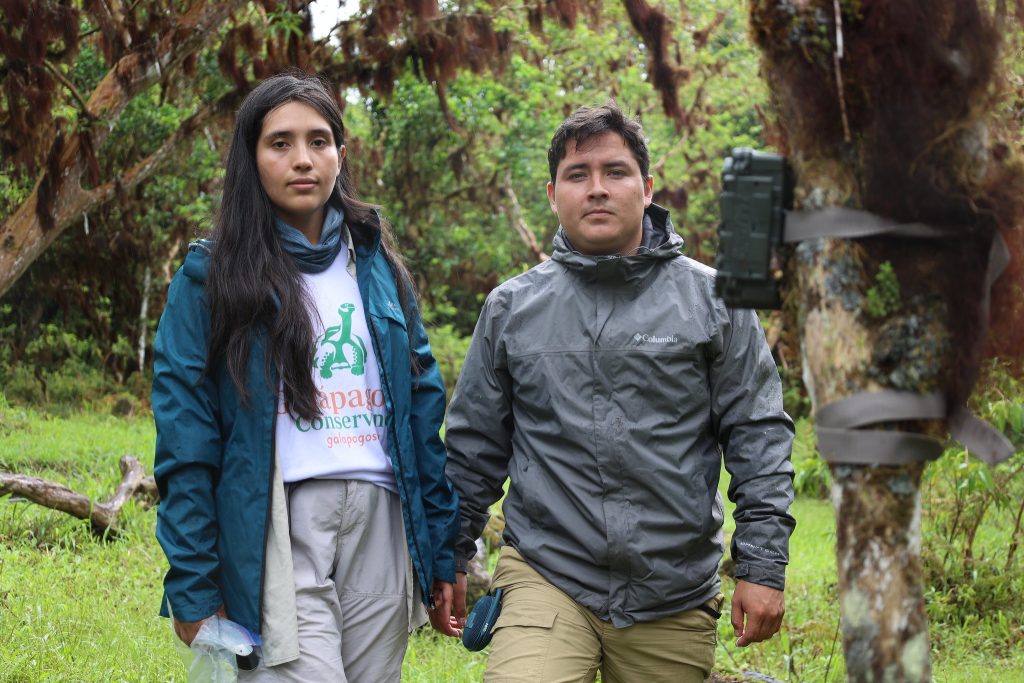 Intensa búsqueda de evidencias para corroborar avistamientos de pájaro brujo en San Cristóbal
Desde marzo del año en curso, Galápagos Conservancy financia la búsqueda de individuos remanentes de pájaro brujo de la especie Pyrocephalus dubius, cuyo rastro se ha perdido en la isla San Cristóbal, y está categorizado en la Lista Roja de la Unión Internacional para la Conservación de la Naturaleza (UICN) como especie extinta.
Pablo Escarabay, un joven galapagueño beneficiario de los fondos de Galápagos Conservancy para acciones de conservación, se propuso emprender la búsqueda de esta ave icónica en San Cristóbal, pues mantiene la esperanza de encontrar algunos individuos en la isla. 
Junto a Diana Calderón, una joven apasionada por la conservación, conformaron un sólido equipo de trabajo, "estamos muy optimistas porque hay registros de algunos avistamientos del pájaro brujo en San Cristóbal, y al existir estos reportes se abre una pequeña posibilidad para la conservación de esta ave icónica de Galápagos, por eso realizamos frecuentes campamentos de búsqueda y organizamos grupos de caminatas diarias para buscarlo," señaló Pablo. 
El equipo emplea tecnología moderna, como reproductores de grabaciones acústicas con sonidos de aves, que son colocados en los árboles de las zonas de búsqueda para atraer al pájaro brujo, esto lo complementan con cámaras trampas para registros fotográficos en sitios estratégicos. Pablo destaca la participación de la comunidad, particularmente de los propietarios de las fincas de San Cristóbal, asegura que su apoyo es esencial para identificar las zonas donde se debe priorizar las acciones de búsqueda del ave.
De momento, los registros fotográficos de las cámaras trampa han captado imágenes de pinzones, canarios maría, papamoscas, lechuzas y garrapateros, que se sienten atraídos por los sonidos de canto de aves, emitidos en los reproductores. 
Entre la información de mayor relevancia recolectada en esta etapa del trabajo de campo, los expertos destacan la identificación de áreas estratégicas de búsqueda que cuentan con el hábitat idóneo para el pájaro brujo, y donde los dueños de las fincas han reportado avistamientos recientes. "Seguiremos agotando todos los recursos y esfuerzos necesarios para corroborar estos avistamientos, mientras tanto mantenemos la esperanza de sacar al pájaro brujo de San Cristóbal de la lista de especies extintas," señaló Pablo.
El pájaro brujo es endémico de Galápagos, existen dos especies de esta ave en las islas, Pyrocephalus dubius de San Cristóbal, categorizado como extinto por la UICN y Pyrocephalus nanus, que está presente en más de 10 islas del Archipiélago, excepto en San Cristóbal, pero que lamentablemente está en franco declive y clasificado como vulnerable.
The Latest Conservation News from Galápagos