Saving the Giants: How Satellite Technology is Transforming Giant Tortoise Conservation
Date: Feb. 1st, 2023.
//Versión en español abajo.//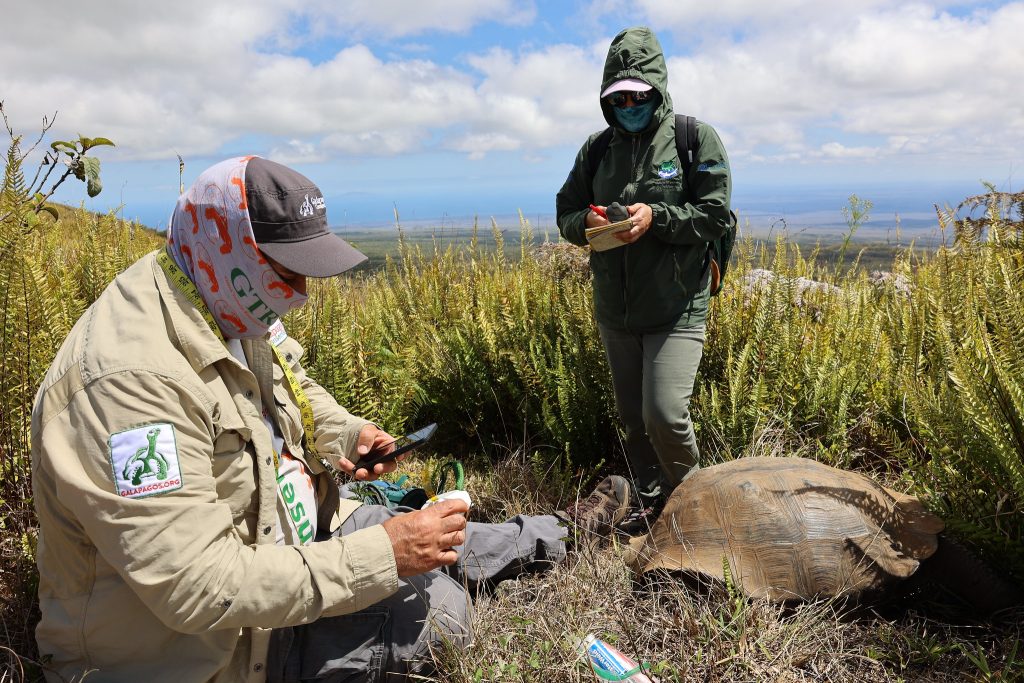 The Galápagos Islands are a treasure trove of unique and endangered species, and the conservation of this wildlife is critical to the Islands' ecological integrity. Cutting-edge science and technology are advancing conservation efforts by giving scientists a better glimpse into the daily lives of animals in the Archipelago.
Satellite tracking is one of the technological tools being used to study and manage the iconic Giant Tortoises of the Galápagos Islands. Scientists can track the tortoises' movements and activities by attaching GPS devices to their shells, providing critical information for the conservation and management of these unique animals.
This technology allows scientists to study the Alcedo Volcano Giant Tortoises (Chelonoidis vandenburghi) of Isabela Island without having to stay on the volcano for extended periods. Satellite tracking data is critical to the proper management of this population and is used to answer key questions about the tortoises' movements and habitat use. 
"These GPS devices measure around 3×3 inches and can be easily attached to the tortoises' shells. They are the latest in satellite tracking and monitoring technology and weigh only 200 grams, so they have no effect on the tortoises," said Washington Tapia, General Director of Galápagos Conservancy and its affiliate Conservando Galápagos.
Management actions, such as satellite tracking, are critical for Giant Tortoise conservation and restoration. The current population of Alcedo Volcano Giant Tortoises is estimated to be at least 10,000 and stable—making the volcano home to the largest tortoise population on the Islands. Thanks to successful management programs, such as the eradication of invasive goats and donkeys in 2006, vegetation is recovering and providing a permanent food source for the tortoises.
However, implementing and maintaining conservation measures for the Giant Tortoises that live on the remote and difficult-to-access Alcedo Volcano takes a significant amount of time and effort. Galápagos Conservancy is deeply grateful to those who make it possible to continue supporting these efforts to protect and restore the iconic Giant Tortoises of Galápagos.
Se incorpora tecnología satelital para optimizar el manejo de la población de tortugas gigantes de volcán Alcedo
Galápagos Conservancy tiene presente que la biodiversidad es una pieza clave en la dinámica de los ecosistemas, de ahí la importancia de asegurar su integridad ecológica a través de la conservación de especies ecológicamente esenciales para los ecosistemas. 
Por otro lado, la ciencia y los avances tecnológicos son aliados de la conservación que ayudan a conocer la historia natural de las especies y gracias a las generosas contribuciones de personas comprometidas con la conservación de Galápagos podemos adquirir tecnología que nos permite estudiar especies icónicas como las tortugas gigantes a fin de aportar conocimientos esenciales para su manejo y conservación.
Una de estas herramientas tecnológicas que empleamos para conocer más sobre las tortugas gigantes son los dispositivos satelitales que nos permiten conocer los patrones de movimiento y actividades de las tortugas del archipiélago, incluida la especie Chelonoidis vandenburghi en el volcán Alcedo, isla Isabela.
El científico Washington Tapia, Director General de Galápagos Conservancy y su filial Conservando Galápagos, asegura que la información que arrojan estos dispositivos es clave para contribuir al adecuado manejo de las poblaciones de las tortugas gigantes y  ayudan a responder preguntas clave para la conservación de estas especies, únicas en el mundo.
Con estos rastreadores, los científicos siguen los movimientos de las tortugas en el volcán y obtienen una mejor comprensión de cómo se mueven y utilizan los diferentes hábitats. Los datos son enviados por los dispositivos colocados en las tortugas  directamente a un satélite, del cual el equipo de la Iniciativa Galápagos puede descargar la información en sus computadores y procesarla sin necesidad de permanecer largos períodos en el volcán.
"Estos dispositivos GPS miden 7×7 cm y pueden fijarse fácilmente al caparazón de las tortugas, son lo último en tecnología de rastreo y seguimiento satelital, y apenas pesan 200 gramos, por lo que no afectan a las tortugas en modo alguno," señaló Tapia.
Las acciones de manejo, como el rastreo satelital de los quelonios, que se han implementado en casi todas las poblaciones de tortugas, incluyendo la del volcán Alcedo, son medidas complementarias a los esfuerzos de la Dirección del Parque Nacional Galápagos, pero necesarias para la conservación y restauración de las tortugas gigantes. 
Actualmente, se estima que existe una población estable de al menos unos 10 mil individuos de la especie C. vandenburghi que habita en  volcán Alcedo, y gracias a las acciones de manejo implementadas por la DPNG como son la erradicación de cabras y burros en el 2006, la vegetación se está recuperando progresivamente, lo que garantiza una fuente permanente de alimento para las tortugas. Esto confirma que los programas de manejo implementados han sido exitosos.
Aplicar y mantener medidas de conservación para las tortugas gigantes que habitan en Alcedo constituye un esfuerzo gigantesco y un verdadero desafío debido al difícil acceso y la ubicación remota del volcán, cuya cumbre y hábitat de las tortugas está a más de 1.100 m s. n. m. Galápagos Conservancy agradece profundamente a quienes hacen posible continuar apoyando estos esfuerzos por proteger y conservar las icónicas tortugas gigantes de Galápagos.
The Latest Conservation News from Galápagos