Preserving Galápagos Corals for Future Generations
Date: March 21, 2023.
//Versión en español abajo.//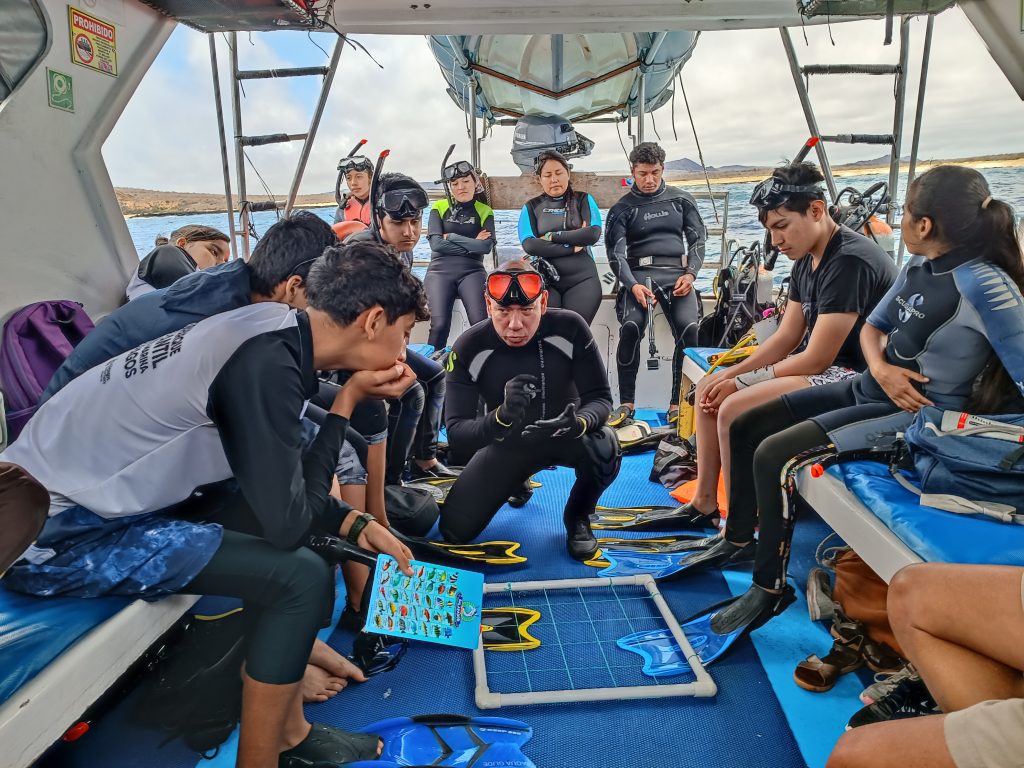 Conservation of ecosystems is a global concern, and Galápagos is no exception. Galápagos Conservancy is pleased to see the island community getting involved in nature conservation and learning about the need to protect the unique biodiversity of the Archipelago.
In 2022, Galápagos Conservancy supported an educational program by the Galápagos National Park Directorate (GNPD) in which experts in environmental education provided experiential learning opportunities and recreational activities to students throughout the Galápagos province. The students interacted with nature and were inspired to value their environment more.
Twenty-five young Galápagos residents living on San Cristobal Island received educational talks about Galápagos corals and visited a coral area at Punta Pitt, north of San Cristobal Island. Through experiential learning, they participated in coral monitoring activities of Lobe Coral (Porites lobata).
Corals are marine animals that produce a skeleton of calcium carbonate and live in symbiosis with algae, which give corals food and color. When corals are exposed to stress, such as rising ocean temperatures, they expel the algae in a process known as coral bleaching, which can lead to disease or death. In the Galápagos Archipelago, corals are endangered following reductions and degradation of coral populations since the 1980s, mainly due to events such as El Niño.
Dr. Jorge Carrión, Director of Conservation at Galápagos Conservancy and its partner Conservando Galápagos, stated that a community well educated in conservation issues is more willing to care for its environment and promote practices that favor environmental care.
Coral reefs are one of the most important ecosystems in the world, as they provide a home for a vast number of marine species and protect coasts from erosion. "Conserving corals is crucial for the sustainability of tourism in the region and the protection of the Archipelago's biodiversity," emphasized Carrión.
Galápagos Conservancy promotes conservation initiatives led by organizations, universities, and enterprising citizens that contribute to the care of the island ecosystems. We congratulate the GNPD for its ongoing efforts to educate the island community and its youngest residents on environmental issues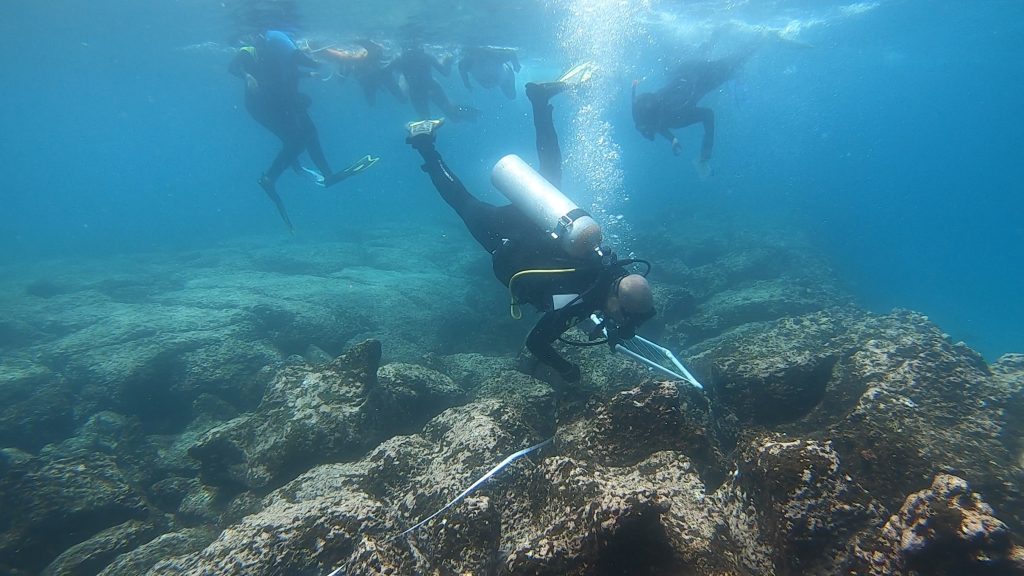 Educación ambiental para preservar los corales de Galápagos
La conservación de los ecosistemas es una preocupación global y en Galápagos no es la excepción, nos complace ver a la comunidad insular involucrarse en el cuidado de la naturaleza, y aprendiendo sobre la necesidad de conservar y proteger la biodiversidad única del Archipiélago.
 En el 2022, Galápagos Conservancy apoyó un programa educativo de la Dirección del Parque Nacional Galápagos (DPNG), en el que expertos en educación ambiental brindaron oportunidades de aprendizaje vivencial y actividades recreativas a estudiantes de toda la provincia de Galápagos, donde interactuaron con la naturaleza y se motivaron a valorar más su entorno.  
25 jóvenes galapagueños que residen en la isla San Cristóbal, recibieron charlas educativas sobre los corales de Galápagos y visitaron una zona de corales de la especie Porites lobata en Punta Pitt, al norte de la isla San Cristóbal, donde, de forma experiencial, participaron en el monitoreo de corales.
Los corales son animales marinos que viven en simbiosis con algas y que producen un esqueleto de carbonato de calcio; en el archipiélago de Galápagos están en peligro de extinción, esencialmente porque han sufrido varias reducciones y degradaciones desde la década de los 80, principalmente a causa de eventos como el fenómeno de El Niño.
El director de conservación de Conservando Galápagos y su filial, Galápagos Conservancy, Dr. Jorge Carrión, asegura que una comunidad bien educada en temas de conservación es más dispuesta a cuidar su entorno y a promover prácticas que favorezcan el cuidado del ambiente.
Los corales son uno de los ecosistemas más importantes del mundo, ya que brindan un hogar para una gran cantidad de especies marinas y protegen las costas de la erosión. Por lo tanto, "la conservación de los corales es crucial para la sostenibilidad del turismo en la región y la protección de la biodiversidad del Archipiélago", enfatizó Carrión.
 Galápagos Conservancy impulsa iniciativas de conservación lideradas por organizaciones, universidades y ciudadanos  con emprendimientos que contribuyan al cuidado de los ecosistemas de las islas. Felicitamos a la DPNG por su permanente esfuerzo en educar a la comunidad insular en temas ambientales.
The Latest Conservation News from Galápagos