Outrage at Massacre of Giant Tortoises in Galápagos
October 13, 2021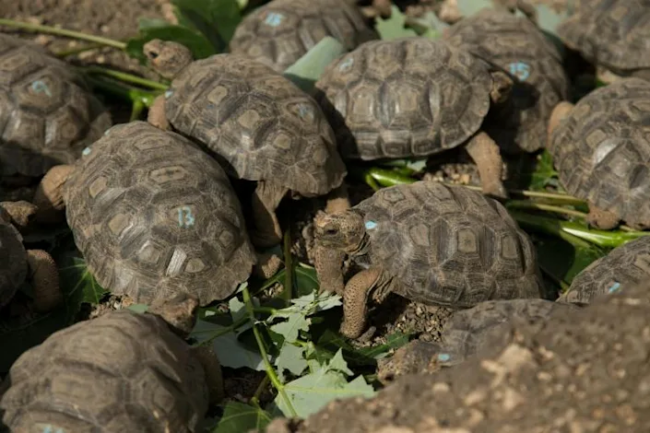 Galápagos Conservancy has received news of the shocking discovery of the remains of 15 tortoises slaughtered in the wild in southern Isabela Island. The tortoises were found by rangers of the Galápagos National Park Directorate on patrol in a remote area of Sierra Negra Volcano. Most of the tortoises encountered had been killed at an undetermined time, but two were freshly killed.
The disturbing news follows on another report this year of 185 small tortoises found on March 29, 2021, in a suitcase at the Baltra Island airport being trafficked to the mainland for sale, as well as earlier reports: in 2018, 123 juvenile tortoises were stolen from the Giant Tortoise Breeding Center on Isabela Island, and in 2017, 29 were taken from the same facility, some of which were later recovered in Piura, Perú. Together, these events could be evidence that Galápagos is becoming increasingly ensnared in the global wildlife trade, which takes a particularly heavy toll on turtle and tortoise species around the world.
That tortoises are still killed and trafficked from the Galápagos comes as a surprise to many. The highly imperiled state of tortoises today on southern Isabela Island, caused by the historic destruction of tortoise populations by whalers and early colonists, has been difficult to reverse because poaching continues. While only a few local residents still kill tortoises, local demand for tortoise meat and other tortoise products has escalated. With few tortoises remaining on the primary volcano affected – Sierra Negra, which once hosted the largest of all populations in Galápagos – this ongoing killing poses a major threat to the species' continued existence.
Over the last decade, Galápagos Conservancy has been dedicated to providing critical resources and assistance as requested by local authorities trying to bring a halt to the network of local hunters and buyers of tortoises, tortoise meat, and other tortoise products for local consumption or global export.
The Galápagos National Park Directorate, together with Galápagos Conservancy and the residents of Galápagos, have achieved a remarkable history of success in protecting and restoring tortoise populations throughout the Archipelago. However, these latest discoveries show that it is more urgent than ever to end the killing and trafficking of Giant Tortoises before they undermine the long-term trajectory of tortoise recovery. Galápagos Conservancy is stepping up our efforts to support the Galápagos National Park Directorate to find those responsible and end this despicable activity, forever.
The Latest Conservation News from Galápagos