OMCA: Supporting Women Entrepreneurs in Galápagos
Date: 10/26/2022
//Versión en español abajo.//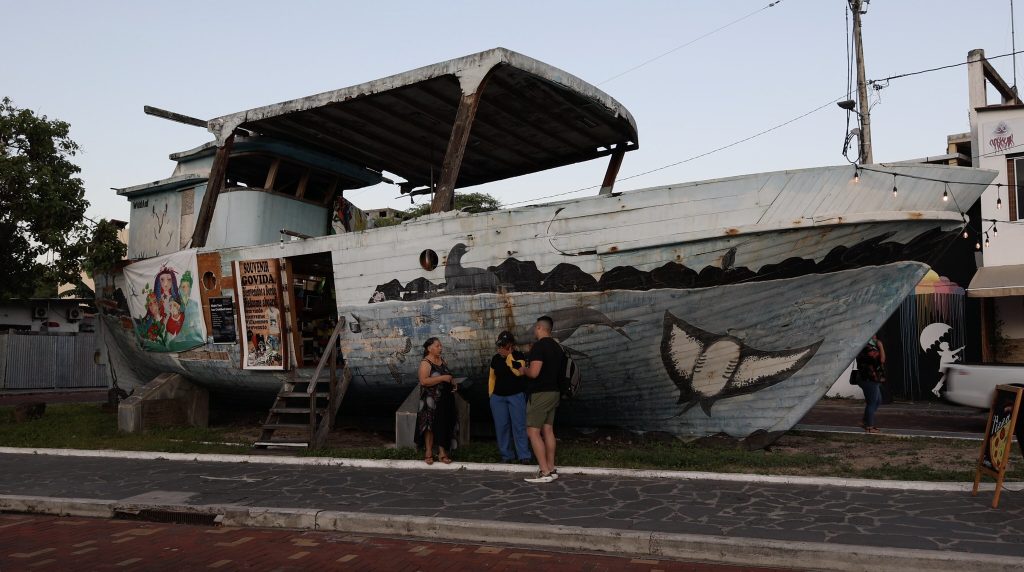 A priority of Galápagos Conservancy is to support businesswomen based in the Islands. As part of our Women in Sustainable Entrepreneurship (WISE) program, we provide funding for local enterprises that are directly contributing to the well-being and sustainability of island ecosystems.
Galápagos Conservancy has been enhancing the work of the Cecilia Alvear Women's Organization (OMCA) on San Cristóbal Island since March 2022, which was founded in 2001 by fishermen's wives who wanted to contribute to their families' income. By doing so, we support the improvement of the socioeconomic and cultural well-being of the 24 active members of this organization, which welcomes any woman from within the community who wishes to participate as a member. Some members work directly in marketing their merchandise, while others are involved in handicraft production and receive training to expand their product range.
According to Carmen Marquez, who was one of the founding members of OMCA, they have struggled a great deal in the past 21 years to be heard in the community, as well as to fight against the machismo that puts women in a lowly position in society. She emphasized, "we have moved forward with effort, determination, and perseverance, studying to better ourselves and to make a positive contribution to our community and our families."
As part of its work in collaboration with Galápagos Conservancy, OMCA is implementing a project in which it is providing training in bracelet weaving, fabric recycling, marketing, and handicraft manufacturing, among other areas of expertise to its members and other vulnerable women in the community. 
Throughout the past two decades, Fanny Muñoz, a member of the organization, says they have gained experience and knowledge that allowed them to enter the labor market; this experience of improvement is now being shared with the women of San Cristobal Island: "We explore and enhance the skills of the beneficiaries of the training, the same that is aimed at any woman who believes their rights are being violated," Fanny said.
In addition to the training workshops, Galápagos Conservancy support makes it possible for the maintenance of a boat that was refitted to function as a souvenir store where the handicrafts produced by OMCA members are sold. "Our boat, which is used for selling our handicrafts, has deteriorated over the years, but thanks to the support of the Galápagos Conservancy, we are able to undertake all the work required in order to make it brand new for all the members," Carmen told us.
As a result of investing in women's economic empowerment, we will be able to achieve gender equality, economic growth, and, therefore in time, the elimination of poverty. Galápagos Conservancy is proud to support the initiatives of the 24 OMCA members who play a significant role in the Galápagos Islands economy.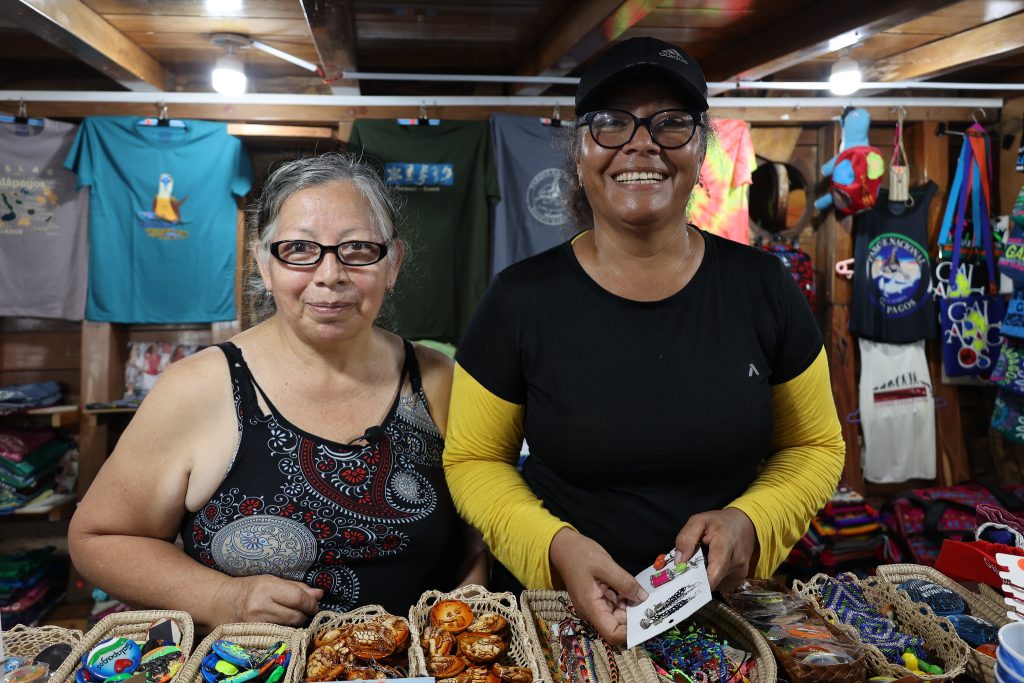 Fortalecimiento de las capacidades de las mujeres socias de la organización OMCA
El apoyo a las iniciativas de mujeres emprendedoras que residen en las islas Galápagos es una de las prioridades para Galápagos Conservancy, a través de las subvenciones de conservación, financia emprendimientos locales que contribuyen al bienestar social y a la sostenibilidad de los ecosistemas insulares.
Desde marzo de 2022 fortalecemos el trabajo de la Organización de Mujeres Cecilia Alvear (OMCA) en la isla San Cristóbal, constituido en el 2001, originalmente por esposas de pescadores que buscan aportar a la economía de sus familias, aportamos al mejoramiento socioeconómico y cultural de las 24 socias activas que conforman la organización y que ahora acoge a cualquier mujer de la comunidad que desee ser parte de la organización.
Carmen Marquínez, socio fundadora de OMCA dice que en estos 21 años han tenido varios desafíos para lograr ser escuchadas en la comunidad y luchar contra el machismo que coloca a las mujeres en una condición inferior, "con esfuerzo, empeño y perseverancia hemos salido adelante, estudiando para superarnos y aportar a la economía de nuestras familias y comunidad," enfatizó.
Con el apoyo de Galápagos Conservancy, OMCA lleva a cabo un proyecto para fortalecer las capacidades de sus socias y otras mujeres de la comunidad en estado vulnerable, brindando capacitación en temas de tejido de pulseras, reciclado de tela, comercialización y manufactura de artesanías, entre otros.
La socia Fanny Muñoz, dice que a lo largo de estas dos décadas han adquirido experiencia y conocimientos que les ha permitido entrar en el mercado laboral, esta experiencia de superación ahora la comparten con mujeres de la isla San Cristóbal, "se exploran y potencian las habilidades de las beneficiarias de las capacitaciones, las mismas que están dirigidas a cualquier mujer que tenga deseos de superación o que crea que sus derechos están siendo vulnerados," enfatizó Fanny.
Además de los talleres de capacitación, el apoyo de Galápagos Conservancy hace posible el mantenimiento de una embarcación que fue readecuada para que funcione como una tienda souvenir donde se comercializan las artesanías que producen las socias de OMCA. "Con el pasar de los años el barco donde vendemos nuestras artesanías se ha deteriorado, pero gracias al apoyo de Galápagos Conservancy podemos hacer todos los trabajos que se requieren para dejarlo flamante para beneficio de todas las socias," dijo Carmen.
Invertir en el empoderamiento económico de las mujeres contribuye a la igualdad de género, el crecimiento económico inclusivo y por ende a la erradicación de la pobreza, por eso Galápagos Conservancy se enorgullece de respaldar las iniciativas de las 24 socias de OMCA que contribuyen de manera significativa a la economía en Galápagos.
The Latest Conservation News from Galápagos