Intense Monitoring Secured 400 Nests of Galápagos Sea Turtles
Date: December 16, 2022.
//Versión en español abajo.//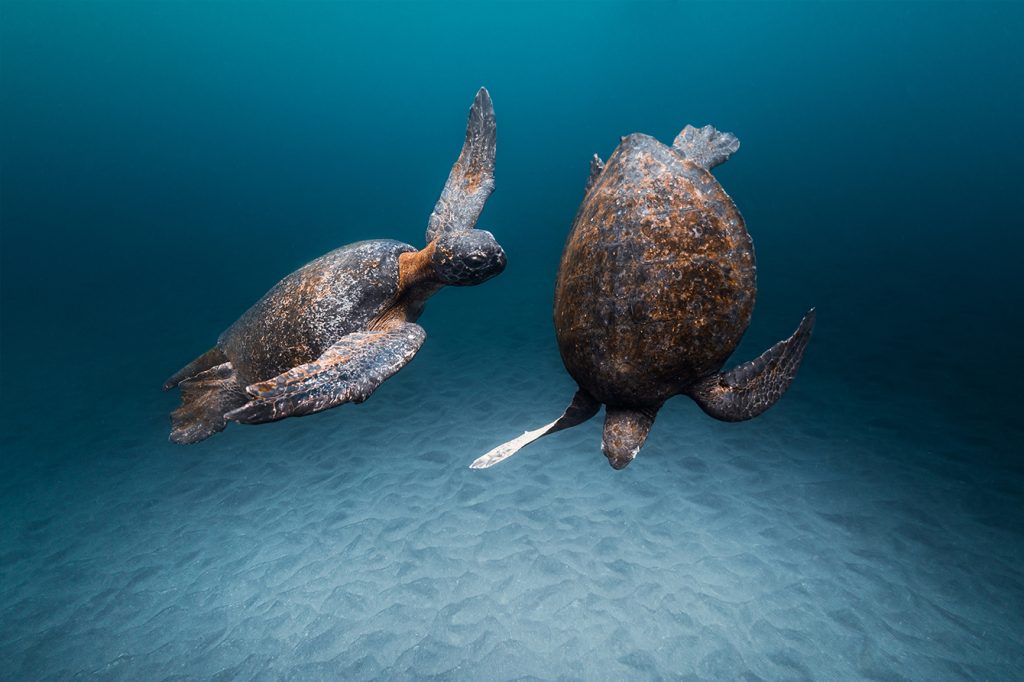 One of the most impressive sights for visitors to the Galápagos Islands is the chance to see majestic Green Sea Turtles (Chelonia mydas) up close as they glide through the archipelago's turquoise coastal waters.
The Galápagos archipelago is an important place for the conservation of Green Sea Turtles, as it is one of the main nesting sites  in the eastern Pacific region. Unfortunately, Sea Turtles are vulnerable to certain human activities, such as commercial fishing and poor waste management, which is why Green Sea Turtles are listed as Endangered on the International Union for Conservation of Nature's (IUCN) Red List. 
For this reason, Galápagos Conservancy is funding a research and monitoring project, carried out by the Galápagos National Park Directorate (GNPD), to update and increase knowledge of the Green Sea Turtle's conservation status and population dynamics.
The GNPD's turtle specialists focus their research efforts on the archipelago's two main Green Sea Turtle nesting sites, the beaches of Quinta Playa on Isabela Island and Las Bachas beach on Santa Cruz Island. Each nesting season, from January to May, they set up permanent camps for nightly monitoring of nesting and hatching activities.
In 2022, technicians and researchers worked in the field for 98 days and monitored 638 individuals and 400 Green Sea Turtle nests at Quinta Playa and Las Bachas. This monitoring allows them to determine the hatching rate for each season, which is used to determine the health status of the Green Sea Turtle population.
Galápagos Conservancy's Director of Conservation, Dr. Jorge Carrión, said that the research each nesting season also provides updated information on population trends, the behavior of nesting female Sea Turtles, and the effects of climate change on reproductive processes. "Our focus at Galápagos Conservancy is to help obtain the necessary information for the development of management strategies, mitigation of threats, and the implementation of measures to ensure the long-term protection of the Green Sea Turtle," he emphasized.
With an estimated survival rate of only 1 out of every 1,000 Sea Turtle hatchlings reaching adulthood, it is critical to continue supporting research to protect this emblematic species of the Galápagos Marine Reserve.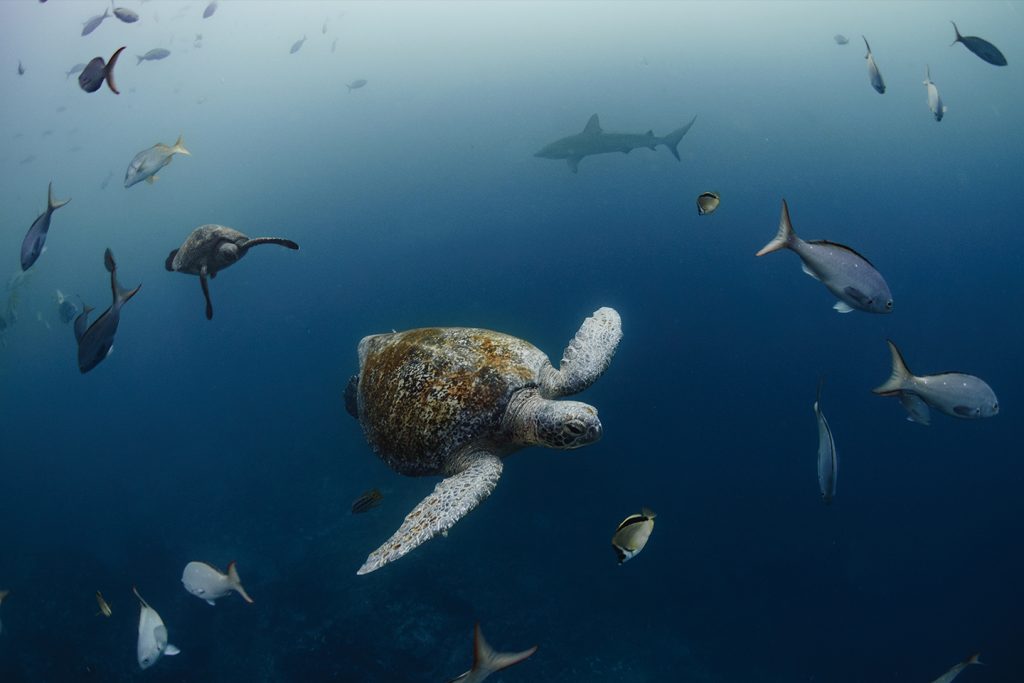 Más de 400 nidos y 638 individuos fueron el resultado de un intenso monitoreo de tortugas marinas en Galápagos
Uno de los espectáculos más sobresalientes que nos ofrece la naturaleza en las islas Galápagos es la posibilidad de contemplar de cerca las majestuosas tortugas marinas (Chelonia mydas), cuyos hermosos colores contrastan con los tonos turquesas del océano, dando lugar a una experiencia única para los visitantes.
El Archipiélago de Galápagos es un lugar esencial para la sostenibilidad de esta especie, ya que es uno de los principales sitios de anidación de la tortuga verde en la región del Pacífico Oriental. Lamentablemente, las tortugas marinas son especies vulnerables a ciertas actividades humanas como las pesquerías industriales y el mal manejo de residuos, por lo que se encuentran en la Lista Roja de la Unión Internacional para la Conservación de la Naturaleza catalogada como especie en peligro. 
Por este motivo, Galápagos Conservancy financia un proyecto de investigación y monitoreo de esta especie, ejecutado por la Dirección del Parque Nacional Galápagos (DPNG), para actualizar e incrementar el conocimiento del estado de conservación y la dinámica poblacional de la tortuga verde.
Los especialistas en tortugas centran sus esfuerzos de análisis en los dos principales sitios de anidación de tortuga verde en el Archipiélago, Quinta Playa en Isabela y playa Las Bachas en Santa Cruz,  por lo que, en cada temporada de anidación, entre enero y mayo, instalan campamentos permanentes para el monitoreo nocturno de este proceso biológico.
Durante el 2022, técnicos e investigadores trabajaron en campo durante 98 días y lograron monitorear un total de 638 individuos y 400 nidos de tortuga verde en Quinta Playa y Las Bachas, con esta información se determina el índice de eclosión por cada temporada que sirve para conocer el estado de salud de la población de tortugas.
El Director de Conservación de Galápagos Conservancy, Dr. Jorge Carrión dijo que la investigación durante cada temporada de anidación sirve además para obtener información actualizada sobre la tendencia poblacional y el comportamiento de tortugas hembras anidadoras, y los efectos del cambio climático en los procesos reproductivos de la especie. "Como Galápagos Conservancy nuestro interés es contribuir a la obtención de información necesaria para el desarrollo de estrategias de manejo, la mitigación de amenazas, y la implementación de medidas que aseguren la protección a largo plazo de la tortuga verde," enfatizó.
Según los expertos, esta especie tiene una tasa de supervivencia muy baja: solo 1 de cada 1000 tortugas recién nacidas sobrevive y alcanza la edad adulta,  de ahí la importancia de seguir respaldando la investigación para la protección de esta especie emblemática de la Reserva Marina de Galápagos.
The Latest Conservation News from Galápagos