Local Conservationists Share Galapagos Conservancy-Funded Projects with Santa Cruz Community
Date: 09/20/2022
//Versión en español abajo.//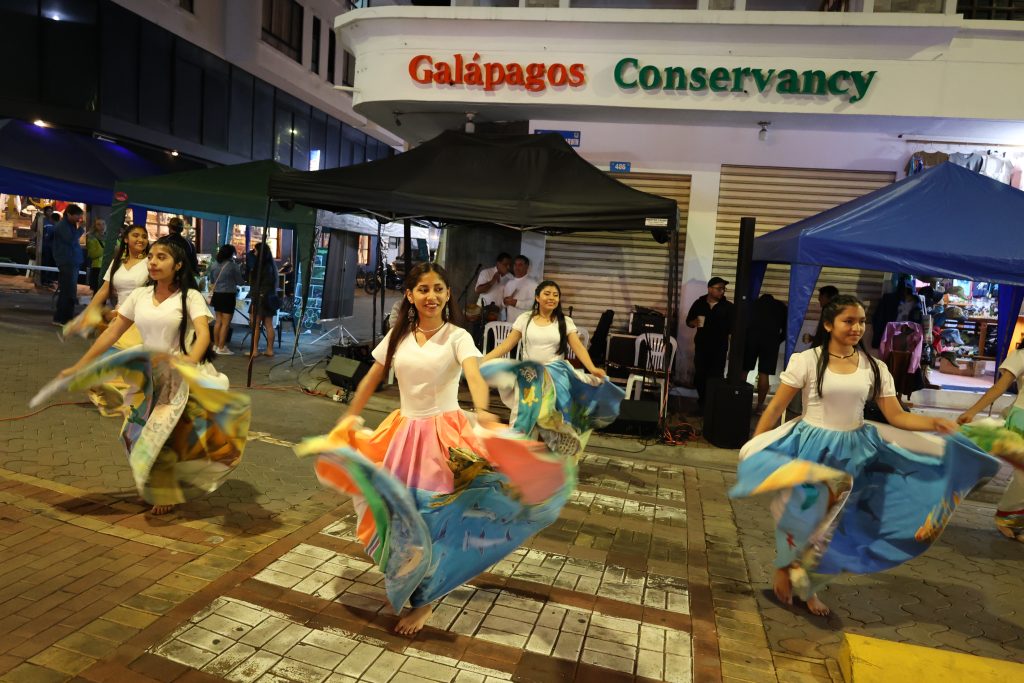 Galápagos Conservancy organized an exhibition of eight local Conservation Action projects on Friday, September 9th, where grant recipients presented their initiatives to the Santa Cruz Island community. Hundreds of people learned about citizen initiatives that, in addition to contributing to socio-ecological development in the Islands, are focused on sustainability as a contribution to the care of Galápagos' unique biodiversity.
Two environmental education projects were presented at the fair through art and engaging games in which Galápagos youth learned about Galápagos flora and fauna and how to care for their environment, specifically the species of the Galápagos Marine Reserve.
Organizations also presented three projects promoting the production and consumption of local products. The beneficiaries of these initiatives provided a wide range of products made from local raw materials that contribute to a healthy, low-calorie diet. The products included whole wheat bread, gluten-free bread, sauces of all kinds, chulpi corn, dehydrated fruits, and a diverse variety of organic vegetables and greens.
According to Gabriela Vivas, Director of Operations of Conservando Galápagos, filial of Galápagos Conservancy, there is a significant environmental benefit to consuming locally, particularly in Galápagos. Not having to move products from the mainland reduces greenhouse gasses and other polluting processes derived from transporting cargo to the Islands. "For these and other reasons, we must consume locally, and for us, it is important to continue supporting citizen initiatives that promote local production and consumption of these products," Vivas said.
The artistic aspect of the event was highlighted by the presentation of a wooden handcraft project and a choreographed dance featuring local artists. Through their art, they promote the commitment to caring for the natural and unique environment that the beautiful Galapagos Islands offer.
Galápagos Conservancy is devoted to providing spaces and opportunities for the community to learn about the initiatives of enterprising citizens and local institutions that, through their projects, contribute to ensuring the balance between humans and nature and, thus, sustainability in the Archipelago.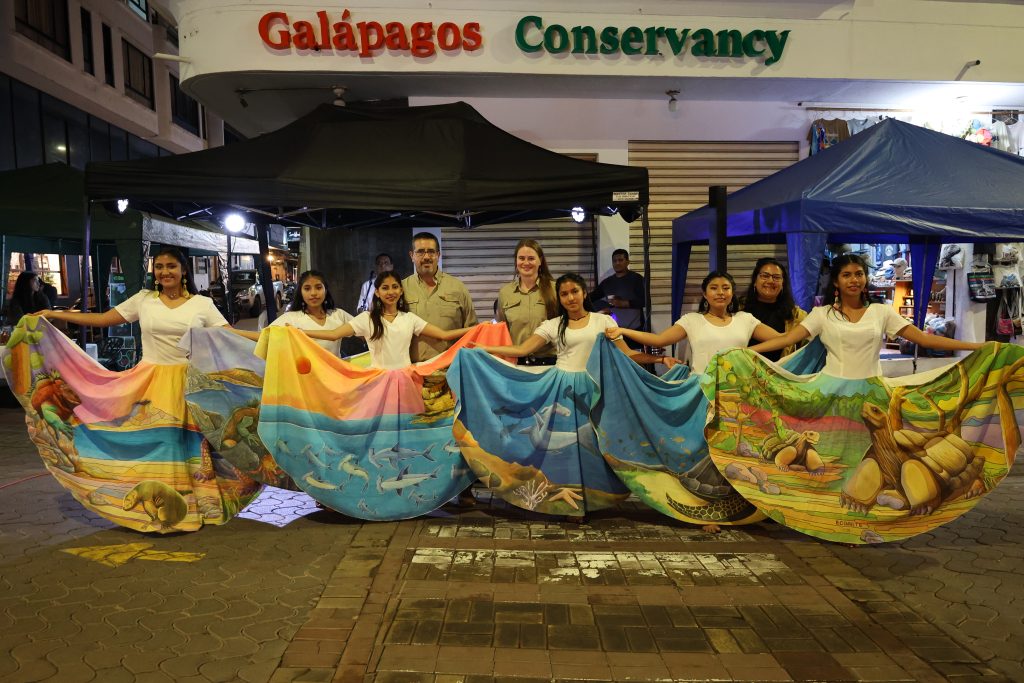 Proyectos e iniciativas de conservación fueron presentados a la comunidad de Santa Cruz
La noche del viernes 9 de septiembre, Galápagos Conservancy organizó una exposición de ocho proyectos locales de Acciones de Conservación donde los beneficiarios de las subvenciones presentaron a la comunidad de la isla Santa Cruz sus emprendimientos.
En un entorno cultural y música en vivo, cientos de personas conocieron las iniciativas ciudadanas que además de contribuir al desarrollo socioeconómico en las islas, tienen un enfoque de sostenibilidad como un aporte al cuidado de la biodiversidad única de Galápagos.
Se presentaron dos proyectos de educación ambiental en los que, a través del arte y juegos lúdicos, los niños y jóvenes de Galápagos conocen sobre la flora y fauna de Galápagos y aprenden a cuidar su ambiente, particularmente de las especies del mar de Galápagos.
También se expusieron tres proyectos que promueven la producción y consumo de productos locales. Los beneficiarios de estas iniciativas presentaron una diversidad de productos elaborados con materia prima netamente local que contribuyen a una alimentación saludable y baja en calorías, como pan integral, pan sin gluten, salsas de todo tipo, maíz chulpi, frutas deshidratadas, y una amplia variedad de hortalizas y verduras orgánicas.
La Directora de Operaciones de Conservando Galápagos, filial de Galápagos Conservancy, Gabriela Vivas, dijo que hay un gran beneficio ambiental al consumir lo local, especialmente aquí en Galápagos, ya que al no tener que trasladar los productos desde la parte continental, se reducen los gases de efecto invernadero y otros procesos contaminantes derivados del transporte de carga hacia las islas. "Por estas y más razones debemos consumir lo local y para nosotros es importante seguir respaldado iniciativas ciudadanas que promuevan la producción local y el consumo de estos productos," señaló Vivas.
El toque cultural del evento fue resaltado por la presentación de un proyecto de artesanías de madera y una coreografía con artistas locales, quienes a través de su arte promueven el compromiso de cuidar el entorno natural y único que ofrecen las maravillosas islas Galápagos.
Galápagos Conservancy se compromete a seguir generando espacios y oportunidades para que la comunidad conozca las iniciativas de ciudadanos emprendedores e instituciones locales, que a través de sus proyectos contribuyen a garantizar el equilibrio entre el hombre y la naturaleza y por ende la sostenibilidad en el Archipiélago.
The Latest Conservation News from Galápagos