Joining the Global Conservation Community at the IUCN World Congress
By Paul Salaman, Galápagos Conservancy President
More than 5,700 conservation leaders from 120 countries around the world came together this August at the International Union for Conservation of Nature's World Conservation Congress (IUCN WCC) in Marseille, France. Galápagos Conservancy became an IUCN member earlier this year, so it was an honor to proudly represent Galápagos alongside our Director of Conservation Washington Tapia at this important gathering.
IUCN is a family of 1,400 conservation entities worldwide including governments, NGOs, and indigenous peoples. And every four years, the members join together to tackle the world's most pressing and complex environmental issues with ambition and innovation. We don't do this because it's our job, we do it because conservation is our passion. This year, the immersive eight-day congress culminated in the ratification of 120 motions that will guide future conservation programs around the globe.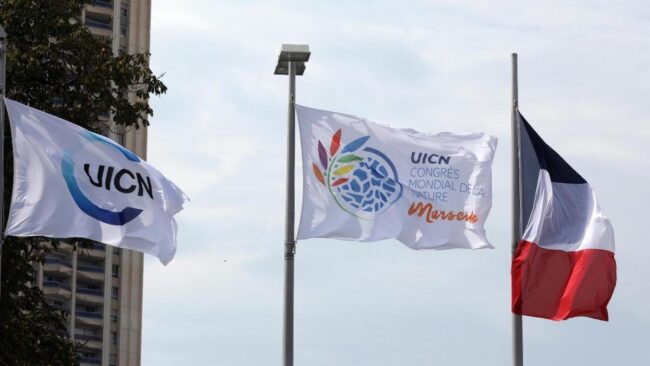 One of my most profound takeaways from this conference was the urgent need to expand the marine protected area around Galápagos. While the extinction crisis is ongoing, efforts by the marine conservation community are beginning to show some positive results. Tuna populations have bounced back thanks to better fisheries management, but unfortunately, shark and ray populations have plummeted, with more than 37% of shark and ray species now threatened with extinction. We must learn from the successes of tuna conservation efforts and continue to advocate for the expansion of the Galápagos Marine Reserve. This will give sharks, rays, and other marine species a safe haven from industrial fishing and expand protections of essential migration corridors between Galápagos and Costa Rica's Cocos Island.
Another essential consensus of the IUCN WCC was the recognition that conservation is more likely to succeed when undertaken by local communities. It is up to us, as leaders in conservation, to collaborate with local communities, connect people with nature, and truly listen and respond to the needs of people living alongside the species and magnificent places we seek to protect. As an IUCN member, Galápagos Conservancy reaffirms its commitment to build capacity and support Galapagueños in the efforts to protect this magical place.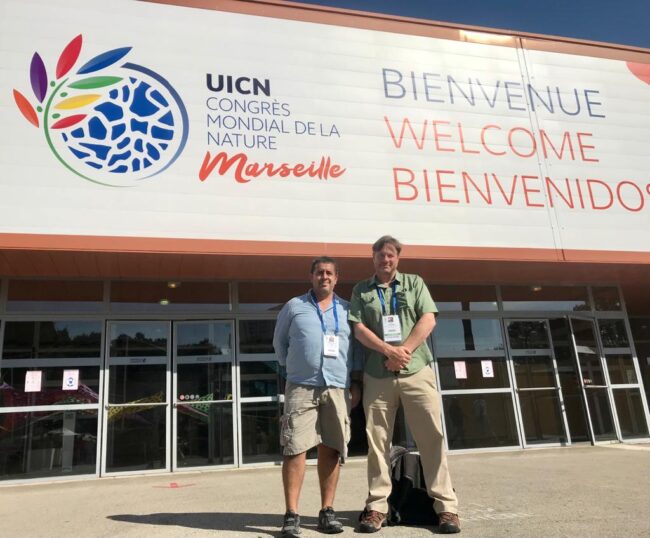 Finally, I will end my IUCN WCC report with one sad truth and one bright spot of hope. Extinction is an unfortunate global reality that all members of the greater conservation community must face, and Galápagos is no different. However, when we come together like we did in Marseille, we turn our hope to prevent more extinctions into real progress. In the coming months, the IUCN will launch its "Greenlist" as a counterbalance to the infamous "Redlist" to highlight positive impacts of conservation action. With the strong work of conservationists like our own Washington Tapia and Dr. Jorge Carrión, as well as the Galápagos National Park Directorate, we will continue to fight to save Giant Tortoises, Pink Land Iguanas, Galápagos Penguins, Hammerhead Sharks, and all other species from extinction. It is up to us — inspired by the global conservation community, collaborating with local people, and with critical support from Galápagos Conservancy members — to stop extinctions and rewild Galápagos.
Thank you.
The Latest Conservation News from Galápagos