Joining Efforts for the Recovery of Playa de los Marinos
//Spanish version bellow.//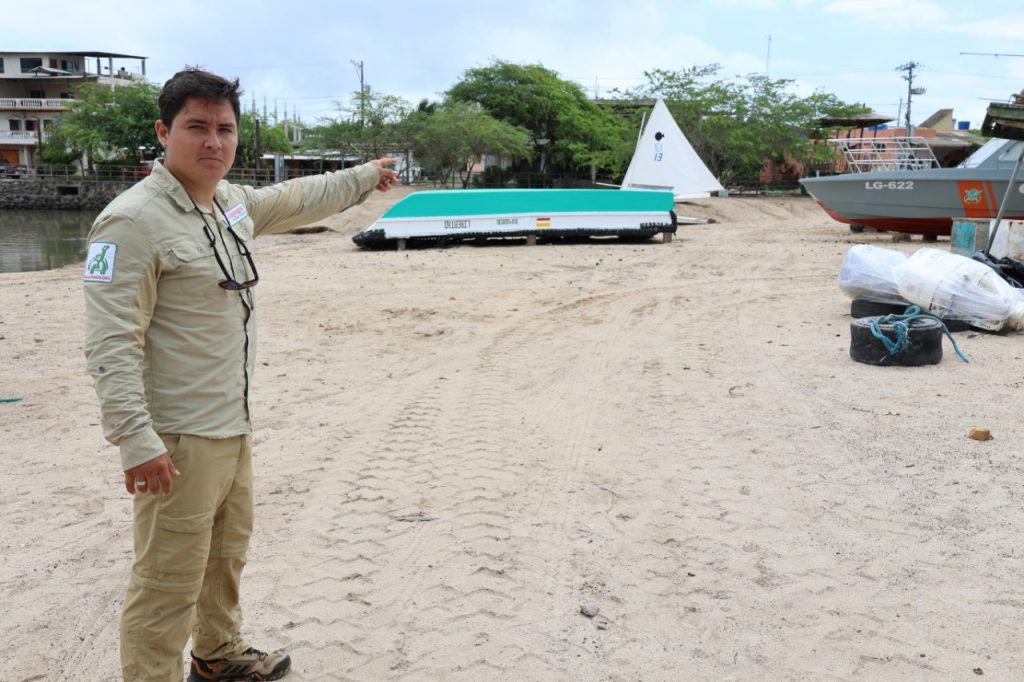 Pablo is a 23-year-old man from Galápagos, a descendant of a family of fishermen. He has a degree in Environmental Management and has been involved in conservation projects and initiatives since he was young. When he was just 12 years old, Pablo was already accompanying a group of scientists to Darwin and Wolf Islands to monitor sharks, which gave him new knowledge and unique experiences in his life. 
Pablo is now a research science associate of Galápagos Conservancy and works on his own conservation initiatives, joining the challenge of caring for the Galápagos Islands and becoming an example for present and future generations of young Galapagueños.
What motivated you to become an environmental manager?
Solving environmental problems within the island territory and seeing grave shortcomings due to lack of preparation or genuine interest in Galápagos motivated me to become an environmental manager. This opened up a vast field within environmental science and administration. 
Why your particular interest in recovering Playa de los Marinos?
This beach is a place where I grew up and my ancestors likewise. It saddens me to know that there was exorbitant marine life and human-animal coexistence in that place, and this is being lost, but we can still do something. To begin with this change, it is necessary to set the right example, and for these cases, I have prepared myself for years. Still, the goal is to be able to allow future generations to live what I have not been able to see.  
Why is it called Playa de los Marinos? What is the story behind the name?
It takes its name from its geographical location, being very close to the naval base and used for sailors' physical training. After its continuous use by this institution, it was named Playa de los Marinos. Still, the difference is overwhelming. Due to its contamination, any activity other than ship repairs has been left aside.  
Which species inhabit this area?
Playa de los Marinos is the essential habitat for the largest colony of Sea Lions in the entire archipelago and a nesting site for Marine Iguanas, Blue-footed Boobies, Frigatebirds, gulls, mullets, mojarras, crustaceans, pelicans, rays, zayapas, and herons.   
What was your project to recover this beach?
I started by surveying the environmental information of the site to define a base list of species and to know their situation concerning the site's contamination. We collected data on water and soil contamination with very low pH that directly affects the health of the species. We also prioritized garbage collection and the correct use of containers for this purpose, and we spoke with tourist and fishing boat owners who positively joined in the ongoing maintenance of the site. 
What are some of your major achievements?
To serve as an example directly for the island's environmental authorities is something I would highlight because, with truly trained personnel, and a tight and well-managed budget, it was possible to achieve a significant accomplishment for this site. 
How is Playa de los Marinos now?
The mangrove area of the beach has recovered, cleanup activities were carried out, and duly identified garbage cans were placed to prevent trash from being dumped in the area. However, this is a job that requires continuity; boat repair work continues to have a direct impact on the beach. The good thing is that now more people and institutions are doing cleanup work in the entire sector, and this is a positive act that we started with the Playa de los Marinos recovery project. 
What is left to do on this beach?
As I said, the work is permanent, but I would highlight three essential things:
It is a priority to divert the sewage that is discharged directly into the waters of this beach.
Remove the boats on this beach and provide another place for boat maintenance work.
Must carry out a thorough cleaning of the sand on this beach. 
How can the community join this initiative to recover this area?
The involvement of the community is crucial. It is about having positive attitudes that contribute to the care of the beach, for example, by collecting garbage on weekends and adequately using the garbage cans placed for garbage collection. As parents, you can educate your children and set an example to take care of this beach and the entire Galápagos environment.
Any management recommendations regarding this site?
Take more effective action on the treatment of sewage and boats. Control waste and machinery working in this sector. Avoid domestic animals in the area to protect the Sea Lion colony. 
How do you feel about contributing to the recovery of the beach where you grew up? 
It is a unique feeling to be able to intervene in a particular way in the recovery of this site that is so emotional for many people and to know that Galápagos Conservancy is present to fill environmental gaps is worthy of recognition. We still have much work to do in this sector and throughout the island, and we hope to continue to count on the support of GC. 
We are currently witnessing a new generation of environmental professionals, many keep their ideas and initiatives to themselves for various reasons, but we must take action. I invite those who have conservation projects and future initiatives to Galápagos Conservancy, where they will find the confidence and support to develop and exploit their strengths. The more, the better, the more conservation will thank you.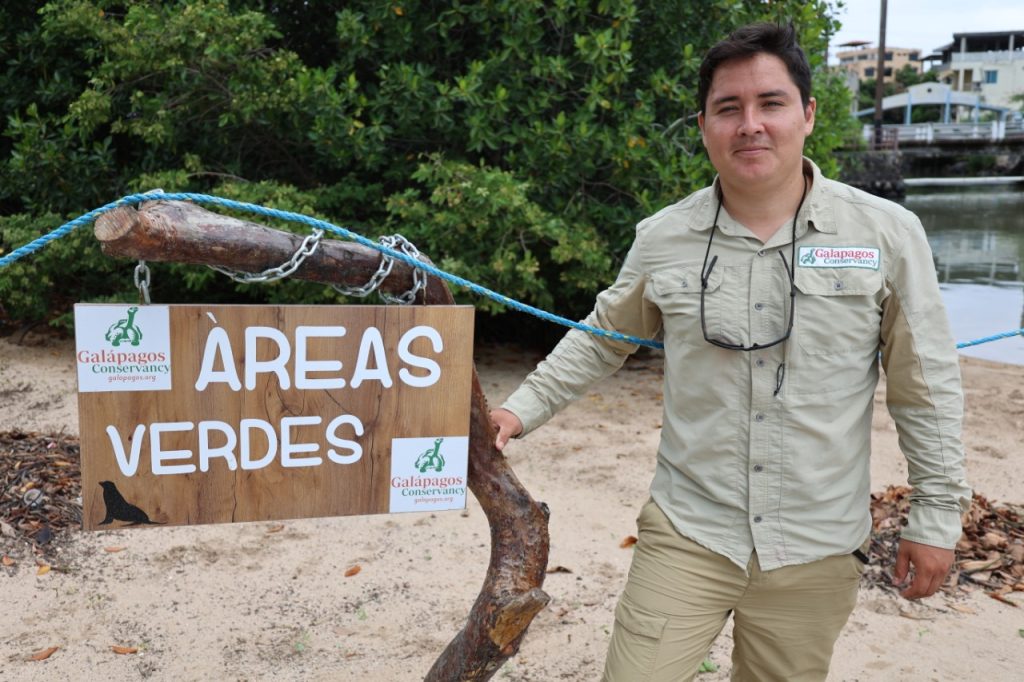 Sumando esfuerzos para la recuperación de Playa de los Marinos
Pablo es un joven galapagueño de 23 años, descendiente de familia de pescadores. Tiene una licenciatura en Gestión Ambiental y desde joven ha formado parte de proyectos e iniciativas de conservación. Con apenas 12 años ya acompañaba a un grupo de científicos a las islas Darwin y Wolf para monitorear tiburones, lo que le aportó nuevos conocimientos y experiencias únicas en su vida.
Ahora es un investigador científico asociado de Galápagos Conservancy y trabaja en sus propias iniciativas de conservación, sumándose al reto de cuidar las islas Galápagos y convirtiéndose en un ejemplo para las presentes y futuras generaciones de jóvenes galapagueños.
¿Que te motivó a formarte como gestor ambiental?
Básicamente solventar problemáticas ambientales dentro del territorio insular, ver falencias muy graves por falta de preparación o interés verdadero por Galápagos me motivó a convertirme en gestor ambiental y esto me abre un campo muy amplio dentro de la ciencia y administración ambiental.
¿Por qué tu interés particular en recuperar la Playa de los Marinos?
Esta playa es un lugar donde crecí y mis antepasados de igual manera, me entristece saber que en aquel lugar existía exorbitante vida marina y coexistencia humana – animal y esto se está perdiendo, pero aun se puede hacer algo. Pero, para comenzar un cambio hace falta poner un ejemplo correcto y para estos casos me he preparado durante años, pero la meta es poder brindar a futuras generaciones la oportunidad de vivir lo que mi persona no logro ver. 
¿Por qué se la llama Playa de los Marinos? ¿Cuál es la historia tras este nombre?
Acoge su nombre por la ubicación geográfica al encontrarse muy cerca de la base naval y ser ocupada para entrenamientos físicos de marinos. Tras su uso continuo por esta institución se la nombró Playa de los Marinos, pero la diferencia es muy abrumadora porque ahora por su contaminación quedó de lado cualquier actividad fuera de reparación de embarcaciones. 
¿Qué especies habitan en esta zona?
Playa de los Marinos es el hábitat imprescindible para la colonia de lobos marinos más grande del todo el archipiélago, además es un sitio de anidación de iguanas marinas, piqueros patas azules, fragatas, gaviotas, lisas (rabo amarillo – negro), mojarras, crustáceos, pelicanos, mantarrayas, zayapas y garzas. 
¿En qué consistió tu proyecto de recuperación de esta playa?
Inicié por realizar un levantamiento de información ambiental del sitio para definir una lista base de especies y conocer su situación frente a la contaminación del sitio. Se logró recolectar información sobre contaminación de agua y suelo con PH muy bajo que afecta directamente a la salud de las especies. Se priorizó además la recolección de basura y el correcto uso de recipientes para este propósito, y se dialogó con armadores turísticos y pesqueros quienes se sumaron positivamente al mantenimiento continuo del sitio.
¿Qué logros importantes destacarías?
Servir de ejemplo directamente para autoridades ambientales de la isla es algo que destacaría, pues con personal realmente capacitado, un presupuesto ajustado y bien administrado, se pudo alcanzar un logro significativo para este sitio.
¿Cómo está ahora Playa de los Marinos?
La zona de mangle de la playa se recuperó, se realizaron mingas de limpieza y se colocaron tachos debidamente identificados para que no se arroje basura en la zona. Sin embargo, es un trabajo que demanda continuidad, los trabajos de reparación de embarcaciones siguen representando una afectación directa en la playa. Lo bueno es que ahora más personas e instituciones realizan mingas de limpieza de todo el sector, y esto es un acto positivo que lo empezamos nosotros con el proyecto de recuperación de Playa de los Marinos.
¿Qué falta por hacer en esta playa?
Como lo dije, el trabajo es permanente, pero destacaría tres cosas importantes: (1) es prioritario desviar el desfogue de aguas negras que se vierten directamente en las aguas de esta playa; (2) hay que retirar las embarcaciones que están en esta playa y facilitar otro lugar para trabajos de mantenimiento de embarcaciones; y (3) se debe realizar una limpieza profunda de la arena de esta playa.
¿Cómo puede la comunidad sumarse a esta incitativa de recuperación de esta zona?
El involucramiento de la comunidad es muy importante, se trata de tener actitudes positivas que contribuyan al cuidado de la playa, por ejemplo recolectando basura los fines de semana, utilizando adecuadamente los tachos colocados para la recolección de basura, y como padres pueden educar a sus hijos y dar el ejemplo respecto a cuidar de esta playa y todo el entorno de Galápagos.
¿Algunas recomendaciones de manejo respecto a este sitio?
Tomar acciones más efectivas sobre el tratamiento de aguas negras y embarcaciones. Tener un control de desechos y maquinaria que labora en este sector. Evitar animales domésticos dentro del sector por protección de la colonia de leones marinos.
¿Cómo te sientes de haber contribuido a la recuperación de la playa que te vio crecer?
Es una sensación única poder intervenir de manera particular en la recuperación de este sitio tan emocional para muchas personas, y saber que Galápagos Conservancy está presente para solventar vacíos ambientales es digno de reconocimiento. Aún tenemos mucho trabajo que realizar por este sector y por toda la isla y esperamos seguir contando con el apoyo de GC.
En la actualidad estamos presenciando una nueva generación de profesionales en medio ambiente, muchos se reservan sus ideas e iniciativas por diversos perjuicios, pero hay que tomar acción. Invito a quienes tengan proyectos e iniciativas de conservación que acudan a Galápagos Conservancy, ahí encontrarán la confianza y el apoyo para desarrollarse y explotar sus virtudes. Entre más es mejor, la conservación te lo agradecerá. 
The Latest Conservation News from Galápagos