Galápagos Conservancy Participates in the IV Science and Conservation Symposium
Date: 09/16/2022
//Versión en español abajo.//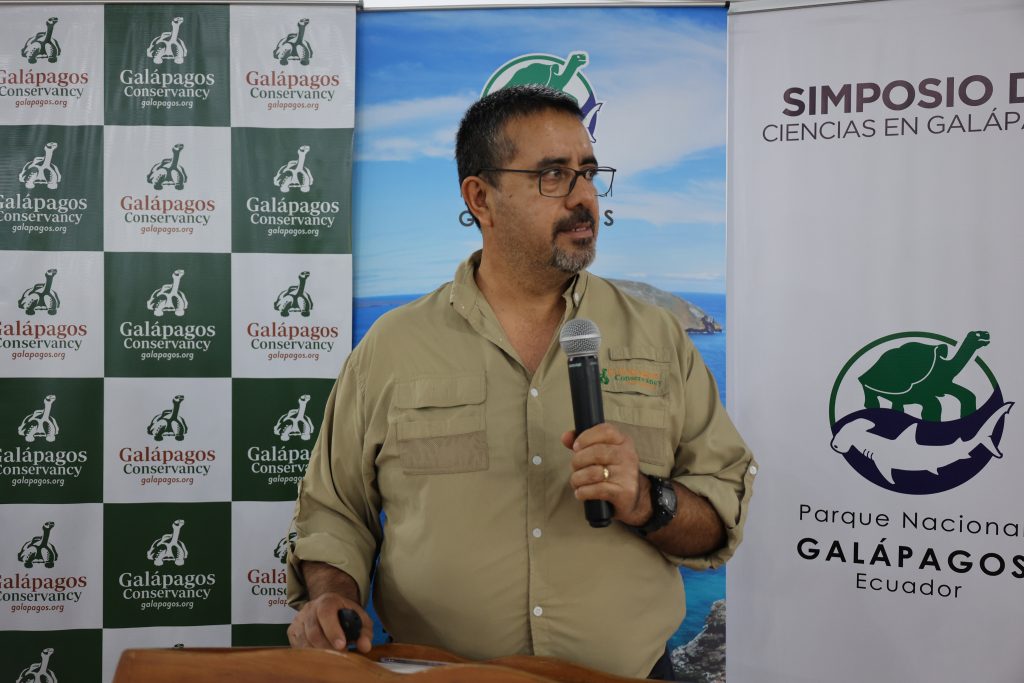 Santa Cruz, Galápagos Islands, was the venue for the IV Symposium on Science and Conservation, organized by the Galápagos National Park Directorate (GNPD) within the framework of the commemoration of the forty-fourth anniversary of the declaration of Galápagos as Natural World Heritage Site.
In this multidisciplinary meeting of experts and community members, the results of the most relevant scientific research carried out in the Archipelago were presented, most of them related to the efforts to conserve and restore the marine and terrestrial ecosystems of Galápagos.
The scientist Washington Tapia, General Director of Conservando Galápagos, Galápagos Conservancy's affiliate in the Islands, presented the topic "Galápagos Land Iguanas as ecosystem engineers," and highlighted that, based on recent studies, iguanas are one of the best molding species of plant communities, hence the importance of research to ensure their protection.
The Symposium also allowed us to share the efforts to conserve and restore Giant Tortoise populations. Cristian Gil, a research assistant at Conservando Galápagos, highlighted the captive breeding and rearing program for Giant Tortoises on Isabela, which makes possible the repopulation of tortoises from the Sierra Negra volcano in the south of the Island. He highlighted that from 1999 to the present date, 2781 tortoises have been repatriated to this area.
Another issue that caught the attention of those present was the Galápagos Conservancy Grants for Conservation Action program, aimed at entrepreneurs from Galápagos and public and private organizations with initiatives focused on sustainability in the Islands.
Bringing science closer to the community is essential to ensure the protection of the environment. "Advances in different areas of research help find solutions to new challenges, not only environmental, but also economic and social, and favor sustainable development," said Dr. Jorge Carrión, Conservation Director of Conservando Galápagos.
"We congratulate the GNPD for organizing the IV Science and Conservation Symposium. The preservation of ecosystems produces a series of important benefits for the environment and human well-being, and events like these allow these benefits to be shared with the community," said Carrión.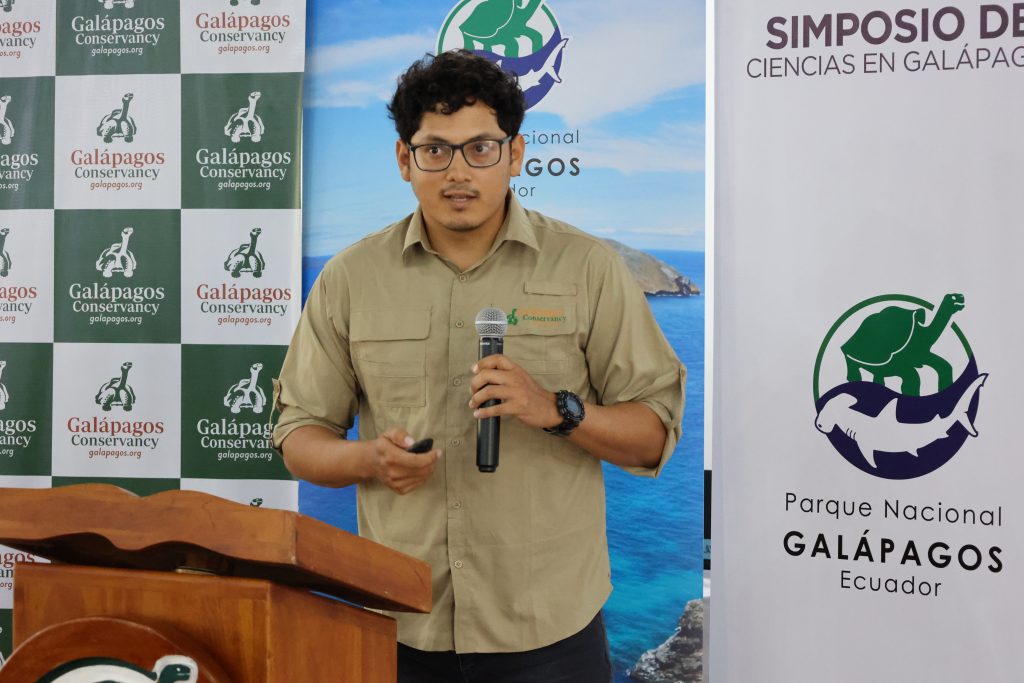 Santa Cruz, Islas Galápagos, fue la sede del IV Simposio de Ciencias y Conservación, organizado por la Dirección del Parque Nacional Galápagos (DPNG) en el marco de la conmemoración del cuadragésimo cuarto aniversario de la declaratoria de Galápagos como Patrimonio Natural de la Humanidad.
En este encuentro multidisciplinario de expertos y la comunidad se expusieron los resultados de las investigaciones científicas más relevantes que se realizan en el Archipiélago, la mayoría relacionadas con los esfuerzos por conservar y restaurar los ecosistemas marinos y terrestres de Galápagos.
El científico Washington Tapia, Director General de Conservando Galápagos, organización filial de Galápagos Conservancy, presentó el tema "las Iguanas terrestres de Galápagos como ingenieras de los ecosistemas", y destacó que, basados en los estudios realizados, las iguanas son unas de las mejores especies moldeadoras de comunidades vegetales, de ahí la importancia de las investigaciones que permitan asegurar su protección. 
El Simposio también nos dio la oportunidad de socializar los esfuerzos por conservar y restaurar las poblaciones de tortugas gigantes. Cristian Gil, asistente de investigación de Conservando Galápagos resaltó particularmente el programa de reproducción y crianza en cautiverio de tortugas gigantes de Isabela, que hace posible la repoblación de las tortugas del volcán Sierra Negra en el sur de la isla. Resaltó que desde 1999 hasta la presente fecha se han repatriado 2781 tortugas en esta zona. 
Otro de los temas que llamó la atención de los presentes fue el programa de Subvenciones a Acciones Conservación de Galápagos Conservancy, dirigido a la par de galapagueños emprendedores y organizaciones públicas y privadas que tengan iniciativas con un enfoque de sostenibilidad en Galápagos
Acercar la ciencia a la comunidad es fundamental para asegurar la protección del ambiente, "los avances en las diferentes áreas de investigación ayudan a encontrar soluciones para los nuevos desafíos, no solo medioambientales, sino también, económicos y sociales y favorecen el desarrollo sostenible", señaló el Dr. Jorge Carrión, Director de Conservación de Conservando Galápagos.
"Felicitamos a la DPNG por la organización del IV Simposio de Ciencias y Conservación, la preservación de los ecosistemas produce una serie de importantes beneficios para el ambiente y el bienestar humano y eventos como estos permiten socializar estos beneficios con la comunidad", señaló Carrión.
The Latest Conservation News from Galápagos