International Women's Day 2022: Conservation as a Tool for Women's Empowerment in Galápagos
by Alex Antram
The WISE program provides support that empowers women eco-entrepreneurs in Galápagos like Karina Bautista, founder of Huerta Luna Farm, who works with local farmers, tour operators, restaurants, and others to expand sustainable agriculture.
Last summer, Galápagos Conservancy partnered with Goldman Sachs to launch the Women in Sustainable Entrepreneurship (WISE) Grant Program. The goal of the program is to invest in women-led, locally driven business projects with a conservation or sustainability focus. At the year's end, we will have awarded over $70,000 in WISE grants to ten women living in the Islands, supporting native plant propagation, sustainable artistry, youth education, and more.
Karina Bautista, one of our first WISE awardees, laughs as she describes herself as a "farming rebel." Committed to conservation and the communal and celebratory nature of sharing wholesome food, Karina was dismayed at her difficulty finding organic, locally grown produce for her family in Galápagos. Farming in a way that benefits landscapes and wildlife is often seen as expensive and difficult, but for the human and environmental health of her home, Karina was compelled to prove otherwise. In 2016, she founded Huerta Luna, a research farm focused on discovering the agroecological practices best suited for farming in Galápagos.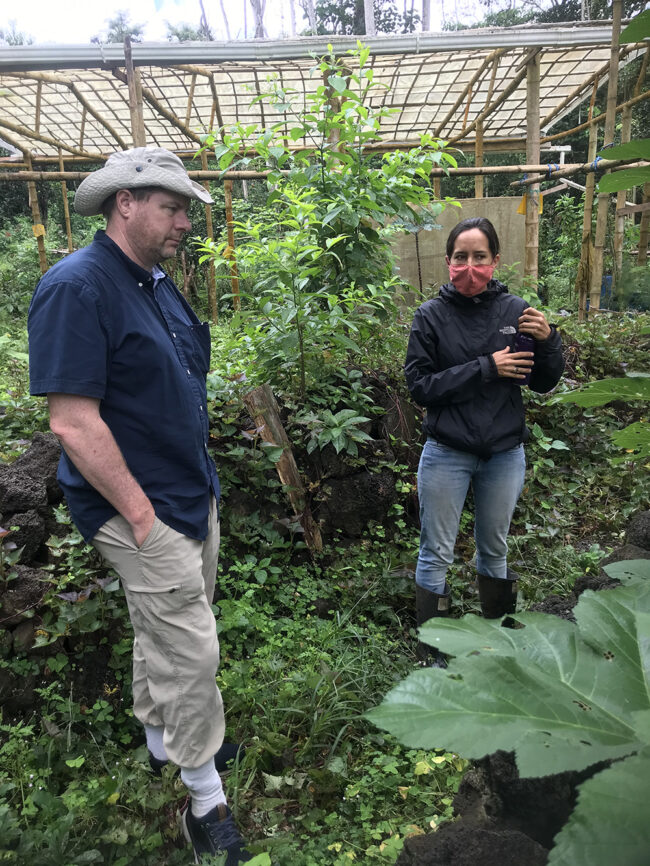 Agroecology is the application of ecological principles to farming. Under that umbrella, Karina practices resilient permaculture, which is concerned with observing, imitating, and learning from nature, because "nature is resilient in its best form." This approach is adaptive and works in tandem with native ecosystems instead of against natural processes. Forgoing unnatural fertilizers and pesticides and favoring diversity in plant species, this method can produce "a lot of food and health per acre — not only health for you as a human being, but health for the soil and health for the whole ecosystem."
Karina was first introduced to these concepts while visiting collectively managed farms in the Amazon Basin. There, she saw successful community conservation in action. "They were creating change in a much more effective way" than she had previously seen in her sustainable development work. "Wherever these farms were, there was change. There was change at the community level. There was change with families. There was real change, not only in well-being but in the community and how they helped each other and nurtured, fed, nourished [one another] physically and economically." Karina knows this is possible for Galápagos, despite naysayers believing the terrain is too difficult or there are too many invasive plants and pests. Farming can be regenerative and restore healthy ecosystem processes alongside improving social dynamics. But this knowledge is useless if not shared.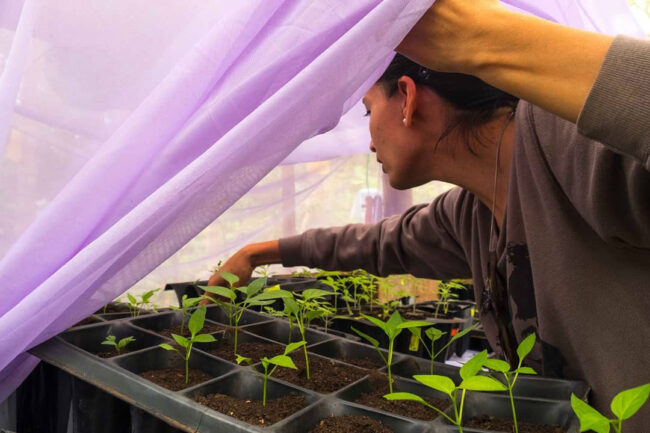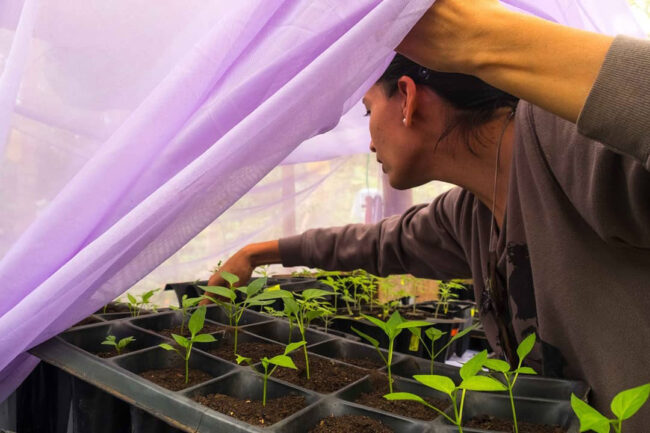 Karina is ready to publish on the Huerta Luna team's six years of data collection, analysis, and adaptation of agroecological techniques. Her WISE grant is funding the publication and promotion of an accessible, engaging book on sustainable farming tailored to anyone living or working in the Islands. Karina is eager to host outreach events where people can learn, have fun, and "experience the flavors" created through resilient agriculture and collective action. She wants to connect with other farmers, gardeners, food distributors, chefs, mothers, cruise operators, political players — any and all people impacted by potential food insecurity in Galápagos.
But Karina has a message for you, too. This is an urgent call for people to invest in sustainable farming wherever they live. Individuals can make change and transform communities through working with, and not against, nature.
Start at home by using local vendors, growing food, or joining a co-op if you can. Karina feels growing our collective consciousness towards a conservation ethic is the best way to shift incorrect perceptions about agriculture. "You have to understand nature and you have to nurture it," Karina shares.
The Latest Conservation News from Galápagos