Inspiring the Next Generation to Protect the Galápagos Islands
Date: 5/25/2023.
//Versión en español abajo.//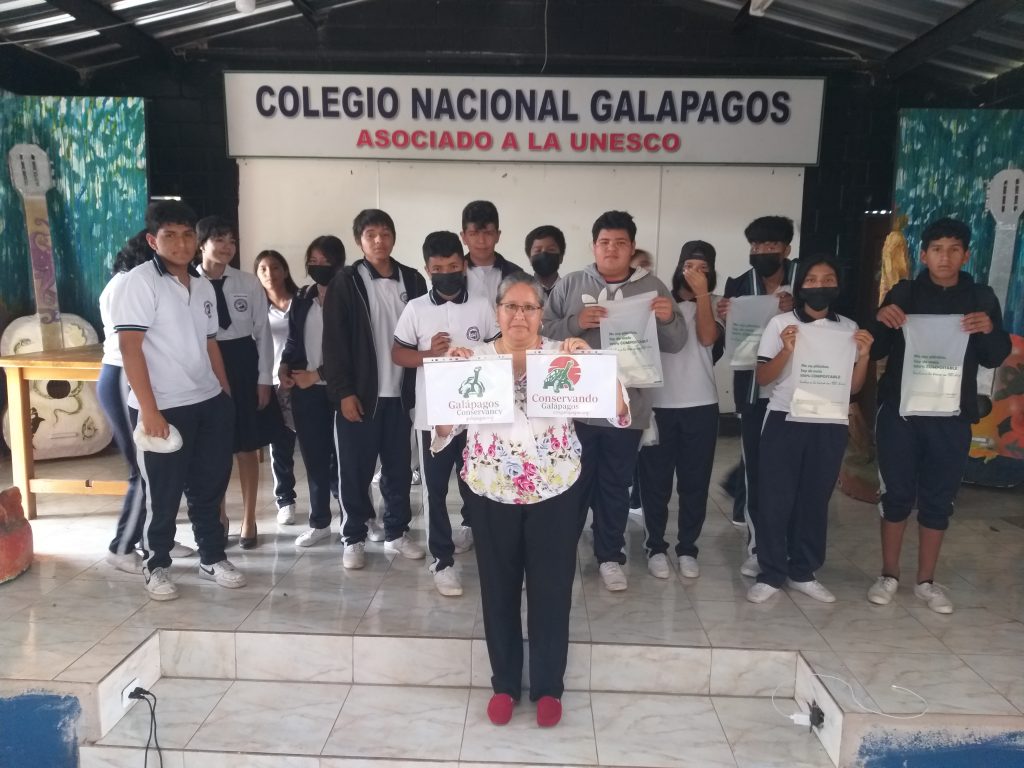 The extraordinary Galápagos Islands are a living classroom, and no one understands that better than environmental educator Maria Daza, who is encouraging the next generation of conservationists. Daza has devoted decades to promoting the holistic development of children in this unique region and instilling environmental awareness through her work at the Galápagos National Park Directorate. With the support of Galápagos Conservancy, Daza has been able to share her passion for conservation through an inspiring project at Santa Cruz Island schools.
Daza's project involved regular school visits to work with principals and teachers on environmental topics. A total of 3,767 people, including students, teachers, and staff, benefited from these visits, in which they learned about the harmful effects of single-use plastics, alternatives to plastic, and the advantages of compostable and biodegradable bags.
In addition, Daza organized puppet shows and distributed compostable and biodegradable bags to each participant. The bags, which naturally turn into organic fertilizer within 180 days, will significantly reduce the amount of plastic waste generated in the community. Daza emphasizes the crucial role of eco-friendly bags as the best alternative to single-use plastics. Using them to collect organic waste, package food, and transport items promotes sustainable practices and reduces environmental impact. 
The success of this initiative is evident in the reception from the local community and its positive impact on the environment. Daza points out that education goes beyond the confines of the classroom, and it is essential to seize the opportunity for students to become acquainted with and embrace environmentally friendly alternatives. Learning to reduce, reuse, and separate waste is crucial for building a more sustainable future in the Galápagos Islands.
Witnessing Daza's unwavering dedication to promoting environmental education and conservation is truly inspiring. Galápagos Conservancy takes great pride in supporting initiatives that have a tangible impact on protecting this exceptional ecosystem. Together with committed locals like Daza, we are building a brighter future for the Galápagos Islands, where education and conservation work hand in hand to preserve this incredible natural treasure.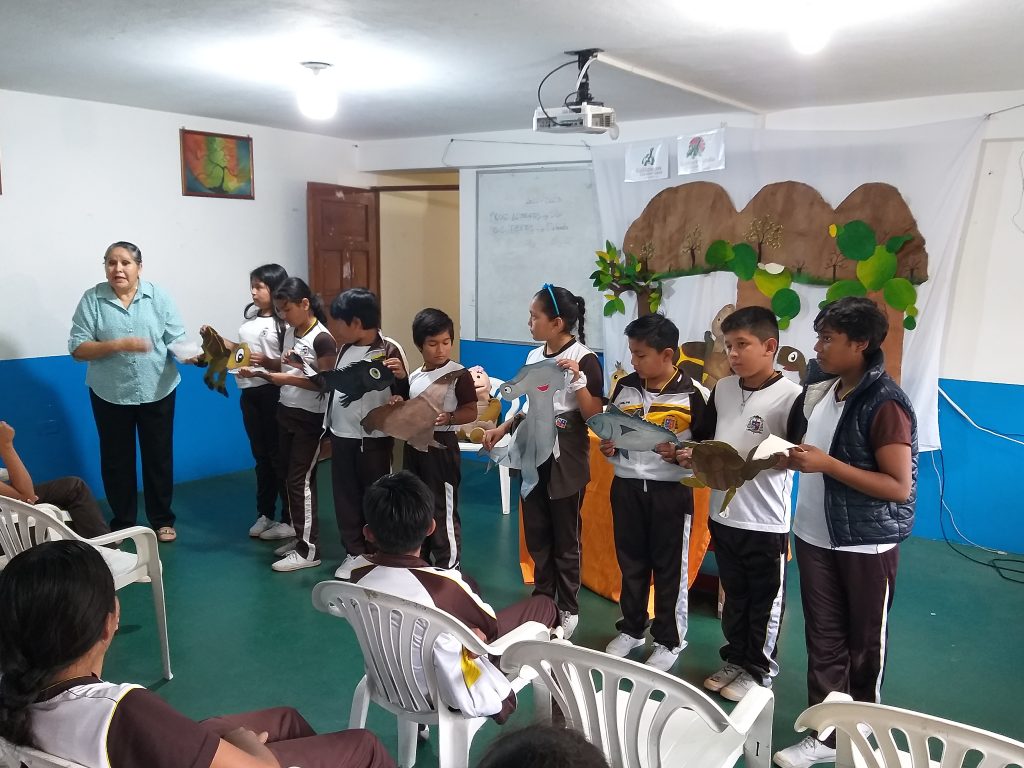 Inspirando a las Nuevas Generaciones para Proteger las Islas Galápagos
En el extraordinario entorno de las Islas Galápagos, hay una mujer que se destaca por su dedicación inquebrantable a la educación no formal y la conservación del medio ambiente: María Daza. Como educadora ambiental, María ha dedicado décadas de su vida a promover el desarrollo integral de los niños en esta región única del mundo. Su trabajo en la Dirección del Parque Nacional Galápagos ha sido fundamental para inculcar la conciencia ambiental en las generaciones más jóvenes. Con el apoyo de Galápagos Conservancy, María ha llevado a cabo un inspirador proyecto que ha dejado una huella perdurable en las escuelas de la Isla Santa Cruz.
El proyecto de María consistió en visitas regulares a las escuelas, en colaboración con directores y profesores. Durante estas visitas, se ha beneficiado a un total de 3.767 personas, incluyendo estudiantes, profesores y personal administrativo. Los temas tratados han abarcado los efectos dañinos de los plásticos de un solo uso, los beneficios de las bolsas compostables y biodegradables, y las alternativas al uso del plástico.
Como parte de este proyecto, se llevaron a cabo presentaciones de títeres y se entregaron bolsas compostables y biodegradables a cada participante. Estas bolsas, que se convertirán en abono orgánico natural en un plazo de 180 días, contribuirán a reducir significativamente la cantidad de residuos plásticos generados en la comunidad.
María destaca el papel fundamental de las bolsas compostables y biodegradables como la mejor alternativa al plástico desechable de un solo uso. Estas bolsas pueden ser utilizadas para recolectar desechos orgánicos, empacar alimentos y transportar diversos productos, promoviendo prácticas más sostenibles y reduciendo el impacto ambiental.
El éxito de esta iniciativa se refleja en el impacto positivo que ha tenido en la comunidad local, en el medio ambiente y en sus especies. María señala que la educación va más allá de las aulas y es esencial aprovechar esta oportunidad para que los estudiantes conozcan y adopten alternativas amigables con el medio ambiente. Aprender a reducir, reutilizar y separar los residuos es fundamental para construir un futuro más sostenible en las Islas Galápagos.
Es inspirador ver el compromiso de María Daza y su incansable labor en la promoción de la educación ambiental y la conservación. Galápagos Conservancy se complace en respaldar estas iniciativas que generan un impacto real en la protección de este ecosistema único. Juntos, estamos construyendo un futuro más esperanzador para las Islas Galápagos, donde la educación y la conservación se unen para preservar y proteger esta maravillosa joya natural.
The Latest Conservation News from Galápagos