//Versión en español abajo.//
by Cristian Gil Jaramillo Technical Assistant Conservando Galápagos
Being born and raised in Puerto Villamil on Isabela Island has been a privilege. It also comes with an enormous responsibility – to care for and conserve everything that surrounds me.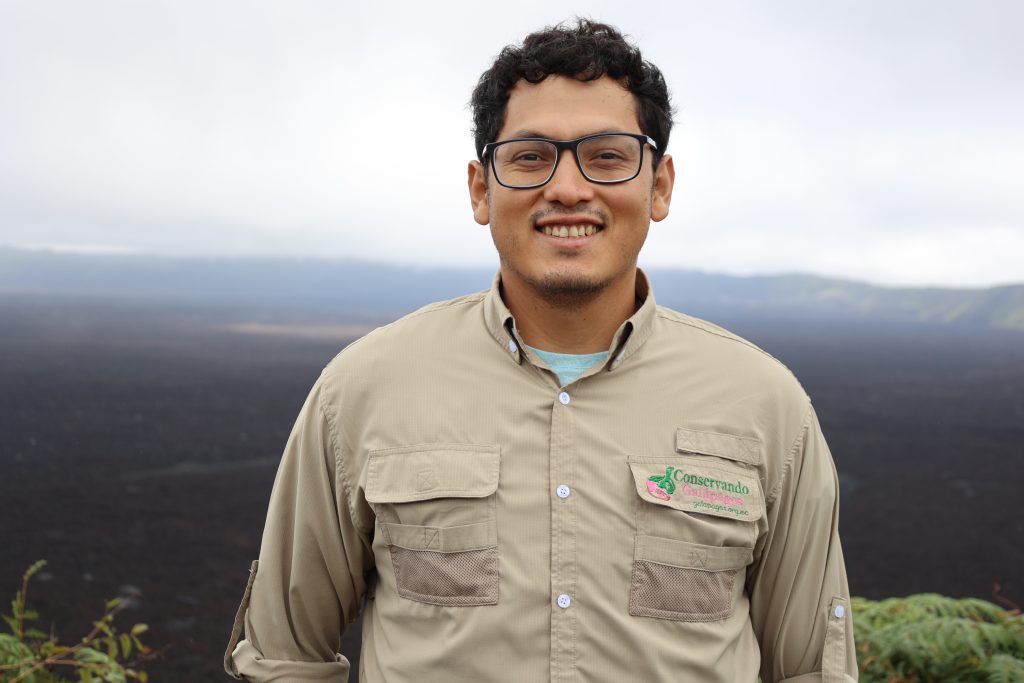 I had a very happy childhood with my family and many friends. I was surrounded by mangroves, Scalesia, Ceiba, and coffee trees, as well as Marine Iguanas, Lava Gulls, Flamingos, and a range of other sea life and land animals, including Giant Tortoises in the Galápagos National Park's Breeding Center. This diversity of plants and animals gave me a lot of peace. As I grew up and learned more, I began categorizing everything around me, starting to understand the role of each as an element in our ecosystem. From a young age, I learned the difference between endemic and introduced species and why I could pet my dog but not a Marine Iguana. Knowing what to touch, what not to touch, what to care for, and what to keep under control has always inspired me. I realized the importance of biodiversity here, and I wanted to play my part in its preservation. This was a fundamental starting point, which shaped my decision to pursue a degree in Environmental Science from the University of Buenos Aires, Argentina. I wanted to learn the necessary tools to contribute to the conservation and sustainable use of our Islands' natural resources.
Conflict between the institutions in charge of conserving nature in the Islands and the local people who seek to satisfy their basic needs has long been a challenge in Galápagos. Sadly, two essential animals in the Galápagos ecosystem, Giant Tortoises and sharks, have been caught up in this conflict. Local people have long relied on tortoises for food, and catching sharks has been a source of income. To protect these amazing animals, conservation action for Giant Tortoises started in 1965 with the creation of the captive breeding and rearing program. In 1998, the Galápagos Marine Reserve was created to conserve sharks and other important sea life.
But the transition to a culture of conservation and a sustainable society has not been easy. In my childhood, it was common to see shark fins drying on the roofs of houses. And the poaching of Giant Tortoises on Isabela has gone on since the beginning of human colonization of the Island. But conservation action by the Galápagos National Park Directorate and allied organizations
has been effective, and Isabeleños — people who live on Isabela Island — now enjoy and welcome shark sightings. We love to show our visitors how majestic Galápagos species are, especially Giant Tortoises.
The impact of conservation efforts in Galápagos is visible, but threats remain and the path ahead is complicated. There is still demand for shark fins and tortoises. Nevertheless, the current public understanding of the importance of conservation here is much stronger than ever before. Our past successes provide hope and motivation for Isabeleños to get involved in these noble activities and, in this way, to vindicate ourselves as human beings who are aware of the privilege to call Galápagos home.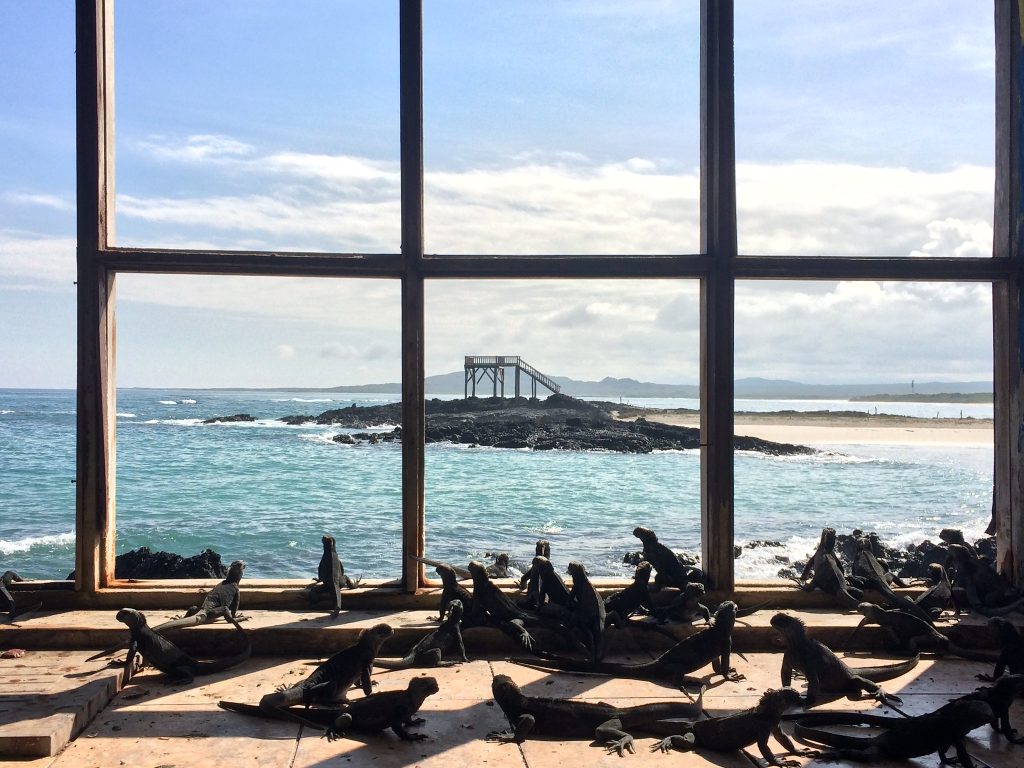 Hogar Dulce Hogar, Isabela
por Cristian Gil Jaramillo, Asistente Técnico de Conservando Galápagos
Haber nacido y crecido en la isla Isabela, Puerto Villamil, es un privilegio especial que conlleva una enorme responsabilidad: cuidar y conservar todo lo que me rodea, mi hogar.
Tuve una infancia muy feliz con mi familia y muchos amigos, crecí en un ambiente de naturaleza rodeado de manglares, scalesias, ceibos y cafetales, así como iguanas marinas, gaviotas de lava, flamencos y una variedad de otras criaturas marinas y terrestres, y por supuesto, las tortugas gigantes. Esta diversidad de plantas y animales me brindó mucha paz y, a medida que crecía y aprendía más sobre el medio que me rodeaba, empecé a entender el rol y la importancia de cada elemento en nuestro ecosistema. 
Desde muy joven, aprendí la diferencia entre especies endémicas e introducidas y por qué podía acariciar a mi perro pero no a una iguana marina. Aprendí que habían especies que podía tocar, y otras no, y entendí lo que se debe cuidar y lo que se debe controlar, estos aprendizajes siempre fueron mi inspiración. Pronto me di cuenta de la importancia de la biodiversidad de mi hogar, y me decidí a ser parte de su conservación. Este fue un punto de partida fundamental que moldeó mi decisión de seguir una carrera en Ciencias Ambientales en la Universidad de Buenos Aires, Argentina, pues quería aprender las herramientas necesarias para contribuir a la conservación y uso sostenible de los recursos naturales de Galápagos.
Ahora bien, el conflicto entre la institución responsable de conservar la naturaleza en las islas y la población local, que busca satisfacer sus necesidades básicas, ha sido durante mucho tiempo un desafío en Galápagos. Lamentablemente, dos animales esenciales para los ecosistemas del Archipiélago, las tortugas gigantes y los tiburones, se han visto atrapados en este conflicto. En mi isla, la comunidad ha dependido durante mucho tiempo de las tortugas terrestres para obtener alimento, además, la captura de tiburones ha sido una fuente ilícita de ingresos. Por eso, en 1965 se creó el Programa de Reproducción y Crianza en cautiverio, para proteger a estos animales increíbles, las tortugas gigantes; y en 1998, se creó la Reserva Marina de Galápagos para proteger los tiburones y otras criaturas de vital importancia para los ecosistemas marinos.
Lastimosamente la transición hacia una sociedad con una cultura de conservación y sostenibilidad no ha sido fácil. Recuerdo que en mi infancia era común ver aletas de tiburón secándose en los techos de las casas; y tristemente la caza furtiva de tortugas gigantes en Isabela ha continuado desde el comienzo de la colonización humana de la isla hasta la actualidad. Sin embargo, las decididas acciones de conservación de la Dirección del Parque Nacional Galápagos, sumadas a las de organizaciones aliadas han sido efectivas, y en consecuencia, los Isabeleños hoy disfrutan y reciben con agrado la presencia de tiburones, y nos encanta mostrar a nuestros visitantes lo majestuosa que es la biodiversidad de Galápagos, especialmente las tortugas gigantes.
Sin duda, el impacto y resultados de los esfuerzos de conservación son evidentes en el Archipiélago, pero las amenazas persisten y el camino por delante es complicado. Todavía existe una demanda de aletas de tiburón y tortugas, sin embargo, la comprensión ciudadana actual sobre la importancia de la conservación es mucho más fuerte que nunca antes. Nuestros éxitos pasados brindan esperanza y motivación para que los isabeleños nos involucremos y apoyemos con decisión las acciones que propenden al cuidado de la biodiversidad única de nuestras islas y, como seres humanos estemos cada vez más conscientes del privilegio de llamar hogar a las islas Galápagos.
The Latest Conservation News from Galápagos