Making it Count: Giant Tortoise Census Sheds Light on Endangered Populations
Date: Feb. 3rd, 2023
//Versión en español abajo.//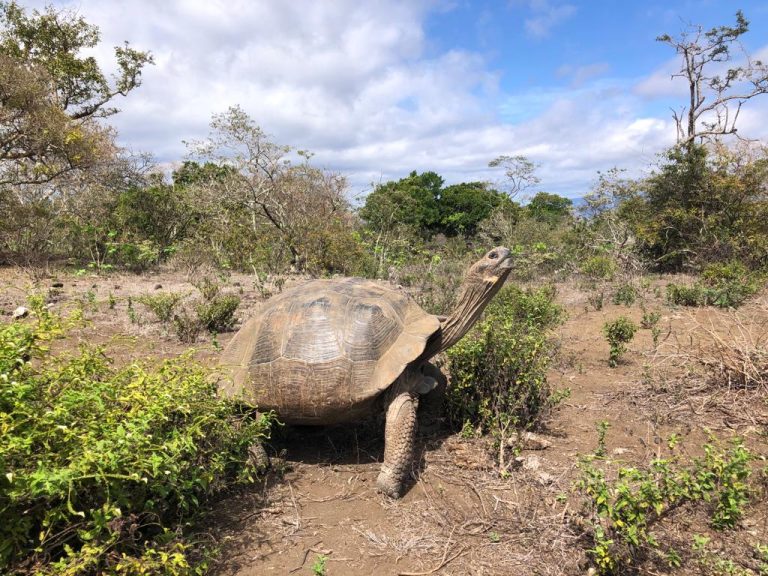 Galápagos Conservancy, in partnership with the Galápagos National Park Directorate (GNPD), is undertaking an ambitious project in which the first comprehensive census was conducted of two populations of Cerro Azul Giant Tortoises (Chelonoidis vicina) on Isabela Island. A total of 2,222 tortoises endemic to Cerro Azul Volcano were marked and evaluated over a 10-day period.
Dr. Jorge Carrión, Director of Conservation for Galápagos Conservancy and its partner Conservando Galápagos, stated that although the population status of this species has been affected by the presence of invasive species, such as guava and feral pigs, "the results of the expedition have been positive and provide valuable information about the number and physical condition of the tortoises, icons of Galápagos".
Washington Tapia, General Director of Galápagos Conservancy and its partner Conservando Galápagos, said that the team used the mark-recapture method, took measurements and weights of the tortoises, and attached satellite tracking devices to learn about aspects of their natural history, activities, and movements. Blood samples were taken to determine the phylogenetic relationships among the different tortoise populations on the volcano, and feces samples were taken to study their diet and contribution to seed dispersal.
Galápagos Conservancy is committed to strengthening conservation efforts for this species and protecting it from the threats posed by invasive species. Conducting scientific expeditions to remote locations like Cerro Azul Volcano is crucial to understanding the population status of Giant Tortoises and ensuring the conservation of this species found nowhere else in the world.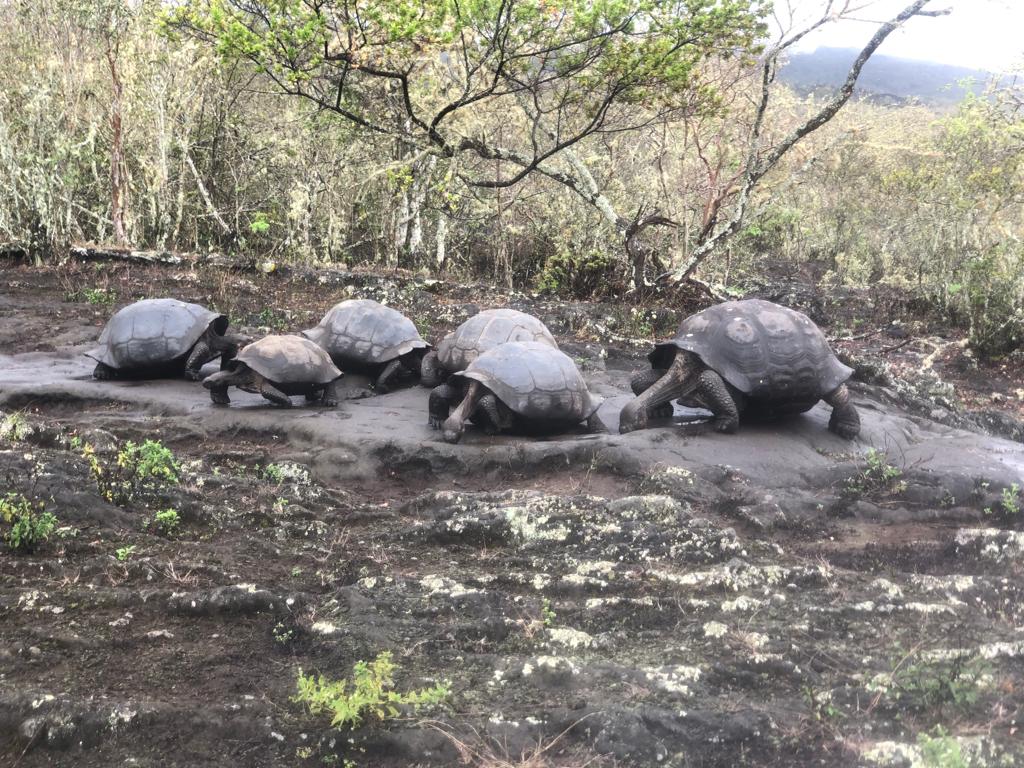 Tortugas gigantes de Galápagos: Primer censo integral de poblaciones poco conocidas en Isabela
Galápagos Conservancy, en conjunto con la Dirección del Parque Nacional Galápagos, llevan a cabo un ambicioso proyecto en el que se realizó el primer censo integral de dos poblaciones de tortugas gigantes de la especie Chelonoidis vicina, endémica del volcán Cerro Azul en la isla Isabela. Un total de 2222 tortugas fueron marcadas y evaluadas en un periodo de 10 días.
El Dr. Jorge Carrión, Director de Conservación de Galápagos Conservancy y su filial Conservando Galápagos, indicó que el estado poblacional de esta especie ha sido afectado por la presencia de especies invasoras como la guayaba y los cerdos ferales, pero asegura que "los resultados de la expedición han sido positivos y permiten tener información valiosa sobre el número y condición física de los quelonios, íconos de Galápagos". 
Por otro lado, el Director General de Galápagos Conservancy y su filial Conservando Galápagos, Washington Tapia, dijo que la metodología utilizada por la expedición fue la marcación recaptura, se tomaron medidas morfométricas y peso de las tortugas y se colocaron dispositivos de rastreo satelital para conocer aspectos de su historia natural, sus actividades y movimientos, y se tomaron muestras de sangre para determinar las relaciones filogenéticas entre las diferentes poblaciones de tortugas en el volcán, y de heces para estudiar su dieta y contribución a la dispersión de semillas".
Galápagos Conservancy está comprometido a fortalecer los esfuerzos de conservación de esta especie, y protegerla de las amenazas que representan las especies invasoras. La realización de expediciones científicas a lugares remotos como este es fundamental para conocer el estado de la población de las tortugas y así garantizar la conservación de esta especie única en el mundo.
The Latest Conservation News from Galápagos