Galápagos Conservancy Ramps Up Efforts to Combat Invasive Species, Including the African Land Snail
// Versión en español abajo //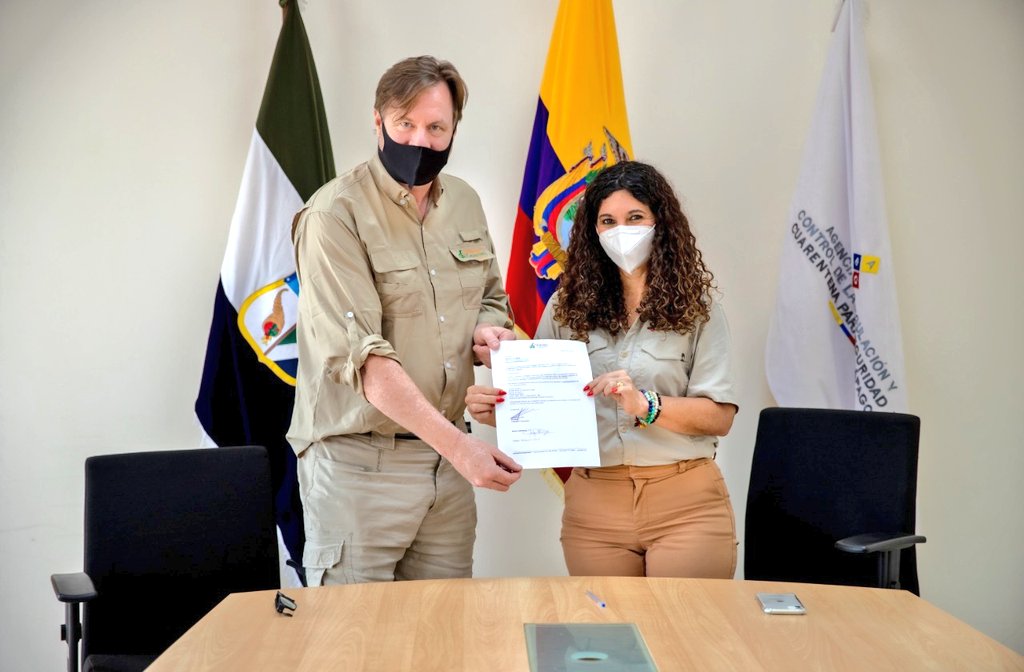 Invasive species are one of the most dire threats to the endemic flora and fauna of the Galápagos Islands.
One of the most aggressive species is the Giant African Snail (Lissachatina fulica), which was reported for the first time in Galápagos in 2010 and is a highly invasive species that appears on the International Union for Conservation of Nature's (IUCN) list of the 100 most harmful invasive species in the world. This mollusk is currently found in both urban and rural areas of Santa Cruz Island.
Galápagos Conservancy President Dr. Paul Salaman recently signed a new agreement with the Galápagos Biosecurity & Quarantine Regulation & Control Agency (ABG) to strengthen control actions and prevent the spread of the African snail on the islands.
According to ABG reports, some 200,000 individuals have been eliminated since 2010, but a continuous effort is required to control their growth, since a single snail can lay 400 to 500 eggs in a single clutch.
The control of the African snail is carried out nocturnally with the help of trained dogs. Part of the Galápagos Conservancy funding will also be used to acquire and train another canine to join this work.
The African snail is a threat mainly to the agricultural sector due to its impact on crops, which generates economic losses. However, it can also become a threat to the health of human beings because it is a carrier of the virus that causes meningitis. For this reason, ABG experts carry out monthly analyses of collected snails in order to prevent an outbreak of meningitis.
For Galápagos Conservancy, it is a priority to continue strengthening eradication efforts of this species that displaces native Galápagos species and constitute a permanent threat.
Galápagos Conservancy suma esfuerzos para hacer frente a las especies invasoras
Las especies invasoras son uno de los principales problemas a los que se hace frente en el archipiélago de Galápagos, son consideradas la principal amenaza para la flora y fauna endémica de las islas.
Una de las especies introducidas mas agresivas es el caracol gigante africano (Lissachatina fulica), fue reportado por primera vez en Galápagos en el 2010 y es una especie sumamente invasiva que incluso consta en la lista de las 100 especies exóticas invasoras más dañinas de mundo de la UICN (Unión Internacional para la Conservación de la Naturaleza), actualmente este molusco se encuentra en la zona urbana y rural de la isla Santa Cruz.
El presidente de Galápagos Conservancy, Dr. Paul Salaman, firmó un convenio de cooperación con la Agencia de Regulación y Control de la Bioseguridad y Cuarentena para Galápagos (ABG) para fortalecer las acciones de control e impedir la propagación del caracol africano en las islas.
Según reportes de la ABG, desde el 2010 se han eliminado unos 200 mil individuos, pero se requieren esfuerzos continuos para controlar su crecimiento, pues un solo caracol puede poner de 400 a 500 huevos en una sola puesta.
El control del caracol africano se lo realiza en las noches con métodos manuales y con la ayuda de perros adiestrados para localizarlos, parte del financiamiento de Galápagos Conservancy servirá también para adquirir y adiestrar otro can que se unirá a este trabajo.
El caracol africano es una amenaza principalmente para el sector agropecuario por su impacto en los cultivos lo cual les genera perdidas económicas, sin embargo, también puede tornarse en una amenaza para la salud de los seres humanos porque es portador del virus que causa meningitis, por lo que expertos de la ABG realizan mensualmente análisis de caracoles recolectados a fin de estar alertas y evitar un brote de meningitis.
Para Galápagos Conservancy es prioritario seguir fortaleciendo las acciones de control de las especies introducidas, estas desplazan a las especies nativas y endémicas de Galápagos y constituyen una amenaza permanente, de ahí la importancia de proteger los ecosistemas insulares de especies nuevas que puedan llegar o de las especies que ya se encuentran en el archipiélago.
The Latest Conservation News from Galápagos