Galápagos Conservancy Announces New Acting President
Date: March 23, 2023.
//Versión en español abajo.//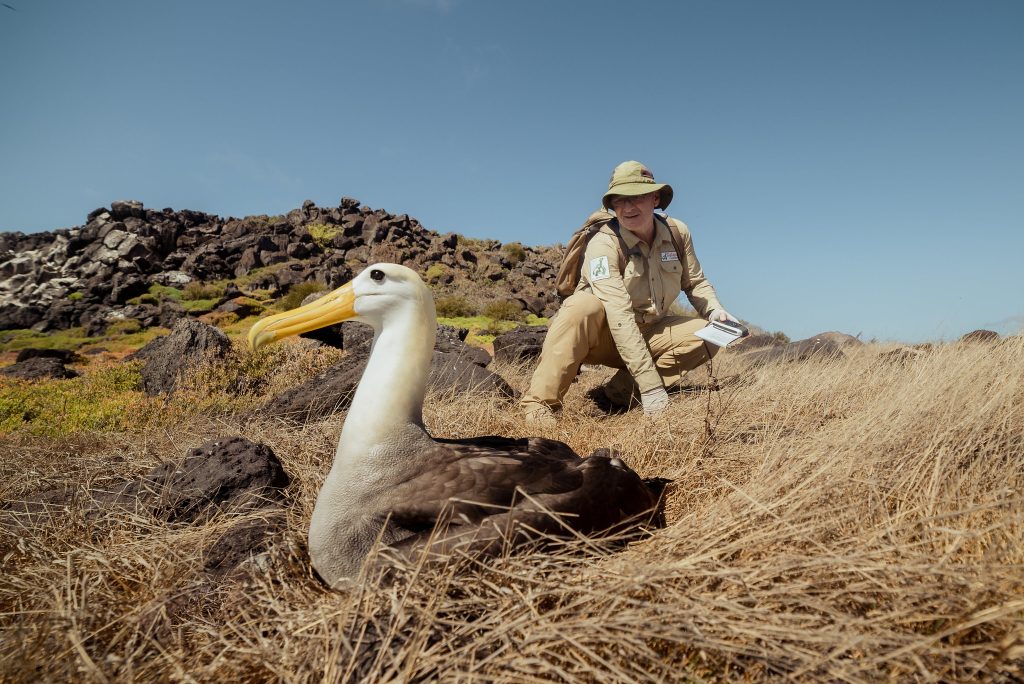 Galápagos Conservancy is pleased to announce the appointment of Dr. James Gibbs as Acting President of the organization following two and half years of leadership by former President, Dr. Paul Salaman, who is leaving the organization to pursue a new opportunity.
Dr. Dan Sherman, Chair of the Galápagos Conservancy Board of Directors noted, "The Board of Directors thanks Dr. Salaman for his years of tireless service to Galápagos Conservancy.  Under Dr. Salaman's leadership, Galápagos Conservancy has significantly increased funding to its conservation programs, strengthened its relationship with the Galápagos National Park Directorate, and shepherded the incorporation of its sister organization, Conservando Galápagos."
Dr. Sherman added. "We are grateful that Dr. Gibbs will serve as Acting President. Dr. Gibbs has decades of experience working for conservation in Galápagos and the Board is confident in his leadership advancing Galápagos Conservancy's efforts to protect the precious Galápagos Islands today."
Dr. Gibbs said, "I wish to thank Paul for his dedicated efforts and the many contributions he has made to conservation in the Galápagos."
Dr. Gibbs previously served as Galápagos Conservancy's Vice President for Science and Conservation and is a recognized expert on global biodiversity conservation and has been heavily involved in advancing science-based conservation actions and priorities for all species of Galápagos Tortoises. He has worked for several decades to bridge the gap between academic research and on-the-ground conservation action in Galápagos.
For media, please contact:
Galápagos Conservancy
media@galapagos.org
Barbara Arizaga, Communications Director
barbara@galapagos.org | +593 99 264 2234
Galápagos Conservancy anuncia un nuevo Presidente
Galápagos Conservancy se complace en anunciar el nombramiento del Dr. James Gibbs como Presidente en funciones de la organización tras dos años y medio de liderazgo del anterior Presidente, el Dr. Paul Salaman, que deja la organización para dedicarse a una nueva oportunidad.

El Dr. Dan Sherman, Presidente de la Junta Directiva de Galápagos Conservancy señaló: "La Junta Directiva agradece al Dr. Salaman sus años de incansable servicio a Galápagos Conservancy. Bajo el liderazgo del Dr. Salaman, Galápagos Conservancy ha aumentado significativamente la financiación de sus programas de conservación, ha fortalecido su relación con la Dirección del Parque Nacional Galápagos y ha liderado la incorporación de su organización hermana, Conservando Galápagos".

El Dr. Sherman añadió "Estamos agradecidos de que el Dr. Gibbs ejerza como Presidente. El Dr. Gibbs tiene décadas de experiencia trabajando por la conservación de Galápagos y la Junta confía en su liderazgo para hacer avanzar los esfuerzos de Galápagos Conservancy para proteger las preciosas Islas Galápagos en la actualidad."

El Dr. Gibbs dijo: "Quiero agradecer a Paul sus dedicados esfuerzos y las muchas contribuciones que ha hecho a la conservación en Galápagos".
El Dr. Gibbs ocupó anteriormente el cargo de Vicepresidente de Ciencia y Conservación de Galápagos Conservancy, es un reconocido experto en conservación de la biodiversidad mundial y ha estado muy implicado en el avance de las acciones y prioridades de conservación con base científica para todas las especies de tortugas de Galápagos. Ha trabajado durante varias décadas para tender puentes entre la investigación académica y las acciones de conservación sobre el terreno en Galápagos.
The Latest Conservation News from Galápagos