Galápagos Conservancy estrena radio revista informativa
//English version bellow//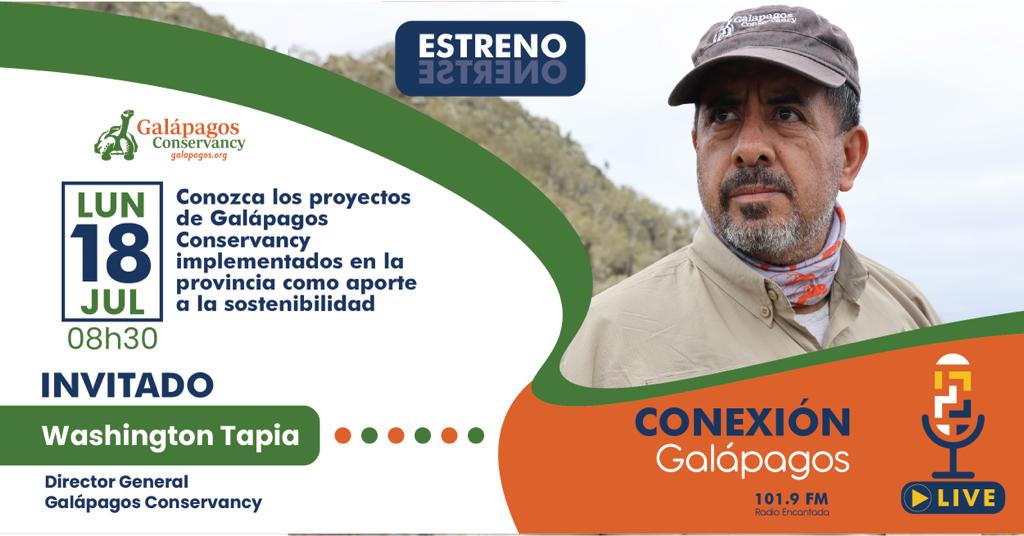 Esta semana se estrenó la radio revista Conexión Galápagos como un canal de difusión permanente de las actividades de Galápagos Conservancy en la Región Insular.
Con una frecuencia semanal, la radio revista será difundida todos los lunes a las 08h30, hora Galápagos, a través de Radio Encantada, y a nivel nacional e internacional a través de las plataformas digitales de Galápagos Conservancy.
Bajo el lema conservar, proteger y restaurar, Conexión Galápagos se enfocará en difundir las inicitivas y acciones de conservación de gente local visionaria, incluyendo mujeres emprendoras, instituciones públicas y privadas con iniciativas de conservación, cuyos proyectos son financiados por Galápagos Conservancy y que contribuyen a la sostenibilidad de Galápagos.
Wacho Tapia, Director General de Galápagos Conservancy, aspira que este nuevo proyecto comunicacional nos acerque aún mas a la comunidad, y que además se convierta en una herramienta de educación con enfoque de sostenibilidad.
Galapagos Conservancy launches informative radio program
This week the radio program Conexión Galápagos was launched as a permanent channel for disseminating the activities of Galápagos Conservancy across the Archipelago.
Under the motto "conserve, protect and restore", Conexión Galápagos will be focused on disseminating the conservation initiatives and actions of local visionaries including women entrepreneurs, public and private institutions with conservation initiatives, and other groups and individuals whose projects are financed by Galápagos Conservancy and who contribute to sustainability in Galápagos.
Wacho Tapia, the General Director of Galápagos Conservancy, hopes that this new communication project will bring us even closer to the community, and that it will also become a powerful educational tool with a focus on sustainability.
Radio broadcasts occur every Monday at 08:30 AM, Galápagos time, through Radio Encantada, and nationally and internationally on Galápagos Conservancy's Facebook page via Facebook Live. 
The Latest Conservation News from Galápagos