Galápagos Conservancy Donates Charles Darwin's Original 19th-Century Books
🇪🇨 Versión en español abajo.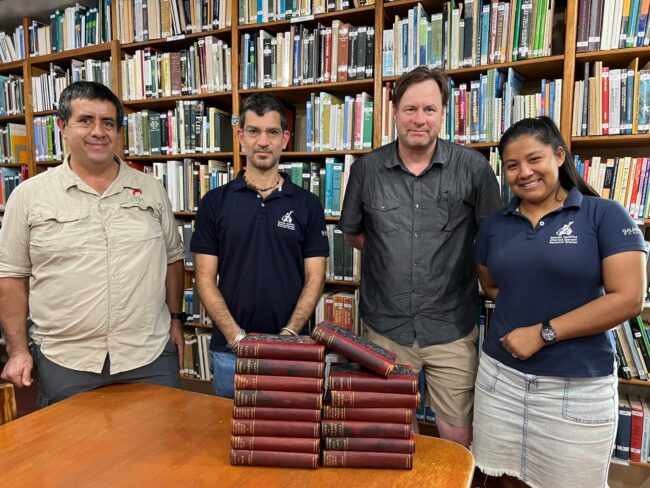 On March 30, 2022, Galápagos Conservancy President Dr. Paul Salaman and Director of Conservation Wacho Tapia delivered a precious collection of 15 original 19th-century books by the British naturalist Charles Darwin to Dr. Rakan Zahawi, Executive Director of the Charles Darwin Foundation, to complement the scientific literature of the Foundation's library.
Few historical figures provoke as much curiosity as Charles Darwin, who arrived in the Galápagos Archipelago in 1835 as part of a five-week scientific voyage to the islands. Darwin observed in the Galápagos highly specialized wildlife species on each island and endemic animal species that had never been seen before, among them Giant Tortoises, Marine Iguanas, and Finches.
The fundamentals of his research and his experience embodied in books and scientific documents continue to be a cornerstone of biological science today.
This collection of books delivered by Galápagos Conservancy was a donation from Joan Stott of the Worthington Foundation, and we are proud to share it with CDF for the benefit of all science lovers who visit the Galápagos Islands.
Galápagos Conservancy realiza una donación de libros originales de Charles Darwin del siglo XVIIII
El 30 de marzo de 2022 el Dr. Paul Salaman, Presidente de Galápagos Conservancy (GC) y Wacho Tapia, Director General de GC, entregaron una preciosa colección original de 15 libros del siglo XVIIII del naturalista británico Charles Darwin al Director Ejecutivo de la Fundación Charles Darwin (FCD), Dr. Rakan Zahawi, para complementar la literatura científica de la biblioteca de la Fundación.
Pocos personajes históricos despiertan tanta curiosidad como el naturalista Charles Darwin, quien llegó al archipiélago de Galápagos en 1835 como participante de un viaje científico de cinco semanas en las islas. Darwin observó en las Galápagos especies de vida silvestre altamente especializadas en cada isla y especies animales endémicas que no se habían visto jamás, enytre estas tortugas gigantes, iguanas marinas y pinzones.
Los fundamentos de su investigación y toda la información y vivencias de su experiencia plasmada en libros y documentos científicos continúan siendo una piedra angular de la ciencia biológica en la actualidad.
Esta colección de libros entregados por Galápagos Conservancy fue una donación de Joan Stott de la Worthington Foundation, y hoy la compartimos con la FCD para beneficio de todos los amantes de la ciencia que visitan las islas Galápagos.
The Latest Conservation News from Galápagos