Galápagos Conservancy and National Park Join Forces to Strengthen Conservation Efforts
Date: 4/18/2023/
//Versión en español abajo.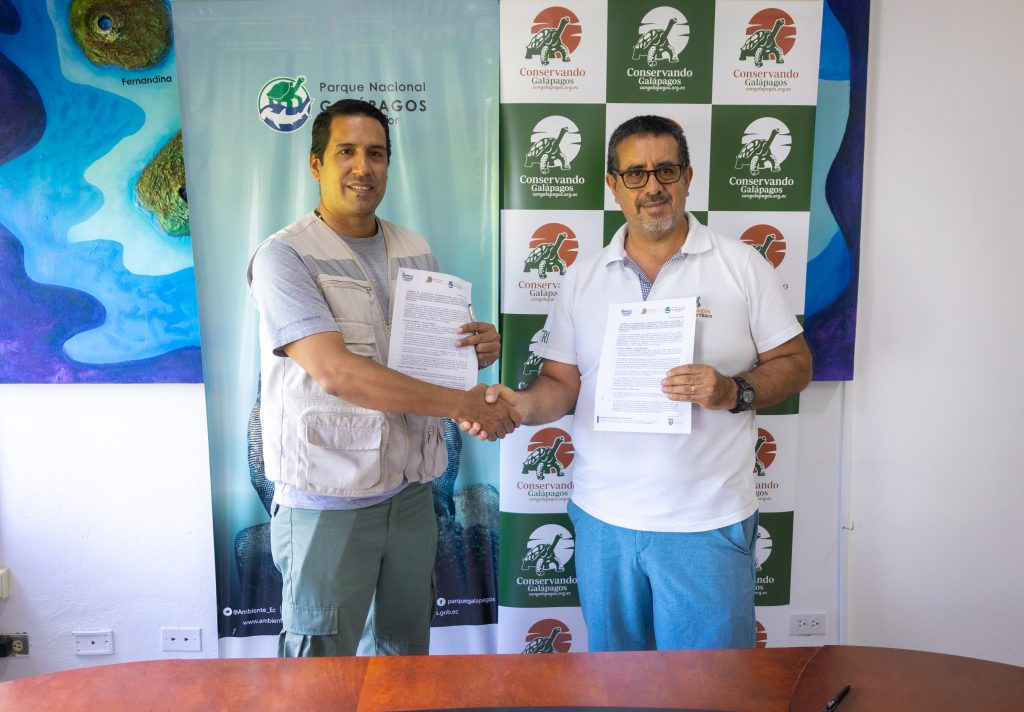 On April 11th, the General Director of Galápagos Conservancy, Washington Tapia, and the Director of the Galápagos National Park, Danny Rueda, signed an important cooperation agreement between the two institutions. The objective of this alliance is to strengthen the conservation activities carried out by the National Park for the protection of the marine and terrestrial ecosystems of Galápagos.
This agreement represents a major step toward the conservation of the natural gems found throughout the Archipelago. The collaboration between both organizations will strengthen, among other things, management programs for emblematic species, ecosystem restoration, the Rapid Response Network, and the monitoring program for Sea Turtles.
For Galápagos Conservancy, this agreement represents a new opportunity to reinforce our support of the Galápagos National Park Directorate (GNPD), as we recognize the dedicated work of the park rangers to ensure the conservation of Galápagos ecosystems and their unique biodiversity. Tapia highlighted the fundamental importance of joining efforts to protect, conserve, and restore ecosystems and the species that inhabit them to guarantee their capacity to serve present and future generations.
The partnership between Galápagos Conservancy and the GNPD over the past decade has led to world-renowned conservation initiatives, such as Iniciativa Galápagos, and made a significant difference in the protection and conservation of the most valuable ecosystems on the planet. Deepening this cooperation will enhance these ongoing efforts to achieve a sustainable future for the Archipelago.
Conservation of the remarkable flora and fauna of Galápagos is a challenge that concerns us all, so we must work together to conserve this natural treasure. Galápagos Conservancy reaffirms its commitment to continue supporting the GNPD in its work to care for and restore the protected areas of the Archipelago. As Tapia stated, "This cooperation agreement is a sign that if we work together, we can achieve a positive impact on the conservation of our natural heritage and ensure that future generations can enjoy the natural beauty and opportunities that Galápagos generates for its local population."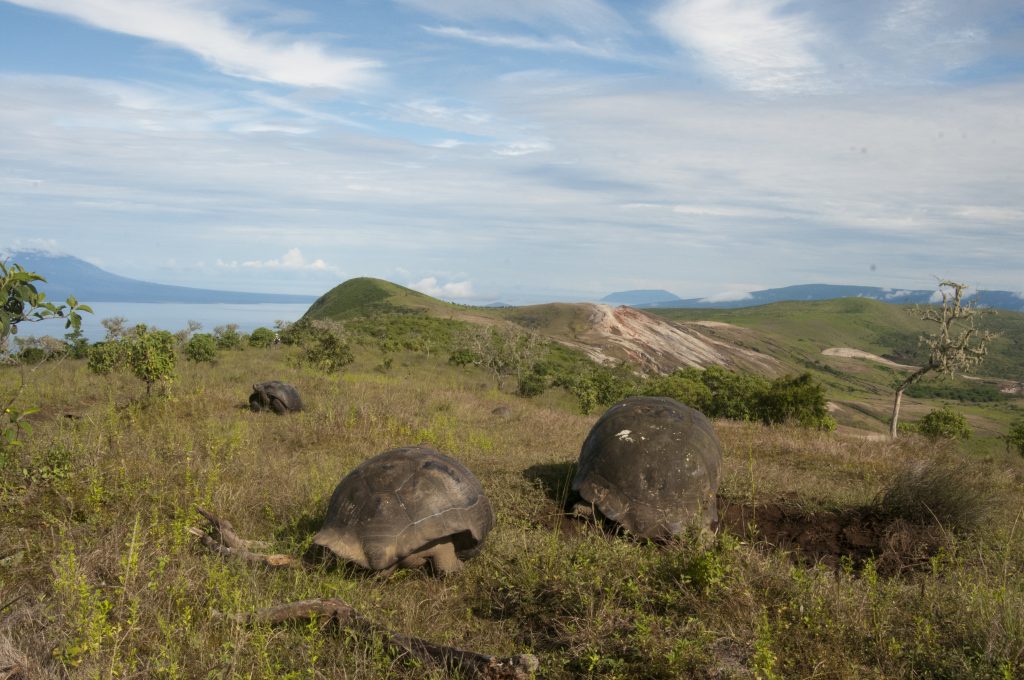 Galápagos Conservancy afianza su compromiso con la Dirección del Parque Nacional Galápagos 
El martes 11 de abril, el director general de Galápagos Conservancy, Washington Tapia, y el director del Parque Nacional Galápagos, Danny Rueda Córdova, firmaron un importante convenio de cooperación interinstitucional. El objetivo de esta alianza es fortalecer las actividades de conservación que ejecuta la autoridad ambiental para la protección de los ecosistemas marinos y terrestres de Galápagos.
Este convenio representa un gran paso hacia la conservación de las joyas naturales que alberga el Archipiélago. La colaboración entre ambas organizaciones permitirá, entre otras cosas, potenciar programas de manejo de especies emblemáticas, restauración de ecosistemas, fortalecimiento de la Red de Respuesta Rápida y el programa de monitoreo de tortugas marinas.
Para Galápagos Conservancy, este acuerdo representa una nueva oportunidad de contribuir al fortalecimiento de la Dirección del Parque Nacional Galápagos (DPNG), pues reconocemos la labor dedicada y constante de los guardaparques para garantizar la conservación de los ecosistemas de Galápagos y su biodiversidad única. Washington Tapia destacó que es fundamental unir esfuerzos para proteger, conservar y restaurar los ecosistemas y las especies que habitan en ellos, para así garantizar su capacidad de generar servicios para las generaciones presentes y futuras.
Este convenio de cooperación, además, reafirma la importancia de trabajar en conjunto para lograr un futuro sostenible para el archipiélago y es un ejemplo de cómo el compromiso y la dedicación pueden marcar una gran diferencia en la protección y conservación de los ecosistemas más valiosos del planeta. El trabajo en cooperación es fundamental para garantizar que estos ecosistemas se mantengan con integridad y resiliencia.
Es importante destacar que la conservación de la flora y fauna del archipiélago de Galápagos es un desafío que nos concierne a todos. Debemos estar comprometidos con esta tarea y trabajar juntos para conservar este tesoro natural.
Ratificamos nuestro compromiso de seguir respaldando a la DPNG, conscientes de que el cuidado de las áreas protegidas del Archipiélago demanda todo el apoyo necesario. "Este convenio de cooperación es una muestra de que si trabajamos juntos, podemos lograr un impacto positivo en la conservación de nuestro patrimonio natural y garantizar que las próximas generaciones puedan disfrutar de la belleza natural y oportunidades que Galápagos genera para su población local", dijo Tapia.
The Latest Conservation News from Galápagos