Final Phase of the Santa Fe Tortoise Repopulation Process Complete
On Friday, February 26, 191 juvenile tortoises of the Chelonoidis hoodensis (Española Island) species joined the population that has been introduced to Santa Fe Island since 2015 as part of the process implemented to achieve the ecological restoration of the entire island. After this final repopulation effort with the last 191 individuals from the Fausto Llerena breeding center in Santa Cruz, Santa Fe now has a population of 732 tortoises in total.
With this activity, the Galápagos National Park Directorate and Galápagos Conservancy completed the third phase of the Plan for the Introduction of Giant Tortoises to Santa Fe as a strategy to contribute to the process of their ecological restoration, which is part of the activities of the Giant Tortoise Restoration Initiative (GTRI).
Washington Tapia, Director of the GTRI, explained that the introduction of 31 sub-adult turtles carried out at the beginning of 2020 and the high survival rate of juveniles (99.8%), accelerated the process of establishing a breeding population on the island — which was essential to contribute effectively to the process of restoring the ecological integrity and biodiversity of Santa Fe.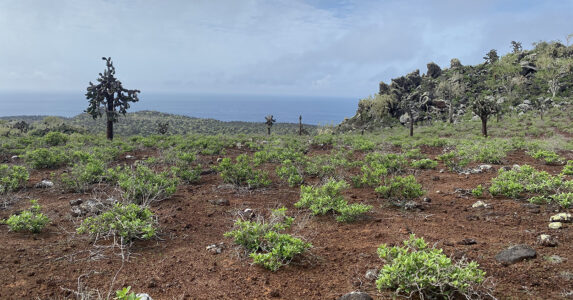 The 191 baby turtles hatched in the 2013-2014, 2014-2015 and 2015-2016 nesting seasons; their ages are between five and seven years old. Before being transferred to the island, they entered a 10-week quarantine period to eliminate the seeds contained in their digestive tract. In addition, they were dewormed, their health was checked and a microchip was placed on them that will allow them to be identified in the future.
The transfer was carried out by 22 rangers and scientists from the Park and Galápagos Conservancy, who traveled approximately three miles from the landing site to the release zone in the center of this nearly 10-square-mile island.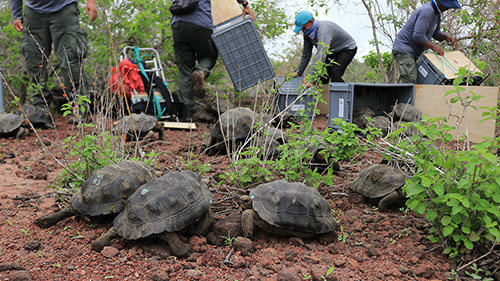 Danny Rueda, director of the Galápagos National Park, explained that the island's ecological restoration process began in the 1970s with the eradication of goats, but in 2015 it took a new turn with the introduction of tortoises as an ecological analog of the original tortoise species on the island, which has been extinct for more than 150 years. That decision that was made after a comprehensive evaluation of the island showed that its main herbivore was missing, because the population of land iguanas here did not fulfill the same ecological role of tortoises — particularly in terms of seed dispersal.
Since its inception, the project has included a rigorous annual monitoring process, which has shown that tortoises have already dispersed over approximately 30% of the island's surface, and that there is no competition for resources among tortoises and iguanas. The tortoises are also actively contributing to seed dispersal, especially Opuntia cacti, which means they are fulfilling their important role as "ecosystem engineers" — an aspect that will continue to be documented through monitoring activities that will continue in the long term.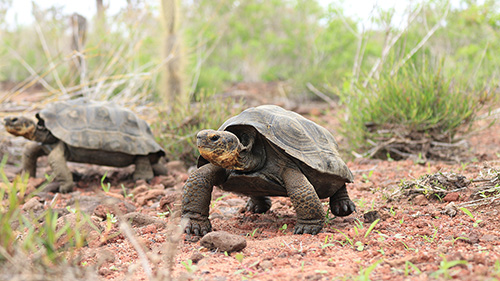 Photo credits: Diego Andino / GTRI
The Latest Conservation News from Galápagos