Addressing the Challenge of Feral Cats in the Galápagos Islands
Date: 6/05/2023.
//Versión en español abajo.//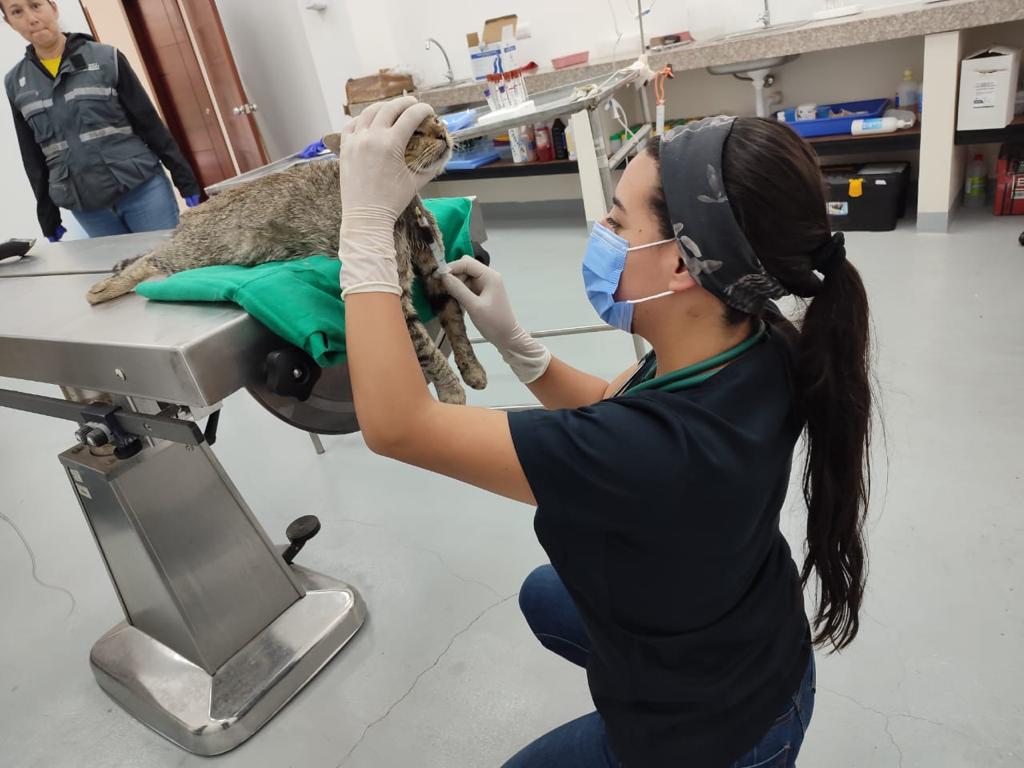 The Galápagos Islands are renowned for their incredible biodiversity and unique wildlife. However, their fragile ecosystems are especially vulnerable to invasive species, one of the biggest challenges to this natural paradise. Priscilla Espín, a veterinary zootechnician in Galápagos, is passionate about protecting wildlife in the Archipelago and recently led a revealing research project on feral cats that will prompt new management strategies.
Invasive feral cats pose a considerable threat to the native and endemic fauna of the Islands, as they prey on small reptiles and birds. Furthermore, their presence raises risks to public health due to the potential transmission of zoonotic diseases, which are diseases of animal origin that can affect humans. It is crucial to confront this issue to protect biodiversity and conserve this ecological gem.
With the financial support of Galápagos Conservancy, Espín embarked on a challenging project on San Cristóbal Island to effectively tackle this problem. Her main objective was to investigate and analyze the most relevant pathogenic viruses found in feral cats in the area, such as calicivirus, panleukopenia, and herpesvirus.
From March to November 2022, Espín conducted comprehensive research on San Cristóbal, collecting blood samples from 91 cats inhabiting urban and rural areas. These samples were carefully processed to obtain serum and safely stored and transported for subsequent analysis. Maintaining the cold chain during the shipment of these samples to Quito was a priority in order to conserve their integrity and prevent any damage or contamination.
Once in Quito, the samples underwent a series of exhaustive tests to conduct a comprehensive analysis and gather additional information about the viral pathogens present in the cats. The test results confirmed the presence of these pathogens in the samples. Thanks to the collected data and analyses, it was possible to have a precise health profile of San Cristóbal's feral cat population. These findings have provided a better understanding of the risks to endemic species and a foundation for developing effective conservation strategies and population management of cats in Galápagos.
Espín's project highlights the importance of scientific research in conserving delicate ecosystems and the need to address the challenges of invasive species. Galápagos Conservancy takes pride in supporting local conservation initiatives led by entrepreneurial women like Espín and firmly believes that promoting research projects and concrete actions to conserve the unique biodiversity of this natural treasure is fundamental. Together, we can make a difference in protecting this valuable heritage.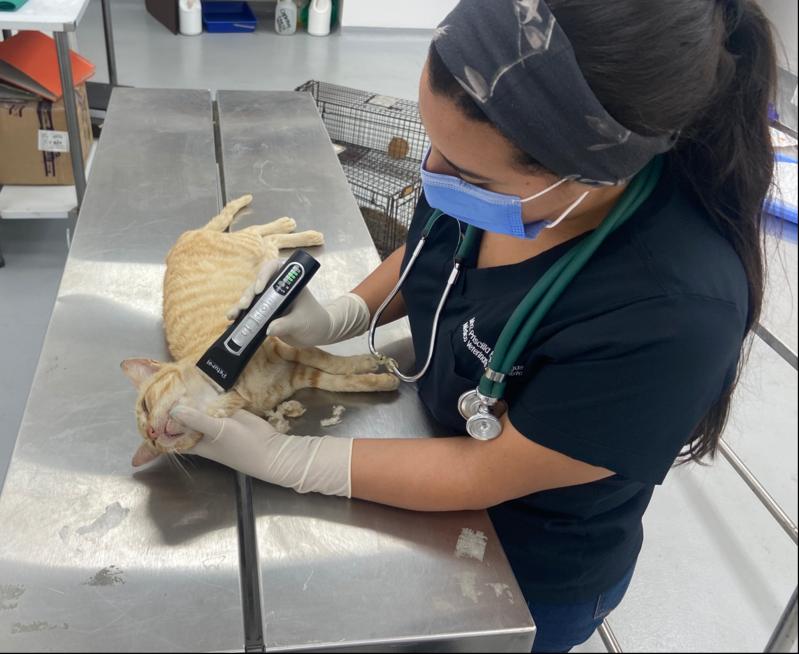 Abordando el desafío de los gatos ferales en las Islas Galápagos
En el hermoso Archipiélago de las Islas Galápagos, Priscilla Espín, médico veterinario zootecnista, se destaca como una líder galapagueña apasionada por la protección de la vida silvestre y la sostenibilidad de este maravilloso paraíso natural.
Las Islas Galápagos son reconocidas por su increíble diversidad de vida y la presencia de especies únicas en el mundo. Sin embargo, también enfrentan un desafío preocupante: los gatos ferales. Estos felinos invasores representan una amenaza considerable para la fauna nativa y endémica de las islas, ya que depredan reptiles y aves de pequeño tamaño. Además, su presencia plantea riesgos para la salud pública debido a la posibilidad de transmitir enfermedades zoonóticas, es decir, enfermedades de origen animal que pueden afectar a los seres humanos. Es crucial abordar este problema para garantizar la protección de la biodiversidad y la conservación de este valioso tesoro natural.
Con el apoyo financiero de Galápagos Conservancy, Priscilla se embarcó en un proyecto desafiante en la isla de San Cristóbal para abordar esta problemática de manera efectiva. Su objetivo principal fue investigar y analizar los virus patógenos más relevantes que se encuentran en los gatos ferales de la zona, como el Calicivirus, la Panleucopenia y el Herpesvirus.
Durante 9 meses consecutivos, entre marzo y noviembre de 2022, Priscila llevó a cabo una investigación exhaustiva en la isla de San Cristóbal. Se tomaron muestras de sangre de 91 gatos que habitaban tanto en áreas urbanas como rurales. Estas muestras fueron cuidadosamente procesadas para obtener el suero, el cual fue almacenado y transportado de manera segura para su posterior análisis. Se hizo hincapié en mantener la cadena de frío durante el envío de las muestras a la ciudad de Quito, con el objetivo de conservar la integridad de los resultados y prevenir cualquier daño o contaminación.
Una vez en Quito, las muestras fueron sometidas a una serie de pruebas exhaustivas con el objetivo de realizar un análisis completo y obtener información adicional sobre los patógenos virales presentes en los gatos. Los resultados de las pruebas confirmaron la presencia de dichos patógenos en las muestras.
Gracias a los datos recopilados y los análisis realizados, se logró obtener una caracterización sanitaria precisa de los gatos ferales en la isla de San Cristóbal. Estos hallazgos han permitido una mejor comprensión del riesgo que representan para las especies endémicas y han brindado la base para el desarrollo de estrategias efectivas de conservación y control de las poblaciones de gatos en Galápagos.
Este proyecto resalta la importancia de la investigación científica en la conservación de ecosistemas delicados y nos hace reflexionar sobre la necesidad de abordar los desafíos presentados por especies invasoras. Solo a través de un enfoque colaborativo y multidisciplinario podremos asegurar un futuro sostenible para las Islas Galápagos y sus fascinantes formas de vida.
Galápagos Conservancy se enorgullece de apoyar iniciativas locales de conservación lideradas por mujeres emprendedoras como Priscilla, y estamos convencidos de que es fundamental seguir promoviendo proyectos de investigación y acciones concretas para conservar la biodiversidad única de este tesoro natural. Juntos, podemos marcar la diferencia en la protección de este valioso patrimonio.
The Latest Conservation News from Galápagos