Expedition Team Departs for Fernandina Island
[Versión en español abajo]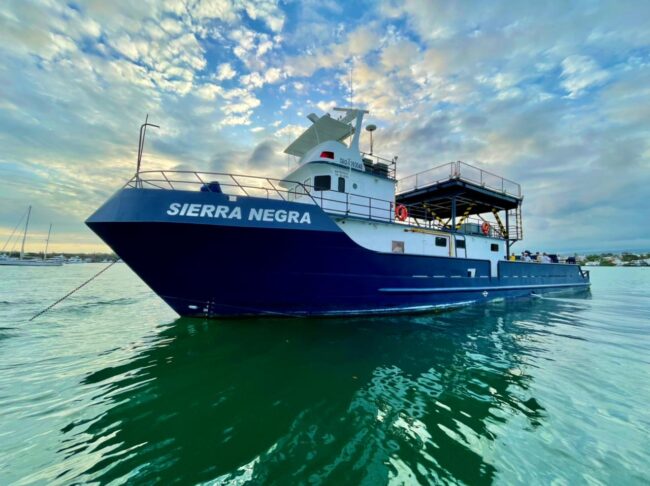 Late last night, Galápagos Conservancy scientists and Galápagos National Park Rangers, left port on Santa Cruz Island destined for Fernandina Island. There, they will spend the next week searching for more Fernandina Giant Tortoises (Chelonoidis phantasticus), a species that was believed extinct for more than 100 years prior to the 2019 discovery of a lone female tortoise, Fernanda. The team will search, in particular, for a male tortoise that can mate with Fernanda to save the species from imminent extinction.
Upon arrival, the 18-person expedition team will already have access to food and water thanks to helicopter drops that took place in January. The group will then pair off into nine two-person working groups that will search strategic sites on the island. In total, the group will cover approximately 65 square kilometers (25 square miles) in search of tortoises.
According to Dr. Jorge Carrión, Galápagos Conservancy's Conservation Manager and leader of the expedition, the team will conduct a meticulous search for tortoises or signs of tortoise activity (e.g. tracks, scat, beds). If a tortoise is found, a passive integrated responder microchip (PIT) will be placed on its shell before transporting it to the Santa Cruz Giant Tortoise Breeding Center.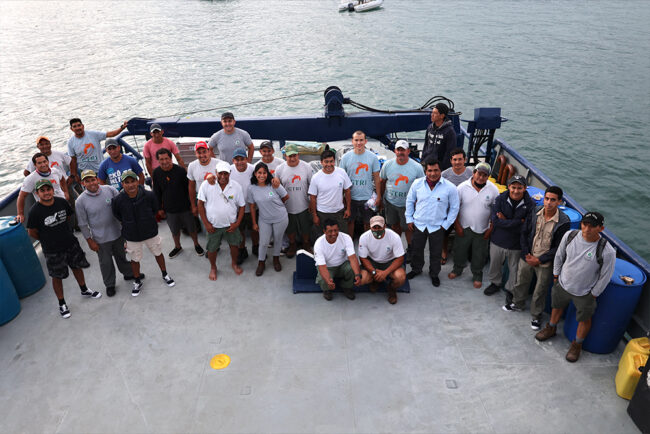 In addition to the search for tortoises, scientists will also evaluate and record the presence of other endemic species on the island, including Darwin's Flycatcher, doves, and cuckoos, as well as introduced species such as ticks and cottony maple scales.
Galápagos Conservancy is closely monitoring the progress of the expedition in the hopes of finding a tortoise who can save this incredible species.
Un equipo de 18 personas, entre expertos de Galápagos Conservancy y guardaparques de la isla Santa Cruz, partieron hoy con mucha expectativa rumbo a la isla Fernandina en búsqueda de más tortugas gigantes y posiblemente un macho que permita salvar la especie Chelonoidis phantasticus que se creí extinta desde hace más de 100 años y que fue descubierta en febrero de 2019.
Del 3 al 10 de marzo la expedición se dividirá en dos campamentos que realizarán búsquedas en sitios estratégicos de la isla, 9 grupos de trabajo con dos personas cada uno, recorrerán aproximadamente 65 km2 en busca de tortugas gigantes en la isla Fernandina.
El Dr. Jorge Carrión, Gerente de Conservación de Galápagos Conservancy, y líder de la expedición indicó que se emprenderá una búsqueda minuciosa de tortugas o rastros de ellas, y que en caso de encontrarlas, se les colocará un microchip (PIT) y se las traerá al Centro de Crianza de la isla Santa Cruz, donde se evaluará las mejores posibilidades para la recuperación de la población y del rol ecológico de las tortugas gigantes de Fernandina.
Además de la búsqueda de los quelonios, durante el recorrido la expedición registrará la presencia de especies nativas y endémicas de la zona, como el pájaro brujo, palomas de Galápagos, cuclillos, entre otras, así mismo se monitoreará la presencia de especies introducidas como garrapateros y escama algodonosa.
Galapagos Conservancy se mantiene pendiente de los avances y resultados de esta expedición, con gran expectativa de encontrar al individuo que pudiera salvar la especie de la tortuga gigante de Fernandina.
The Latest Conservation News from Galápagos