187 years later, there is evidence of the reproduction of Land Iguanas on Santiago Island
//Versión en español abajo.//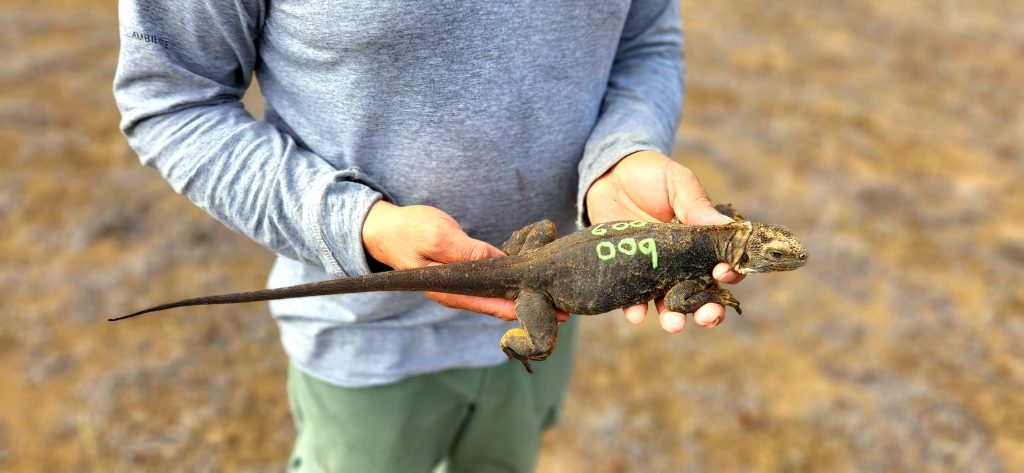 Charles Darwin was the last person to make a record of Land Iguanas on Santiago Island in 1835. Because of the time that passed and because iguanas are an engineering species of ecosystems just like Giant tortoises, as part of the process of active ecological restoration of Santiago three years ago, the Galápagos National Park, with the support of its collaborators, began the repopulation of the island, releasing 3,143 Land Iguanas of the Conolophus subcristatus species so far.
Galápagos Conservancy is financing the monitoring activities to evaluate these iguanas' adaptation process to Santiago's ecosystems.  As part of this process, in the last week of July, a science and park ranger team traversed approximately 13.9 square miles of the island and found new individuals of different ages in healthy condition. The Director of Conservation of the Galápagos Conservancy, Dr. Jorge Carrión, said that "there has been evidence of reproduction of the iguanas in Santiago, which indicates that their reintroduction process has been successful."
The scientific adviser of the Galápagos National Park Directorate (GNPD) responsible for the expedition, Dr. Luis Ortíz-Catedral, said that positive changes are already evident on Santiago Island due to the distribution of iguanas. "They have opened paths, removed the earth, dispersed the seeds, and this is changing the dynamics; but the greatest results will be observed in a few more years," Ortiz said.
Danny Rueda, Director of the GNPD, said that this is undoubtedly an excellent conservation achievement and strengthens our hopes of restoring islands that were severely affected by human impact.
"The process of ecological restoration of Santiago Island began several decades ago when efforts began to eradicate the populations of feral pigs, goats, and donkeys, an objective that the GNPD achieved in 2006. Although the challenges to restore the ecological integrity of the island entirely are still large, the return of the Land Iguanas is a key step, as it represents giving back to the ecosystem the missing piece to reestablish its integrity," said Wacho Tapia, General Director of the Galápagos Conservancy.
The monitoring of the actions developed in the process of ecological restoration is essential; for this reason, the evaluation of the population of Land Iguanas in Santiago is a joint effort of the GNPD, Galapagos Conservancy, Re:wild, Galapagos Conservation Trust, Island Conservation, and Fundación Jocotoco.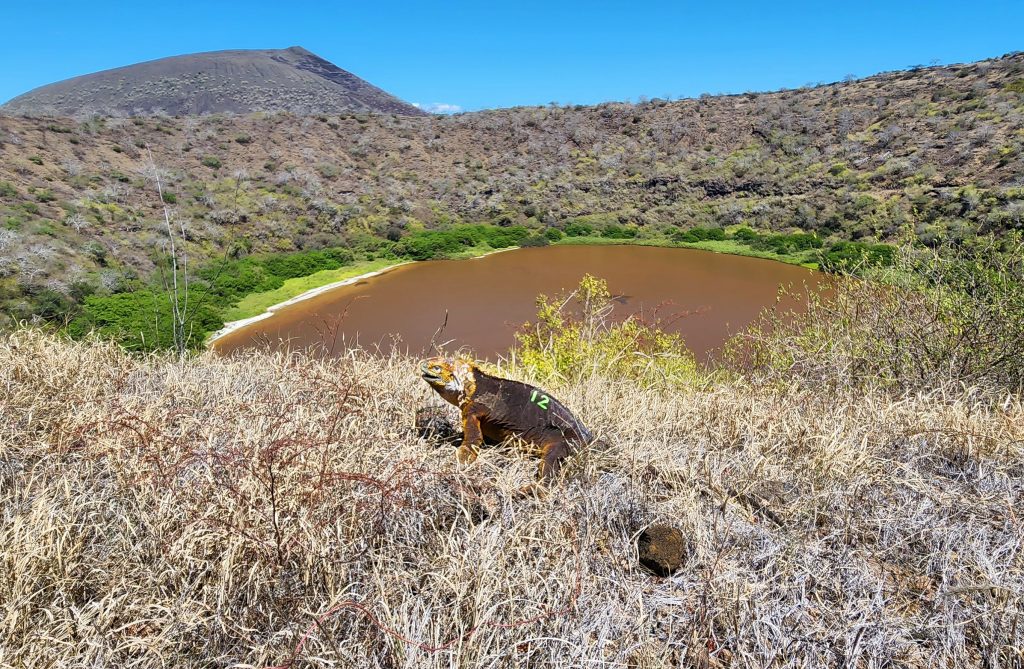 187 años después de su último registro se evidencia reproducción de iguanas terrestres en la isla Santiago
Debido a que el último registro de iguanas terrestres en la la isla Santiago fue realizado por Charles Darwin en 1835, y que las iguanas son una especie ingeniera de los ecosistemas al igual que las tortugas gigantes, como parte del proceso de restauración ecológica activa de Santiago, el Parque Nacional Galápagos con el apoyo de sus colaboradores hace tres años inició la repoblación de la isla con iguanas, liberando hasta el momento 3,143 iguanas terrestres de la especie Conolophus subcristatus.
Con el propósito de evaluar el proceso de adaptación de estas iguanas a los ecosistemas de Santiago, Galápagos Conservancy está financiando las actividades de monitoreo. Como parte de ese proceso, la última semana de julio, un equipo científico y de guardaparques recorrió aproximadamente 36 kilómetros cuadrados de la isla y encontró nuevos individuos de diferentes edades, lo que evidencia que las iguanas terrestres liberadas en Santiago, se encuentran en condiciones saludables y hasta se reproducen exitosamente.
El Director de Conservación de Galápagos Conservancy, Dr. Jorge Carrión, dijo que se enorgullece de estos resultados positivos, "se ha evidenciado reproducción de las iguanas en Santiago, eso indica que su proceso de reintroducción ha sido exitoso".
Por su parte, el asesor científico de la Dirección del Parque Nacional Galápagos (DPNG), Dr. Luis Ortíz-Catedral, responsable de la expedición, dijo que en la isla Santiago ya se evidencian cambios positivos debido a la distribución de las iguanas, "éstas han abierto caminos, removido la tierra, dispersando las semillas y esto va cambiando la dinámica; pero los mayores resultados se verán en algunos años más", señaló Ortiz.
Danny Rueda, Director del PNG dijo que sin duda esto es un gran logro de conservación y fortalece nuestras esperanzas de restauración de islas que se vieron severamente afectadas por impactos de origen antrópico.
"El proceso de restauración ecológica de la isla Santiago inició hace varias décadas cuando empezaron los esfuerzos por erradicar las poblaciones de cerdos, cabras y burros ferales, objetivo que fue logrado por la DPNG en el 2006 y aunque los retos por restaurar completamente la integridad ecológica de la isla aún son grandes, el regreso de las iguanas terrestres es un paso clave, pues representa devolverle al ecosistema la pieza que le faltaba para restablecer su integridad", señaló Wacho Tapia, Director General de Galápagos Conservancy.
El monitoreo de las acciones desarrolladas en un proceso de restauración ecológica son indispensables, por ello la evaluación de la población de iguanas terrestres de Santiago es un esfuerzo conjunto de la DPNG, Galápagos Conservancy, Re:Wild, Galapagos Conservation Trust, Island Conservation y Fundación Jocotoco.
The Latest Conservation News from Galápagos