Reviving the Española Tortoise: A Key Step in Galápagos Island's Ecological Restoration
Date: April 11, 2023.
//Versión en español abajo.//
On March 28th, Iniciativa Galápagos successfully repatriated 86 juvenile Española Giant-Tortoises (Chelonoidis hoodensis) from the Fausto Llerena Breeding Center on Santa Cruz Island to a new site in central-southernEspañola Island. This is a crucial step in the ecological restoration of the island, led by Galápagos Conservancy and the Galápagos National Park Directorate (GNPD).
The repopulation of Española with tortoises helps to reestablish different ecological processes on the island, including the nesting of the endemic Waved Albatross. The tortoises' corpulent bodies and limitless appetites clear woody vegetation from areas that albatrosses use as runways to take off and land, which is vital for their nesting. The release of the juvenile tortoises will accelerate their dispersal throughout the habitable areas of the island, thus contributing to the maintenance of the island's health and ecological integrity.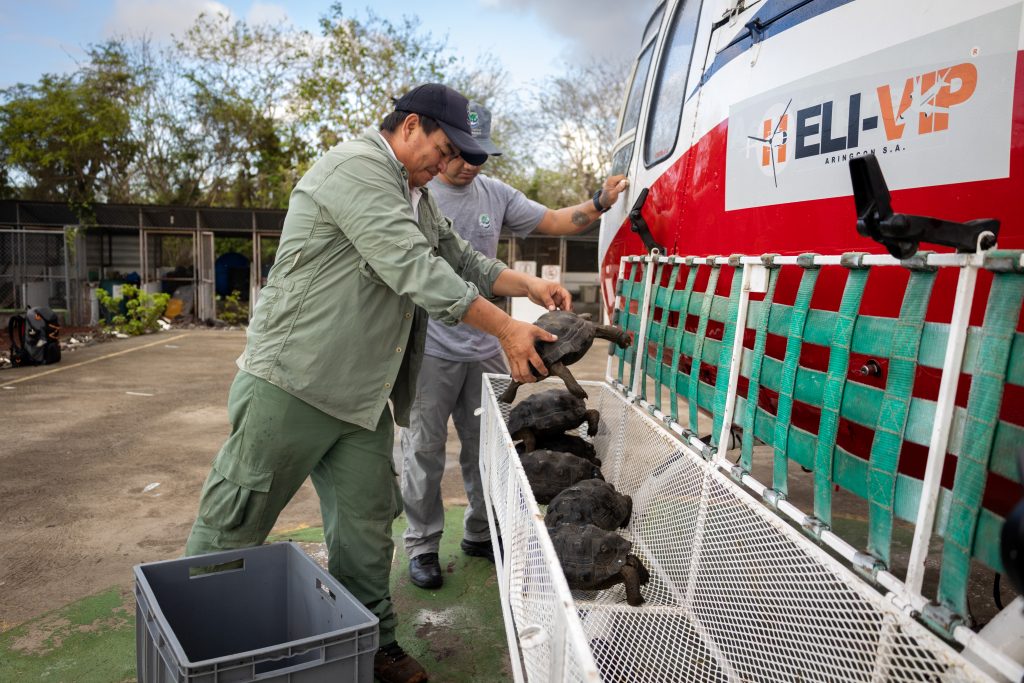 The Española Giant Tortoise is one of the 15 endemic Giant Tortoise species of the Galápagos Islands. In 1960, the species was on the brink of extinction, with only 15 individuals remaining. However, the implementation of the captive breeding and rearing program has significantly recovered the population. The first release of C. hoodensis tortoises in Española took place in 1972, and in June 2021, reproductive adults were released after Iniciativa Galápagos scientists confirmed that approximately 3,000 tortoises currently inhabit the island, with very good natural reproduction. Approximately 250 offspring remain in captivity until they reach the appropriate age for repatriation.
Danny Rueda, Director of the Galápagos National Park, stated: "The conservation efforts implemented by the National Government in synergy with its strategic allies have been fundamental to carrying out successful ecological restoration programs such as this one. The work of this captive breeding program for more than six decades, combined with the management actions implemented on the island, gives us the reassurance that we have managed to save a species that would have otherwise gone extinct."
Giant Tortoises are the main herbivores in Galápagos and play a vital role as ecosystem engineers. Their contribution to maintaining the health and ecological integrity of the Islands is invaluable, which is why Galápagos Conservancy is dedicated to restoring Giant Tortoise populations across the Archipelago.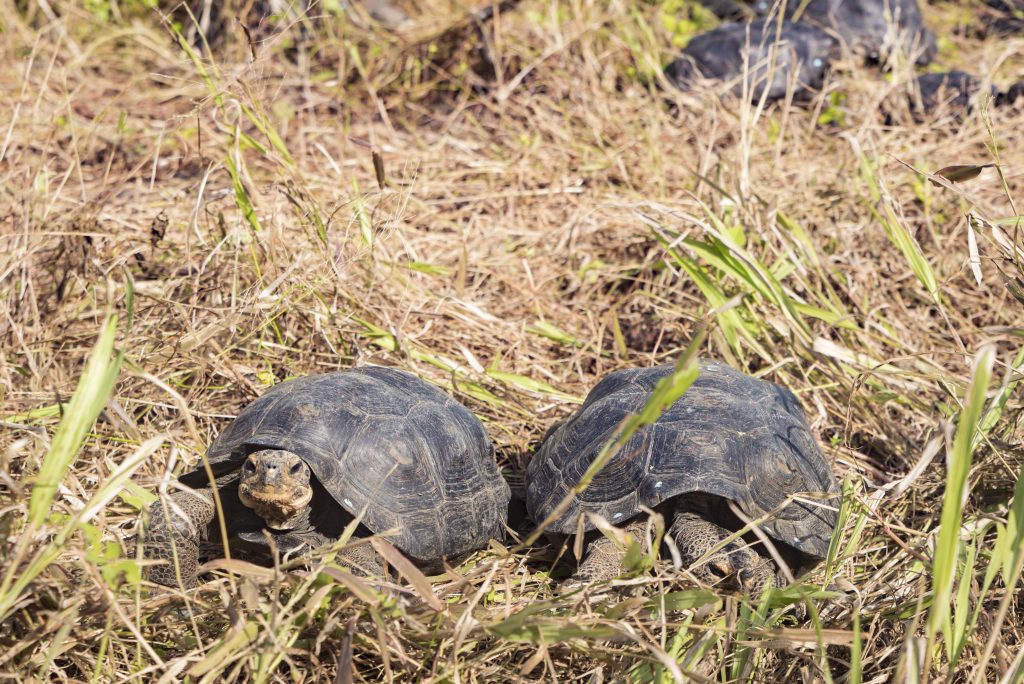 Repatriación de tortugas en Española: un paso clave en la restauración ecológica de la isla
El pasado 28 de marzo de 2023, como parte de las actividades de la Iniciativa Galápagos, programa de conservación ejecutado en conjunto entre Galápagos Conservancy y la Dirección del Parque Nacional Galápagos, un grupo de 86 tortugas juveniles de la especie Chelonoidis hoodensis, que habían cumplido ya 5 años de edad, fueron repatriadas desde el centro de crianza Fausto Llerena, en Santa Cruz, a un nuevo sitio en el centro-sur de la isla Española. Su traslado fue realizado con estrictas medidas de bioseguridad, bajo la supervisión de guardaparques y científicos de Galápagos Conservancy.
El propósito de esta liberación de tortugas es acelerar su dispersión por toda la superficie habitable por tortugas en la isla, lo que contribuirá a mantener la salud e integridad ecológica de esta isla de 60 kilómetros cuadrados. 
El científico Washington Tapia, Director General de Galápagos Conservancy, asegura que la repoblación de Española con tortugas ha sido un elemento clave en el proceso de restauración ecológica de la isla, pues su presencia ayuda al restablecimiento de diferentes procesos ecológicos en la isla, incluyendo la anidación de una de las aves endémicas del archipiélago, el albatros de onda, cuya población también utiliza Española como su única zona de anidación. 
"Con sus corpulentos cuerpos y su apetito sin límites, las tortugas gigantes despejan de vegetación leñosa las zonas que los albatros utilizan como pistas para emprender el vuelo y aterrizar. Sin estas pistas, la anidación del albatros no sería posible", enfatizó Tapia.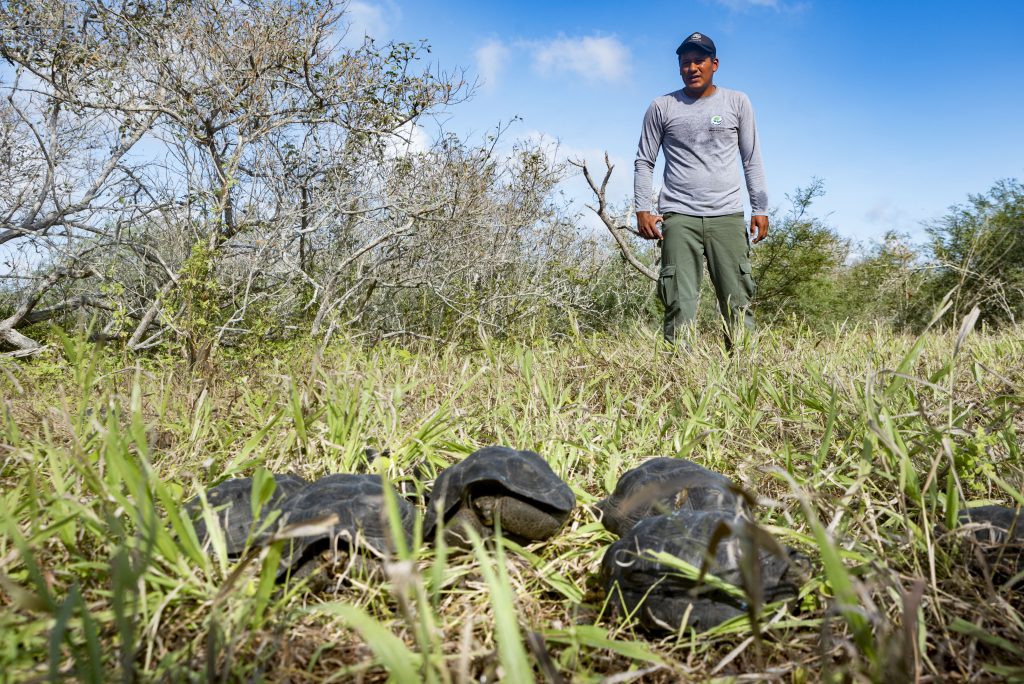 En 1960, la tortuga gigante de Española estaba al borde de la extinción, con sólo 15 ejemplares restantes. Con la implementación del programa de reproducción y crianza inicial en cautiverio, se ha logrado recuperar significativamente la población.

Por su parte el Director del Parque Nacional Galápagos, M.Sc. Danny Rueda, dijo que "los esfuerzos de conservación implementados por el Gobierno Nacional en sinergia con sus aliados estratégicos han sido fundamentales para llevar a cabo exitosos programas de restauración ecológica como éste. "Es un trabajo de más de seis décadas de este programa de reproducción en cautiverio que sumado a las acciones de manejo implementadas en la isla, nos dan la tranquilidad de que logramos salvar a una especie que de otra manera se hubiera extinguido" destacó.
La primera liberación en Española de tortugas de la especie C. hoodensis se realizó en 1972 y en junio del 2021, fueron liberados los adultos reproductores, luego de que los científicos de la Iniciativa Galápagos confirmaron que actualmente en la isla habitan aproximadamente 3000 tortugas y hay muy buena reproducción en estado natural. Sin embargo, las aproximadamente 250 últimas crías permanecen aún en cautiverio hasta tener la edad adecuada para su repatriación.
Las tortugas gigantes son el principal herbívoro de Galápagos, por lo que las 3.000 tortugas de esta especie habitan en la isla cumplen un papel vital como ingenieras del ecosistema. La tortuga gigante C. hoodensis es una de las 15 especies de tortugas gigantes endémicas de las Islas Galápagos.
The Latest Conservation News from Galápagos