Environmental Impact Mitigation Underway for Sunken Boat in Puerto Ayora Bay
// Versión en español abajo //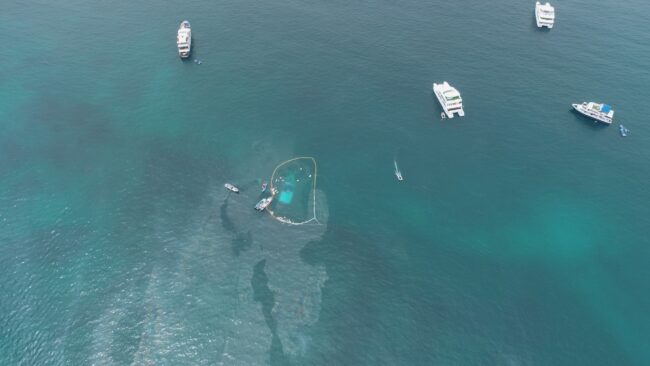 In the early hours of Saturday, April 23, a scuba diving vessel containing approximately 2,000 gallons of fuel capsized in Puerto Ayora Bay off Santa Cruz Island.
The Galápagos National Park Directorate took immediate action to assess the situation, closing aquatic and tourist activities in Las Grietas and the beaches of La Estación and La Ratonera. They also activated an emergency response plan to mitigate the effects of the shipwreck and avoid possible impacts on the ecosystem, including setting up containment booms (barriers in the water to contain oil spills) and applying an oil dispersant to the water in the vicinity.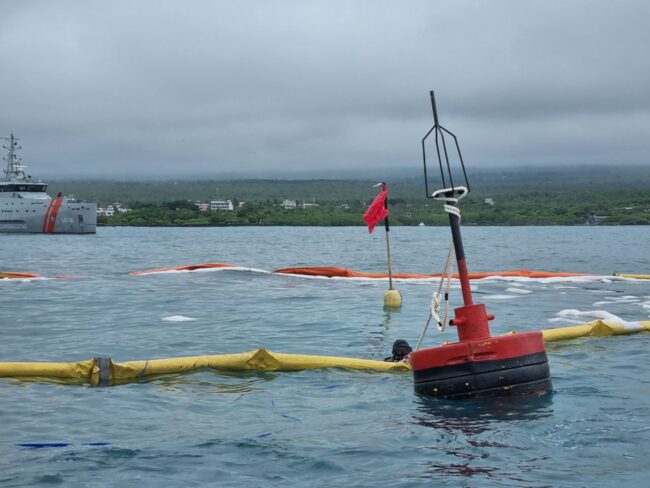 The next day, on the morning of Sunday the 25th, the superficial oil slick was gone, so the environmental authority reopened the temporarily closed sites.
According to Jénifer Suárez of the Galápagos National Park Directorate, monitoring to continue to assess the situation will continue in the days ahead.
Acción inmediata para mitigar posibles impactos del hundimiento de embarcación en la bahía de Puerto Ayora
La madrugada del sábado 23 de abril, la embarcación Albatros que se encontraba fondeada y contenía 2 mil galones de combustible en su interior, naufragó en la bahía de Puerto Ayora, isla Santa Cruz.
De inmediato la Dirección del Parque Nacional Galápagos tomó acción para evaluar la situación y decidió cerrar temporalmente las actividades acuáticas y turísticas en las Grietas y las playas de la Estación y la Ratonera, sitios de visita cercanos a la zona del hundimiento y activaron un plan de contingencia para mitigar los efectos del naufragio y evitar posibles impactos en el ecosistema.
Al día siguiente, la mañana del domingo 25, se evidenció que la mancha superficial de diesel se había evaporado, por lo que la autoridad ambiental reaperturó los sitios cerrados temporalmente.
Jénifer Suárez, Directora (e) del PNG, señaló, sin embargo, que los monitoreos para evaluar el estado del siniestro seguirán desplegándose.
The Latest Conservation News from Galápagos