Galápagos Teachers Shine in the First 2023 English Language Teaching Training Session
Date: Feb. 9th, 2023
//Versión en español abajo.//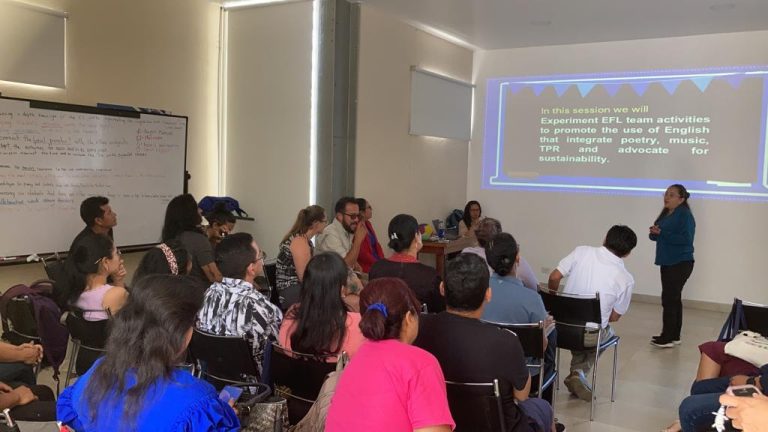 Galápagos Conservancy's Education for Sustainability Program, in partnership with the U.S. Embassy and the Galápagos Education District, brought together 26 English teachers from the Archipelago for a transformative professional development session on January 22nd and 23rd. Guided by experienced professionals, the teachers participated in a dynamic exchange of ideas and best practices for implementing a new contextualized curriculum with a focus on sustainability in Galápagos.
The training was a resounding success, with the teachers demonstrating a strong eagerness to improve their teaching skills and learn from one another. Lenin Rogel, Coordinator of the Education for Sustainability Program, said he was very pleased with the teachers' enthusiasm and gratitude for the support of the U.S. government and the endorsement of the Ministry of Education in this important effort to strengthen education in Galápagos.
Jenny Yépez, a teacher at Miguel Ángel Cazares Educational Unit, attested to the tremendous impact of the training, calling it a "fruitful" experience that provided new strategies and techniques to bring to her classroom. Carmen Cajamarca, one of the trainers and a professor at the National University of Education, echoed these sentiments, noting that the session was a unique opportunity to share best practices in sustainability education and project-based learning.
Galápagos Conservancy extends a warm congratulations to the teachers and remains committed to supporting the continued advancement of education and sustainability in Galápagos, for the benefit of its people, wildlife, and ecosystems.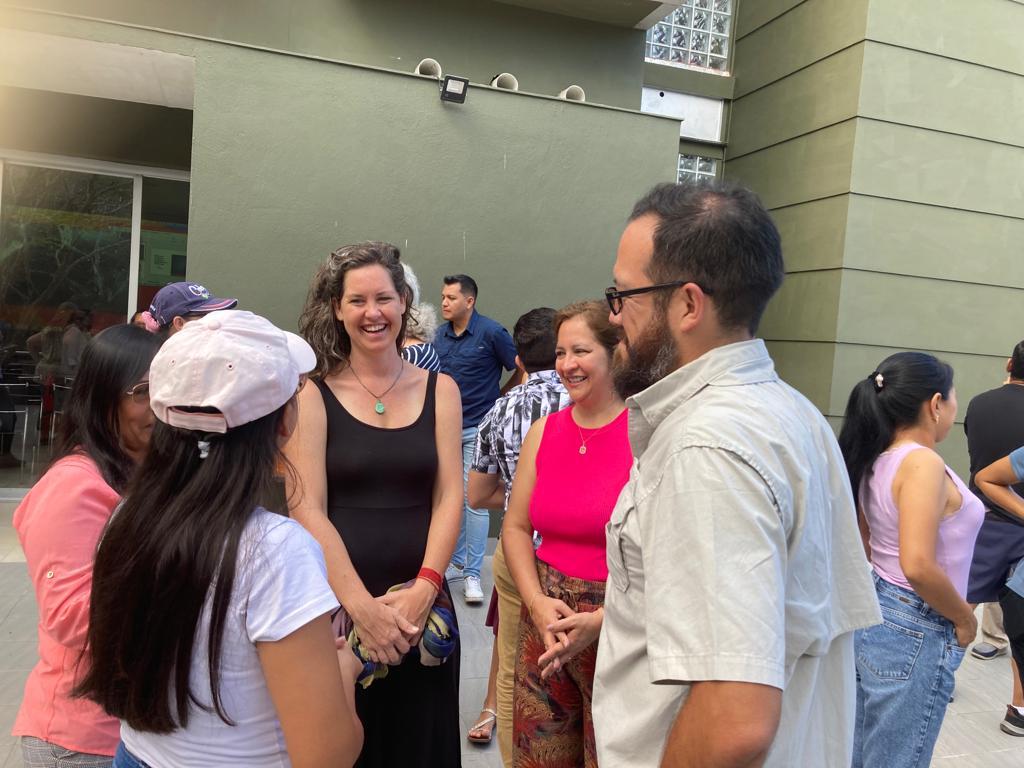 Docentes de Galápagos participan en el primer encuentro de capacitación de enseñanza del idioma inglés del 2023
En el marco del programa Educación para la Sostenibilidad de Galápagos Conservancy, apoyamos a  la Embajada de los Estados Unidos de Norte América y al Distrito de Educación de la provincia de Galápagos, en la realización del encuentro de los 26 docentes de inglés del Archipiélago,  llevado a cabo el 22 y 23 de enero de 2023. Con la ayuda de expertos se brindó una jornada de capacitación en el idioma inglés, y fue el escenario para un intercambio de experiencias de enseñanza-aprendizaje en torno a la aplicación del nuevo Currículo Contextualizado con enfoque de sostenibilidad para Galápagos. 
A través de una metodología participativa y dinámica, Galápagos Conservancy quiere fortalecer las prácticas educativas en pro de la mejora de la calidad de la educación de la niñez y juventud que reside en las islas.
Lenin Rogel, Coordinador del Programa de Educación para la Sostenibilidad de Galápagos Conservancy manifiesta que se siente muy complacido con este encuentro por la predisposición y actitud positiva que mostraron los docentes de inglés, "los participantes se mostraron muy deseosos de potenciar sus destrezas docentes, por eso valoramos el apoyo del Gobierno de los EEUU y el aval del Ministerio de Educación a este proceso de formación y fortalecimiento de la educación en Galápagos", enfatizó Rogel.
A criterio de Jenny Yépez, docente de la Unidad Educativa Miguel Ángel Cazares, el encuentro fue una experiencia enriquecedora para su crecimiento profesional, "fueron días fructíferos, los capacitadores nos compartieron sus experiencias, nuevas estrategias y técnicas para implementarlas en nuestras aulas", enfatizó.
Una de las capacitadoras del encuentro, la M.Sc. Carmen Cajamarca, docente de la Universidad Nacional de Educación, dijo: "fue una oportunidad para compartir buenas prácticas docentes y una oportunidad de fortalecimiento profesional desde un enfoque de educación para la sostenibilidad y el aprendizaje basado en proyectos".
Felicitamos a los docentes de Galápagos y particularmente a los que participaron en este encuentro y jornada de capacitación, Galápagos Conservancy ratifica su compromiso de seguir apoyando la mejora educativa y el aprendizaje con un enfoque de sostenibilidad en pro del bienestar de los habitantes y los ecosistemas de las maravillosas islas Galápagos.
The Latest Conservation News from Galápagos