Empowering the Future: Scholarships Transforms the Lives of 11 Children in Santa Cruz
Feb. 13th, 2023.
//Versión en español abajo.//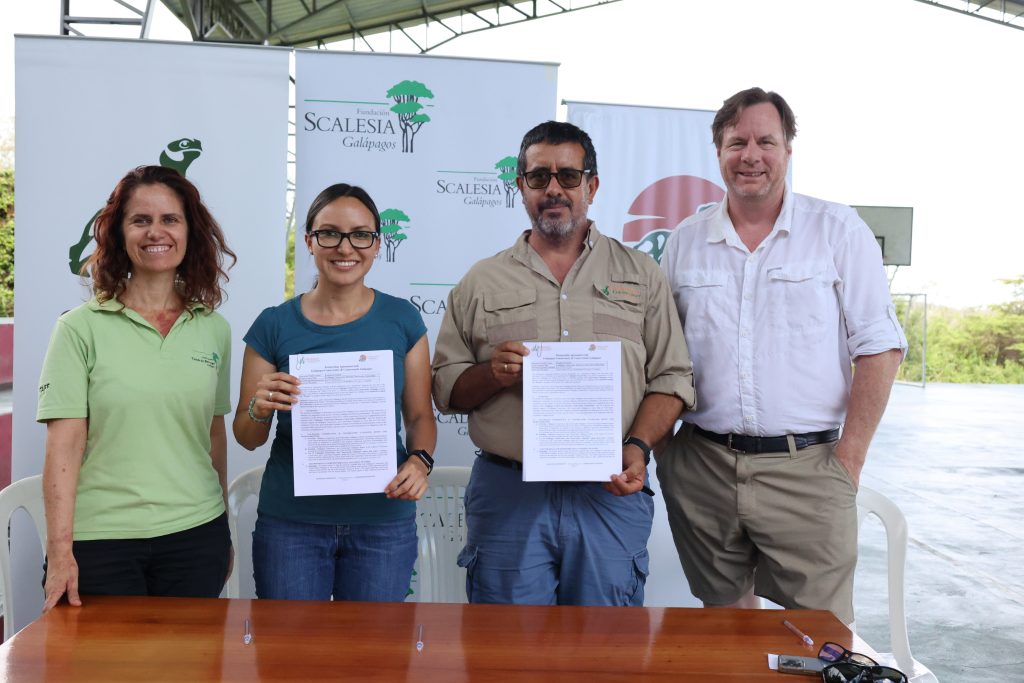 In 2023, Galápagos Conservancy continues to demonstrate its commitment to improving the quality of education for Galápagos residents. In addition to several direct interventions, Galápagos Conservancy also channels resources from the Galápagos Silversea Fund to support organizations working in Galápagos that implement projects related to education for sustainability and training, science, and conservation.
This fund will now finance the studies of 11 children from the Tomás de Berlanga Educational Unit, a private teaching center founded in 1994. On February 1st, Dr. Paul Salaman, President of Galápagos Conservancy, and Washington Tapia, General Director of Galápagos Conservancy and our affiliate, the Galápagos Conservation Foundation, signed the scholarship agreement with Johanna Carrión, Executive Director of the Scalesia Foundation.
These resources will provide the scholarship recipients with the opportunity to receive the education and skills necessary to succeed in life, with free access to an educational program with high academic standards. The program includes critical thinking development, bilingual education, and experiential learning in an environment of respect, responsibility, solidarity, and tolerance.
For Galápagos Conservancy, investing in education is investing in the present and future of society and the planet. We will continue to support initiatives that contribute to improving learning, especially with a sustainability focus, contributing to the well-being of Galápagos residents and the care of this wonderful natural legacy.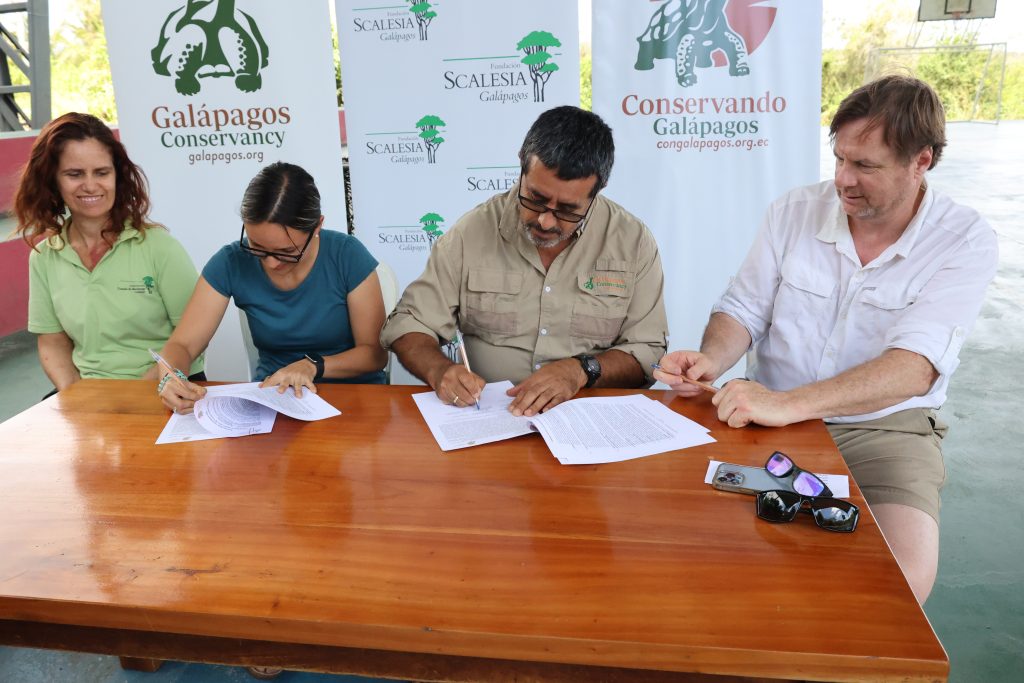 En Santa Cruz 11 niños se benefician con becas del proyecto Galápagos Conservancy-Silversea Conservation Scholarships
Este año 2023 seguimos demostrando nuestro compromiso con la educación, aportando directamente al mejoramiento de la calidad educativa de los residentes de Galápagos. Además de varias intervenciones directas de Galápagos Conservancy, también canalizamos los recursos del Fondo Galápagos Silversea para apoyar a organizaciones que trabajan en Galápagos y que implementan proyectos relacionados con la educación para la sostenibilidad y capacitación, la ciencia y la conservación.
En el marco de este Fondo, el pasado 1 de febrero, el presidente de Galápagos Conservancy, Dr. Paul Salaman y el científico Washington Tapia, Director General de Galápagos Conservancy y nuestra filial, la Fundación Conservado Galápagos, firmaron un convenio de cooperación con Johanna Carrión, directora ejecutiva de la Fundación Scalesia, para financiar los estudios de 11 niños de la Unidad Educativa Tomás de Berlanga, un centro de enseñanza privado fundado en 1994. 
Estos recursos brindarán a los niños beneficiarios de las becas la oportunidad de recibir la educación y las destrezas necesarias para construirse una vida digna, tendrán acceso gratuito a un programa educativo que incluye desarrollo del pensamiento crítico, educación bilingüe, altos estándares académicos, aprendizaje experiencial en un entorno de respeto, responsabilidad, solidaridad y tolerancia.
Para Galápagos Conservancy invertir en educación es invertir en el presente y en el futuro de las sociedades y el planeta, por eso ratificamos nuestro compromiso de seguir  apoyando las iniciativas que contribuyen a mejorar los procesos de aprendizaje y más aún aún si estos tienen un enfoque de sostenibilidad que contribuyan al bienestar de los habitantes de Galápagos y el cuidado de este maravilloso legado de la naturaleza.
The Latest Conservation News from Galápagos