Embark on an Adventure With the Young Turtle Protectors!
Date: 6/10/2023.
//Versión en español abajo.//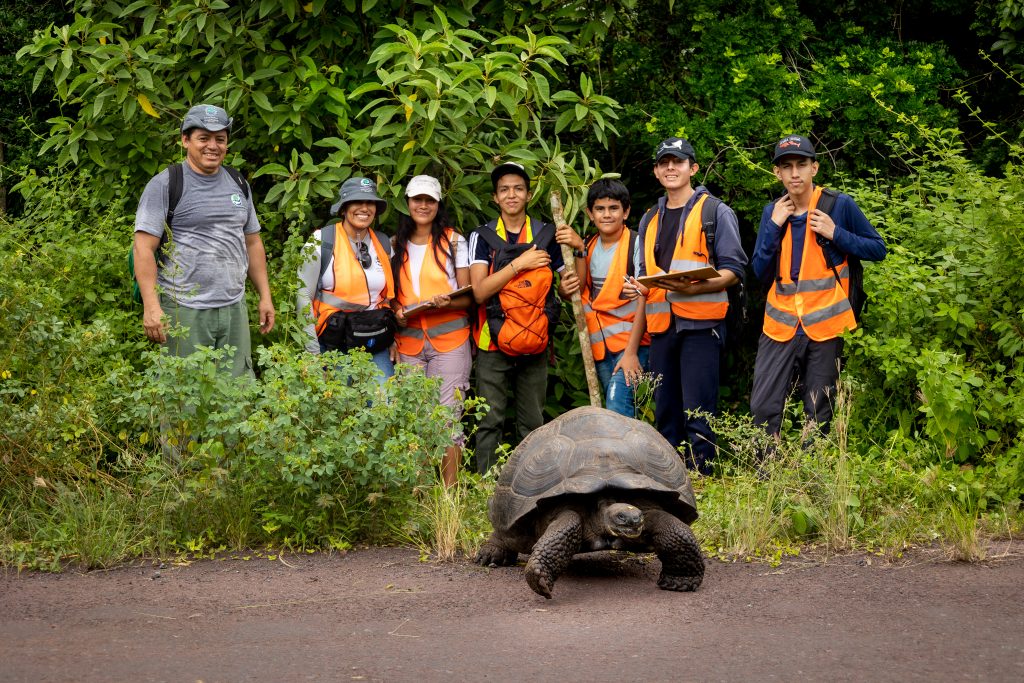 On Santa Cruz Island, a group of 30 young Galapagueños has joined the critical mission to protect giant tortoises. The Young Turtle Protectors program, led by the Galápagos National Park Directorate (GNPD) with the support of Galápagos Conservancy, engages the local teens in 'citizen science,' where they take part in scientific research.
The Young Turtle Protectors aim to better understand giant tortoise behavior and the challenges they face. To accomplish this, they conduct surveillance with monitoring equipment and make excursions to areas adjacent to roads, where giant tortoises are frequently found. While these incredible animals can live up to 150 years, they face various threats, including plastic ingestion, predation and competition for food from introduced species, and speeding vehicles on the roads they sometimes use for crossing.
With the support of Galápagos Conservancy, the Young Turtle Protectors have carried out eight monitoring trips along pre-identified routes since the beginning of 2023. Every 15 days, they venture out on these paths in search of giant tortoises, accompanied by environmental educators and park rangers who serve as guides and mentors, imparting knowledge and the importance of conservation to these future environmental leaders.
Lorena Pincay, the park ranger leading this initiative, said that the project aims to identify and address the threats faced by the tortoises that traverse these areas. This information will then be used to implement effective and sustainable conservation strategies.
Thanks to the group's efforts, 23 tortoises have been registered in these areas alongside the road. Unfortunately, the presence of plastics and the speed of vehicles circulating on this route remain a constant threat to these iconic reptiles. This finding is a powerful reminder of how our actions can hurt these creatures and the fragile ecosystem they inhabit.
The Young Turtle Protectors have discovered  we can all play a vital role in conserving this fantastic Archipelago. The initiative by the GNPD and Galápagos Conservancy reflects an unwavering commitment to education, scientific research, and community engagement in building a sustainable future. However, there is still much work to be done. Plastic waste and speeding vehicles remain constant threats to giant tortoises. We must join together to protect and care for the Galápagos Archipelago so future generations can also marvel at their beauty and diversity.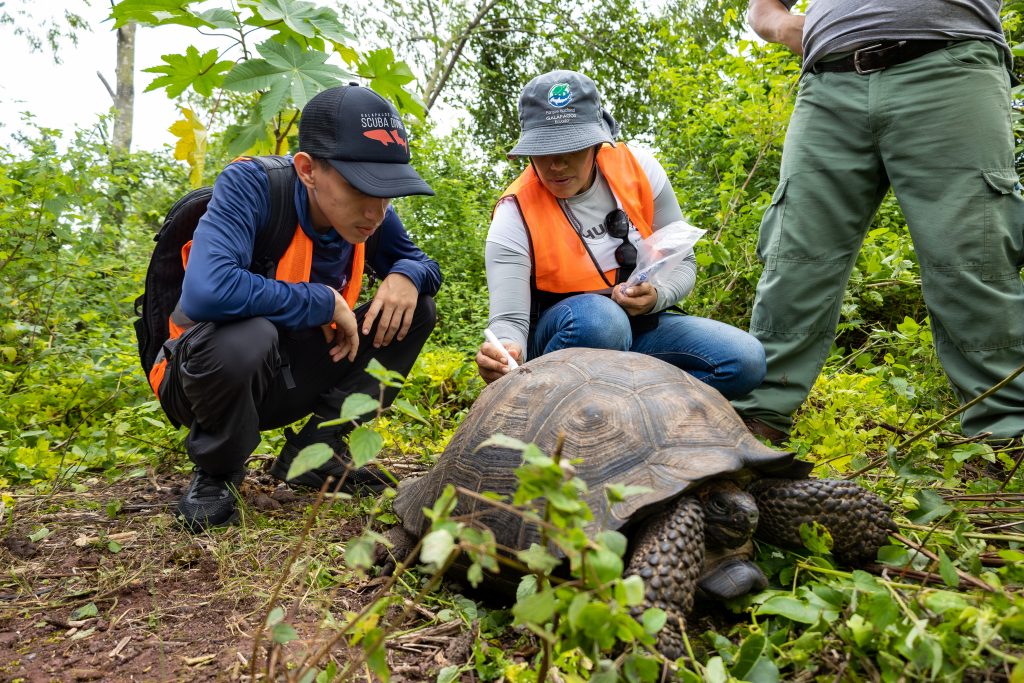 ¡Embárcate en una Aventura con los Jóvenes Protectores de Tortugas!
En las Islas Galápagos, un grupo de jóvenes se ha unido en una misión importante: proteger a las tortugas gigantes. 
Un grupo de 30 jóvenes forman parte del Programa Jóvenes Protectores de Tortugas, impulsado por la Dirección del Parque Nacional Galápagos (DPNG) con el apoyo de Galápagos Conservancy, que busca hacer ciencia ciudadana para comprender mejor el comportamiento y los desafíos que enfrentan las tortugas gigantes. 
Para lograr esto, se lleva a cabo una vigilancia de las áreas adyacentes a las carreteras, donde es frecuente encontrar tortugas gigantes. Estos increíbles animales pueden vivir hasta 150 años y se enfrentan a diversas amenazas, como la exposición a plásticos, la interacción con especies introducidas y la velocidad de los vehículos en la carretera, que en ocasiones utilizan para cruzar de un lado a otro.
Para abordar estas problemáticas, se implementan medidas concretas y equipos de monitoreo. Con el apoyo de Galápagos Conservancy, desde inicios del 2023, los jóvenes protectores han llevado a cabo 8 salidas de monitoreo en rutas previamente identificadas. Cada quince días, se han aventurado en estos caminos en busca de tortugas gigantes.
Gracias a este esfuerzo, se han registrado un total de 23 tortugas en estas zonas adyacentes a la carretera. Sin embargo, lamentablemente, la presencia de plásticos y la velocidad de los vehículos que circulan en esta vía representan una constante amenaza para los quelonios. Este hallazgo es un recordatorio contundente de cómo nuestras acciones pueden tener un impacto negativo en estas criaturas y en el frágil ecosistema en el que habitan.
La guardaparque Lorena Pincay, líder de esta iniciativa, asegura que con este proyecto se pretende identificar y enfrentar las amenazas de las tortugas que transitan por estas zonas para luego implementar estrategias de conservación efectivas y sostenibles.
En cada salida de monitoreo, los jóvenes protectores tienen la compañía de educadores ambientales y guardaparques, quienes les brindan orientación y conocimientos especializados, convirtiéndose en guías y mentores, y transmitiendo la importancia de la conservación a los jóvenes y futuros líderes ambientales.
Estos jóvenes han descubierto que cada acción cuenta y que todos podemos desempeñar un papel vital en la conservación de este asombroso Archipiélago. La labor conjunta de la Dirección del Parque Nacional Galápagos y Galápagos Conservancy demuestra un compromiso inquebrantable con la educación, investigación científica y participación comunitaria para asegurar un futuro próspero y sostenible para este tesoro natural único. Unámonos en esta importante misión de proteger y cuidar las Islas Galápagos. ¡Actuemos ahora y seamos parte de su legado de conservación!
The Latest Conservation News from Galápagos