Dire Situation for the Last Fernandina Giant Tortoise
3/24/2022
Valiant searches to find a mate come up short
Galápagos Conservancy scientists and Galápagos National Park Rangers have just completed a series of intensive searches of Fernandina Island in an effort to locate more Fernandina Giant Tortoises (Chelonoidis phantasticus), a species believed extinct for more than 100 years prior to the 2019 discovery of a lone female tortoise known as Fernanda.
The 18-person expedition team conducted a meticulous search that covered approximately 65 square kilometers (25 square miles) of the remaining unexplored habitat on the island. Park Rangers had been optimistic about finding additional animals after tortoise tracks not belonging to Fernanda were reported several years ago.
The world's foremost experts at finding tortoises in these harsh conditions have now explored nearly all habitat on the island that could be suitable for tortoises. Tortoises leave abundant signs — tracks, droppings, trails, and bite marks on vegetation — wherever they occur. Lacking any further sign of tortoises after exhaustive searches of the island, hopes are dimming for finding more Fernandina tortoises.
The Fernandina Giant Tortoise was long believed to be extinct due to natural causes, in particular, due to habitat destruction as a result of the recurring eruptions of La Cumbre Volcano. The volcano that forms Fernandina Island is one of the most active in the world and much of the island is covered by recent lava flows.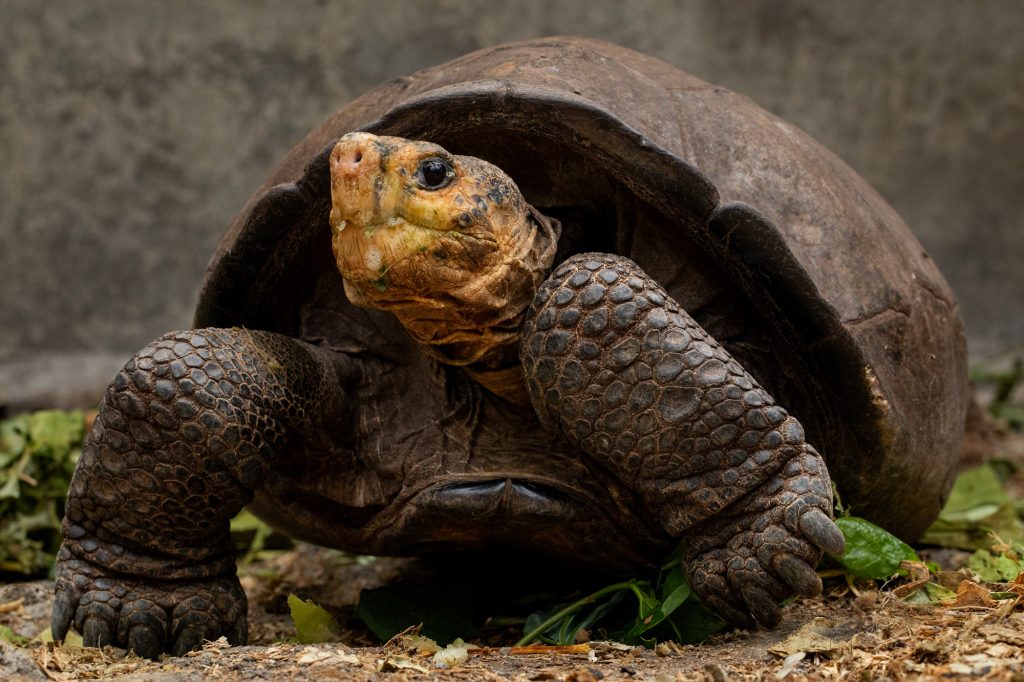 "Park guards and our staff had to overcome immense challenges," said Dr. Jorge Carrión, Conservation Manager of Galápagos Conservancy who planned and participated in the expedition. "Fernandina Island is covered by dozens of razor-sharp lava flows that cut through the prime tortoise habitat — teams had to navigate across these treacherous areas while searching for a tortoise."
"Hope is fast running out to find a mate for Fernanda, the sole known survivor of her species," stated Dr. Paul Salaman, President of Galápagos Conservancy. "And in a tragic twist of fate, her life may mirror the plight of Lonesome George, the last of his kind from Pinta Island, who died alone just ten years ago in Galápagos, unless we are able to find alternatives to fully or partially recover this species."
Danny Rueda, Director of the Galápagos National Park, said that "as an environmental authority we have take the necessary actions to find other tortoises on Fernandina Island and recover the species. Still, we remain hopeful that a new expedition later this year, utilizing a helicopter, will allow us to reach inaccessible locations and find another tortoise."
Difícil situación para la última tortuga gigante de la isla Fernandina
Guardaparques del Parque Nacional Galápagos y científicos de Galápagos Conservancy completaron una serie de búsquedas intensivas en la isla Fernandina en un esfuerzo por localizar más tortugas gigantes de la especie Chelonoidis phantasticus, que se creía extinta durante más de 100 años antes del descubrimiento en 2019 de una solitaria tortuga hembra, a quien se la conoce como Fernanda.
El equipo de expedición de 18 personas realizó una búsqueda meticulosa que cubrió aproximadamente 65 kilómetros cuadrados (25 millas cuadradas) del hábitat explorado restante en la isla. Los guardaparques se mostraron optimistas acerca de encontrar individuos adicionales después de que se reportaron huellas de tortugas que no pertenecían a Fernanda hace varios años.
Los más expertos del mundo en encontrar tortugas en las duras condiciones de Fernandina, han explorado casi todos los hábitats que podrían ser adecuados para las tortugas en la isla. Estas dejan abundantes señales (huellas, excremento, rastros y marcas de mordeduras en la vegetación) dondequiera que se encuentren. A la falta de más señales de la presencia de tortugas después de búsquedas exhaustivas, las esperanzas de encontrar más quelonios en Fernandina se están desvaneciendo.
La tortuga gigante de Fernandina estuvo al borde de la extinción durante mucho tiempo, posiblemente debido a la cacería histórica de tortugas por alimento, pero principalmente por causas naturales, en particular la destrucción del hábitat generada por el volcán altamente activo en el que viven. El volcán La Cumbre de la isla Fernandina es uno de los más activos del mundo y gran parte de la isla está cubierta por flujos de lava recientes.
"Los guardaparques y nuestro personal tuvimos que superar inmensos desafíos", dijo el Dr. Jorge Carrión, Gerente de Conservación de Galápagos Conservancy, quien planificó y participó en la expedición. "La isla Fernandina está cubierta por docenas de flujos de lava afilados como cuchillas que atraviesan el hábitat principal de las tortugas; los equipos tuvieron que caminar a través de estas áreas peligrosas mientras buscaban una tortuga".
"La esperanza de encontrar una pareja para Fernanda, la única superviviente conocida de su especie, se está agotando rápidamente", afirmó el Dr. Paul Salaman, presidente de Galápagos Conservancy. "Y en un trágico giro del destino, se puede repitir la historia que vivió el Solitario George, el último de su especie de la isla Pinta, que murió solo hace apenas diez años en Galápagos; a menos que tomenos cartas en el asunto y buscar alternativas para recuperar total o parcialmente a la especie de tortuga gigante de la isla Fernandina".
Danny Rueda, Director del Parque Nacional Galápagos, aseguró que se han hecho todos los esfueros necesarios por encontrar más tortugas en Fernandina e informó que a finales de este año se realizará un último esfuerzo, conjuntamente con Galápagos Conservancy, en una expedición en helicóptero para llegar a algunos sitios inaccesibles en el área con mayor actividad volcánica de la isla para completar la búsqueda en una zona que faltaría explorarse.
Danny Rueda, Director del Parque Nacional Galápagos mencionó que "como autoridad ambiental hemos invertido todos los esfuerzos necesarios para encontrar otras tortugas de la isla Fernandina y recuperar la especie; pero mantenemos las esperanzas de que una nueva expedición a finales de este año, con el soporte de un helicóptero, nos permita llegar a lugares inaccesibles y encontrar otra tortuga". 
The Latest Conservation News from Galápagos