Devil's Island: A return to Pinzón among Thorns, Tortoises, and Birds
by Washington "Wacho" Tapia
I first visited Pinzón Island in 1990 when I was a field assistant for a researcher who was collecting data for his thesis on Giant Tortoises. I must confess that, at the time, I was a bit wary of the project. I was young and inexperienced, and I'd been told that past field assistants for this scientist had struggled to keep up with his furious pace of work.
But thankfully, real life did not match legend. It took me about three days to learn the picas (our local word for trails), but once I did, I realized that he was the one who couldn't keep up with me! I was constantly waiting on him to catch up, and in some cases, I even trekked to the more distant breeding zones alone.
Perhaps my first experience on Pinzón etched an indelible print on my destiny as a scientist, but since that trip more than 30 years ago, I have returned to the island countless times to study Giant Tortoises. That includes a short but unforgettable expedition in the early '90s with my then-boss, a woman who years later would become one of my best friends and earn a permanent spot as an honorary member of my family. During that visit, we discovered the dead body of Onan, an old and blind male tortoise. Both she and I loved Onan, both as a magnificent creature but also as a tortoise that had become a symbol of conservation progress on Pinzón. We found him in an area of the island covered by volcanic rock that had been baked by the hot sun and a severe drought. Feeling the strong emotions of experiencing the death of such a majestic creature, I became perhaps the only person in history to dig a grave for a Giant Tortoise armed only with a small machete.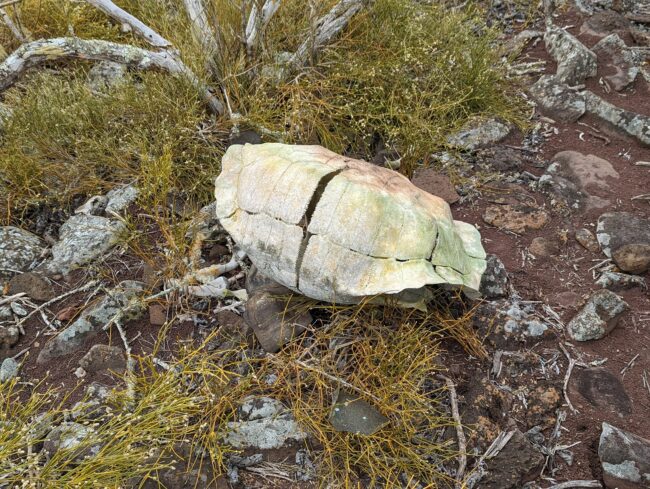 I've since led numerous expeditions to Pinzón with both scientists and Galápagos National Park Rangers, always to study Giant Tortoises and their impact on the ecosystem as a whole.
In the 31 years since I first set foot on the island, I've witnessed incredible changes, both positive and negative. The first attempt to eradicate introduced rats occurred in 1988 after more than a century of relentless predation of tortoise eggs and other species. So when I arrived in 1990, rats were relatively scarce and the ecosystem was recovering.
A decade later in 2000, the narrative had shifted. Huge mischiefs of rats had taken over the island, to the point that their intense predation was destroying not just the tortoise population, but also the spread of plants and trees – one had to rely on luck to find even a single seed.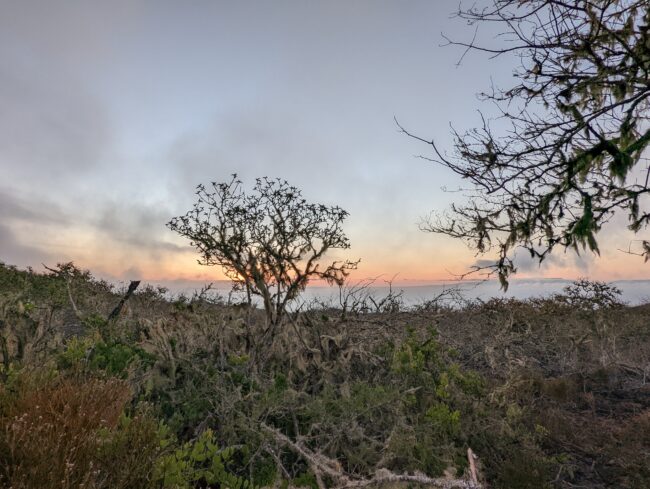 Eradication efforts resumed soon afterwards, and in 2012 the Galápagos National Park Directorate confirmed the project's success. My next visit to the island was in 2014 when I led the first-ever comprehensive census of the Pinzón Giant Tortoise (Chelonoidis duncanensis) population. We were elated to find that, for the first time in more than 100 years, tortoises born on Pinzón were living longer than two years. This was an indicator of the success of the rat eradication and the overall ecological restoration of the island.
Most recently, I had the honor to return to Pinzón in December 2021, alongside an incredible team of Park Rangers, volunteers, and scientists to confirm the long-term health of the Pinzón Giant Tortoise community. Not only did we find a thriving population of juvenile Giant Tortoises, but we also noted an explosion in the population of Galápagos Rails, a land bird that had been thought extinct on Pinzón during the era of rat invasion. Finally, we found a growing population of Galápagos Hawks, with playful juveniles and adults hunting to feed their newly born chicks. I even witnessed a female hawk diving toward the ground and extending her talons to catch prey mid-flight – prey that would soon become dinner for her hungry offspring.
Our days were long and arduous, and our clothes and skin torn through our encounters with the notorious spines of the Uña de Gato and Algorrobo trees. But it was all worth it. I was able to see in real-time the incredible power of nature, reclaiming the space that had been lost for more than a century because of the rats that killed not only baby tortoises, but also devoured plant seeds, birds, and even the bark of trees. That may be why the Algorrobo tree appears to have adapted to that environment by learning to produce roots from each branch that drop toward the ground – it's yet unclear whether this is a common strategy or if it only occurs on Pinzón.
These are just some examples of the restoration of Pinzón's natural ecological processes. Going forward, we will continue to breed Pinzón Giant Tortoises and repatriate them to the island soon after birth, and we'll monitor the population's continued recovery over time. I hope to be lucky enough to return many more times to watch the populations of both animals and plants bounce back after 100 years of rat predation.
Washington "Wacho" Tapia
Director of Conservation
Galápagos Conservancy
—
Wacho Tapia, Galápagos Conservancy's Director of Conservation, is a Galápagos native and reptile expert with decades of experience studying, exploring, and protecting the Galápagos Archipelago and its incredible wildlife. His work on Pinzón Island is just one of the many projects currently underway as part of our ongoing partnership with the Galápagos National Park Directorate: Iniciativa Galápagos.
The Latest Conservation News from Galápagos