Data Shows Remarkable Recovery of Pinzón Giant Tortoises
[Versión en español abajo]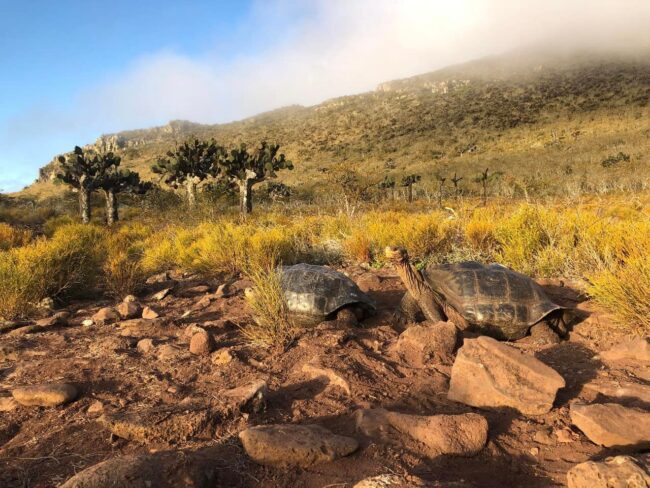 Scientists estimate population of 975-1,100; Population growing for first time in more than 100 years
Results from a joint expedition between Galápagos Conservancy and the Galápagos National Park Directorate – part of the Iniciativa Galápagos (formerly the Giant Tortoise Restoration Initiative) program – reveal a remarkable recovery of the Pinzón Giant Tortoise (Chelonoidis duncanensis). A team of 24 scientists and park rangers carried out the 10-day census in December 2021, nearly a decade after the eradication of black rats (Rattus rattus), an introduced species that, for more than a century, preyed on juvenile and hatchling tortoises.
The team also collected information on the state of Pinzon's ecosystems. Wacho Tapia, Director of Conservation at Galápagos Conservancy and leader of the expedition, indicated that the recovery of the Pinzón Giant Tortoise population has already begun to have a positive cascade effect on the overall health of the native plants and wildlife on the island.
Based on the data collected on the expedition, Galápagos Conservancy estimates that Pinzón's Giant Tortoise population is between 975 and 1,100. More importantly, the team located 156 juvenile tortoises between 5 and 10 years old, all born after the eradication of rats. This means that, for the first time in more than a century, the Pinzón Giant Tortoise population is growing.

Despite these encouraging results, the population is not yet self-sustaining. Recovery of the Pinzón tortoise population to its historical numbers can only be accomplished through the continuation of the captive rearing program, in which tortoise eggs are collected and taken to the Fausto Llerena Giant Tortoise Breeding and Rearing Center. There, they are hatched and cared for until they reach the necessary age for survival in the wild, approximately between five or six years old.
For Galápagos Conservancy, it is gratifying to see the recovery of Giant Tortoises on Pinzón Island, but their return is also encouraging for the future of the island's ecosystem as a whole. According to Tapia, "The Pinzón ecosystem has recovered and offers better conditions for the survival of endemic flora and fauna, as a result of which we have observed a greater presence of animals such as Sparrowhawks, Galápagos Rails, Finches, and lizards; as well as plants, especially tree species such as Yellow Cordia (Muyuyo), Carob tree, and Cat's Claw."
Evidencias muestran notable recuperación de la población de tortugas gigantes en la isla Pinzón
ÚLTIMA HORA: Se evidencia una notable recuperación de la población de tortugas gigantes de la especie Chelonoidis duncanensis en la isla Pinzón, el último censo de esta especie endémica de Galápagos estimó entre 975 y 1100 individuos que habitan en la isla.
Como parte de la Iniciativa Galápagos, liderada por Galápagos Conservancy y la Dirección del Parque Nacional Galápagos, un equipo de 24 personas, entre científicos y guardaparques, realizó un censo de tortugas en la isla Pinzón, recorrieron la isla para evaluar el estado poblacional de los quelonios, tras casi una década después de la erradicación de las ratas negras (Rattus rattus), especie invasora que en su momento fue la principal amenaza para las tortugas de esa isla.
La expedición se realizó en diciembre de 2021, durante 10 días el equipo evaluó el estado de las tortugas gigantes y levantó información sobre el estado del ecosistema en general, Wacho Tapia, Director de Conservación de Galápagos Conservancy y líder de la expedición, indicó que la recuperación de esta especie es un logro importante para la conservación, pues demuestra que acciones oportunas y conjuntas contribuyen a la restauración de las especies y sus ecosistemas.
Según los datos colectados, Pinzón contaría con una población estimada de entre 975 y 1100 tortugas duncanensis habitando la isla. Pero quizás lo más importante es que el equipo localizó 156 tortugas juveniles de entre 5 y 10 años de edad, nacidas después de la erradicación de las ratas y que han logrado sobrevivir en estado natural, lo cual no había ocurrido en más de un siglo.
El Director del Parque Nacional Galápagos, Ing. Danny Rueda, señaló que la erradicación de especies invasoras es una de las principales acciones que se debe implementar en los procesos de restauración ecológica, "luego de una década de haber conseguido este objetivo en la isla Pinzón, podemos confirmar que la población de tortugas gigantes se está recuperando satisfactoriamente", dijo Rueda.
Pese a estos alentadores resultados, a fin de garantizar una total recuperación de la población de la tortuga de Pinzón, los expertos de Galápagos Conservancy recomiendan mantener el proceso de recolección de huevos de esta especie para llevarlos al centro de crianza "Fausto Llerena", de la isla Santa Cruz, para incubarlos y mantener las crías hasta la edad apropiada para su regreso a la isla de origen, aproximadamente entre cinco y seis años.
Para Galápagos Conservancy es grato constatar la recuperación de las tortugas gigantes en la isla Pinzón, pero también el futuro es alentador para el ecosistema de la isla en general, nuestro Director de Conservación, Wacho Tapia señaló que "en general el ecosistema de Pinzón se ha recuperado y ofrece mejores condiciones para la supervivencia de la flora y fauna endémicas, producto de lo cual observamos mayor presencia de animales como gavilanes, pachay, pinzones y lagartijas; así como plantas, especialmente especies arbóreas como muyuyo, algarrobo y uña de gato".
The Latest Conservation News from Galápagos