Protecting Endemic Galápagos Plant Species Through Community Gardens
//Versión en español abajo.//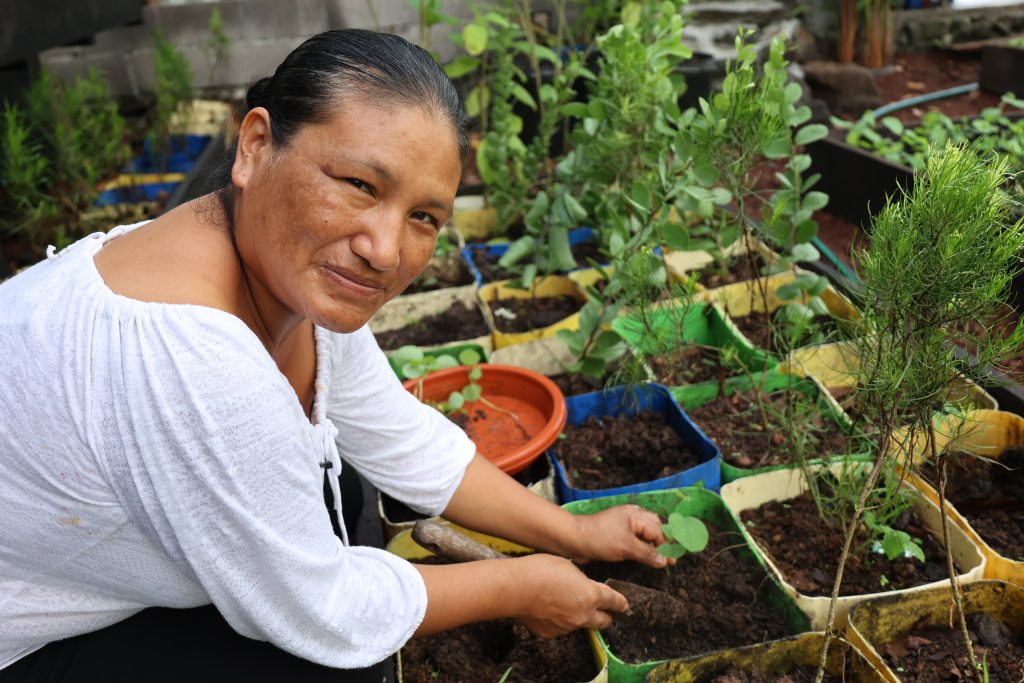 The Gálapagos Archipelago is renowned throughout the world for its extraordinary biodiversity, much of which is found nowhere else in the world. The preservation of this important natural heritage calls for ongoing work, and island residents' involvement is essential to the Archipelago's sustainability. Galápagos Conservancy supports community-based environmental projects in the Galápagos Islands and places a strong emphasis on enhancing the capacity and conservation actions of local Galapagueños.
A good example of one of these initiatives is the Jadines Botánicos (Botanical Gardens) project run by Galápagos local Mirian Silva, which helps to preserve native and endemic plants on Santa Cruz Island. Mirian claims that her love of plants has been a constant since she was a young child, and she wants to help preserve the Galápagos Islands' native flora.
"I love the Galápagos fauna, and I hope that more and more people are inspired to have a native garden at home; plants at home not only serve as decoration, but they also clean the air and control humidity. It's true that they release carbon dioxide at night, but the rest of the day they give off fresh oxygen," said Mirian. 
Delivering native and endemic plants to Santa Cruz Island schools is another aspect of Mirian's project. "I want to contribute to preserving the iconic species of flora of Galápagos, such as matazarno, scalesia, miconia, orchids, and mangroves. We reforest them in green areas of local schools and colleges and thus contribute to the protection of unique plants in the world," she said.
Galápagos Conservancy is proud to support this native plant propagation and environmental education project through our Women in Sustainable Entrepreneurship (WISE) program.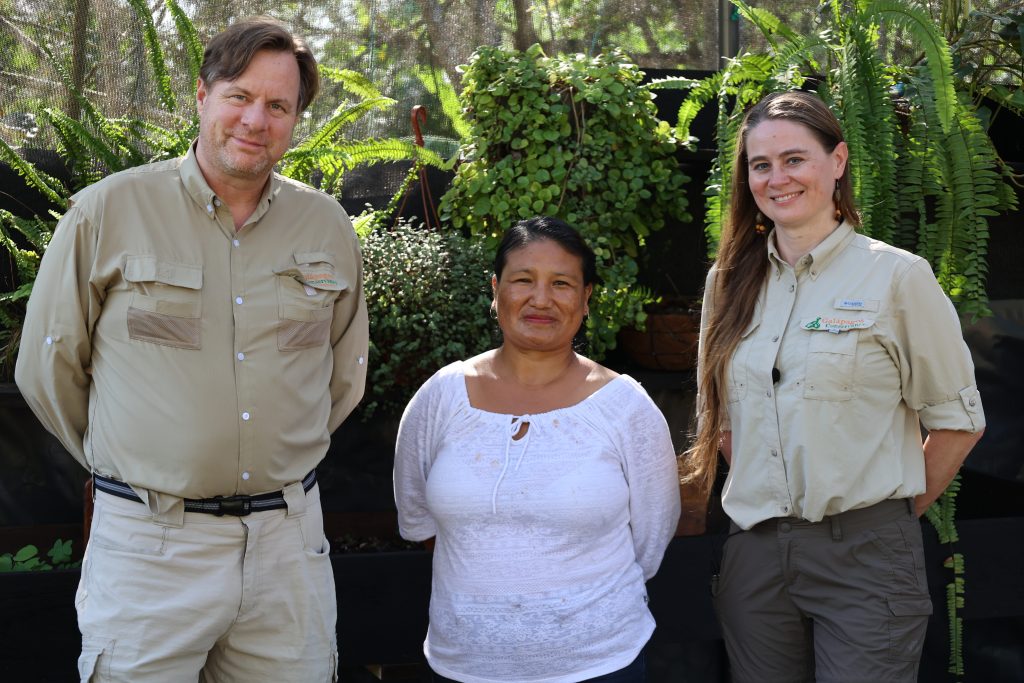 Jardines botánicos para proteger especies vegetales endémicas de Galápagos
El archipiélago de Galápagos es reconocido a nivel mundial por su extraordinaria biodiversidad, gran parte de la cual no se encuentra en ningún otro lugar del mundo. Cuidar de este Patrimonio Natural demanda esfuerzos permanentes, por eso, la participación de quienes residen en las islas es fundamental para alcanzar la sostenibilidad del Archipiélago, pues sus acciones y hábitos son vitales para el bienestar social y cuidado del ambiente.
En este sentido, Galápagos Conservancy se enfoca en promover y fortalecer las capacidades y acciones de los residentes de Galápagos y financia emprendimientos locales que contribuyan al cuidado de su entorno.
Una de estas iniciativas es el proyecto Jardines Botánicos implementado por la galapagueña Mirian Silva, que contribuye a la preservación de plantas nativas y endémicas en la isla Santa Cruz. Mirian asegura que desde niña su pasión han sido las plantas y quiere aportar al conservación de la flora de su tierra, las Galápagos.
"Amo las plantas de Galápagos y aspiro a que cada vez haya más personas que se animen a tener un jardín nativo en su hogar, las plantas en casa no solo sirven de adorno, estas limpian el ambiente y regulan la humedad, es verdad que expulsan dióxido de carbono por la noche, pero el resto del día aportan oxígeno fresco", dijo Mirian.
Su proyecto también incluye la entrega de plantas nativas y endémicas a los planteles educativos de la isla Santa Cruz, "quiero contribuir a preservar las especies icónicas de flora de Galápagos, como matazarno, scalesia, miconia, orquídeas, mangles, entre otras plantas; las reforestamos en áreas verdes de escuelas y colegios locales y así contribuimos a la protección de plantas únicas en el mundo", señaló Mirian.
Galapagos Conservancy se complace en apoyar este tipo de proyectos y lo hace posible a través del programa de Subvenciones para Acciones de Conservación con fondos competitivos para propuestas de investigación, conservación e iniciativas que contribuyan a la sostenibilidad de las islas Galápagos.
The Latest Conservation News from Galápagos