Entrepreneur Revives Traditional Foods With Eco-Friendly Focus
Date: December 7th, 2022.
//Versión en español abajo.//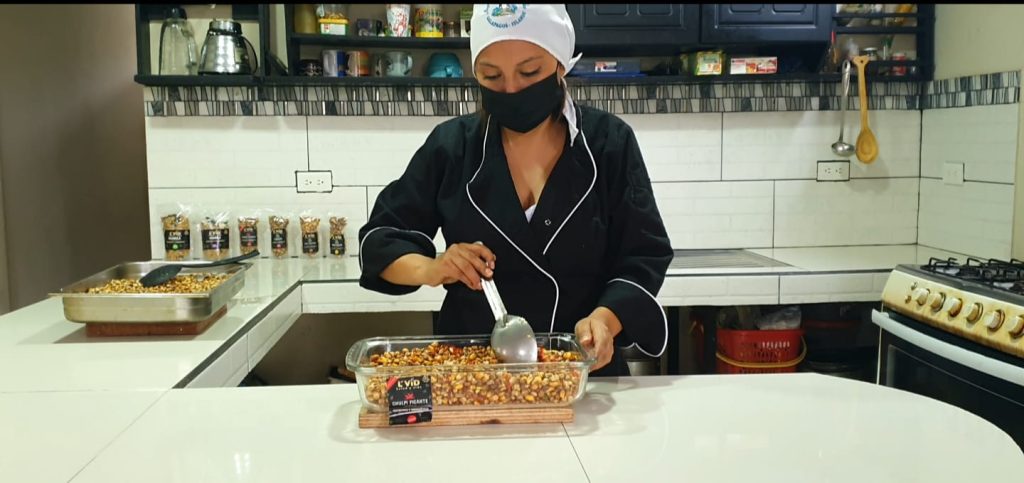 When the pandemic abruptly halted tourism, the primary source of local income, many Galapagueños had to find alternative employment. Tania Quisingo, a Santa Cruz Islander, turned crisis into opportunity when she started her family business of healthy snacks called "Le Vid."
Tania began by selling granola, chocolate, and chulpi (fried corn snack) to family, friends, and neighbors. Her mission to rescue traditional foods in Galápagos and Ecuador found a market, ultimately leading to her being awarded a Conservation Action Grant by Galápagos Conservancy.
Tania recently joined our program, "Conexión Galápagos", to share her story. She talked about how a number of ancestral foods, such as chulpi, are disappearing. Chulpi is a small-grain corn rich in vitamins and minerals that provide numerous health benefits. Tania wanted to promote consumption of this highly-nutritious food, and chulpi is now Le Vid's star product.
The corn used to produce chulpi can also produce a wide range of snacks and gourmet products. Tania and her family make classic and spicy chulpi, as well as classic and sweet corn nuts, traditional granola, and granola mix.
"We are also focusing on creating healthy foods that are free of preservatives and artificial flavorings, and that provide the nutrients needed for a balanced diet and a healthy lifestyle, without sacrificing environmental responsibility," Tania said. With the support of Galápagos Conservancy, this enterprising family will introduce environmentally-friendly packaging for all Le Vid products in order to reduce plastic pollution on the island.
We are delighted to help local residents like Tania adopt sustainable practices in Galápagos. Working together, we can protect the archipelago's unique biodiversity for future generations.
Help us support local conservation efforts like Tania's.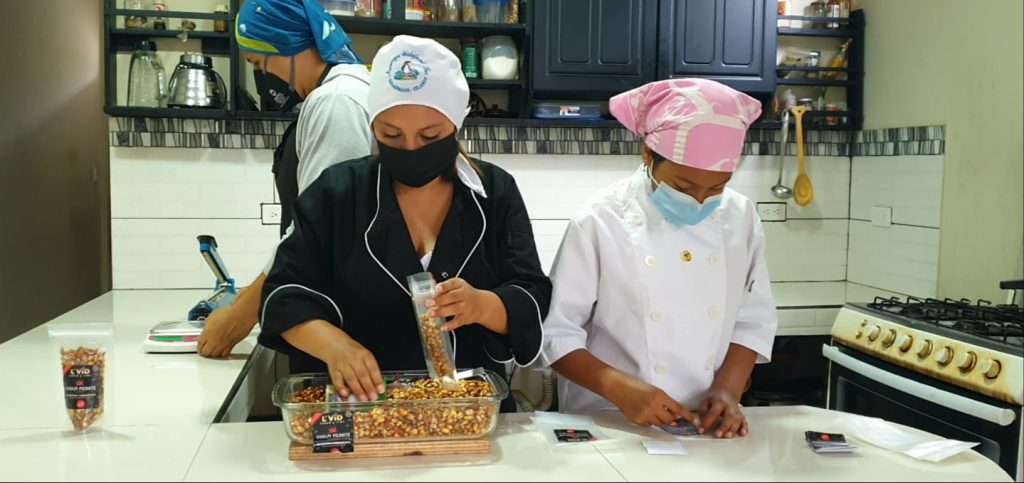 Emprendimiento para rescatar raíces alimentarias con enfoque ambiental
La pandemia de la Covid-19 empujó a muchos galapagueños a emprender alternativas laborales para hacer frente a la crisis económica que resultó de la paralización de las actividades turísticas que son la fuente de ingresos más importante para la economía local. Así nació el emprendimiento de producción de snacks saludables "Le Vid", el cual es un proyecto familiar de Tania Quisingo, quien reside en la isla Santa Cruz. 
Tania inició vendiendo granola, chochos y mote a los vecinos, familiares y conocidos. Sin embargo, de a poco fue ampliando su mercado y posteriormente fue seleccionada como beneficiaria de las  subvenciones de conservación de Galápagos Conservancy con un proyecto para rescatar las raíces alimentarias ancestrales de Galápagos y el Ecuador.
Actualmente, su producto estrella es el chulpi, una variedad de maíz de grano pequeño, que contiene grandes cantidades de vitaminas y minerales como vitamina B, magnesio, hierro y fósforo que aportan muchos beneficios a nuestra dieta diaria. 
En un diálogo en nuestro radioshow informativo "Conexión Galápagos", Tania dijo que muchos productos ancestrales, como el chulpi, están desapareciendo y que son poco conocidos, y que además por su alto valor nutricional se decidió a fomentar el consumo de este grano. "También estamos enfocados en la línea de alimentos saludables, libres de preservantes y saborizantes artificiales y que aporten los nutrientes necesarios para una dieta balanceada y un estilo de vida saludable, sin dejar de lado la responsabilidad en el cuidado del ambiente", señaló.
El chulpi es una opción de diversificación de la producción de maíz, esta materia prima permite elaborar alimentos nutritivos para el consumidor final, se lo puede consumir como grano tostado, o elaborar productos tipo snack o gourmet. Tania y su familia elaboran chulpi clásico y picante, pero además producen tostado clásico, tostado dulce, granola clásica y granola mix.
Con el apoyo de Galápagos Conservancy, esta familia emprendedora implementará además empaques amigables con el ambiente para todos sus productos, con el propósito de reducir la contaminación por plásticos en la isla.
Las iniciativas y emprendimientos de los residentes de Galápagos que contribuyen de forma directa o indirecta al cuidado de los ecosistemas del Archipiélago son necesarias, pues el cuidado del ambiente es tarea de todos y, trabajando juntos, podemos asegurar la conservación de nuestro archipiélago y su biodiversidad única.
The Latest Conservation News from Galápagos