BREAKING: Wolf Volcano Erupts During Galápagos Conservancy-Galápagos National Park Directorate Expedition; All Team Members Safely Airlifted
Santa Cruz, Galápagos, January 7, 2022 – Early this morning, Wolf Volcano on Isabela Island erupted without warning. A joint team of conservation scientists — including Galápagos Conservancy's Conservation Manager Dr. Jorge Carrión and Galápagos National Park Rangers — were stationed on the rim of the volcano at the time of the eruption as part of an expedition to study and protect the critically endangered Pink Land Iguana.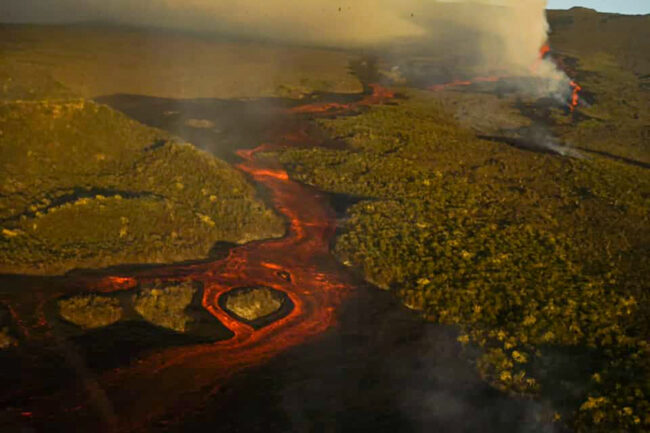 Fortunately, the conservation team's field camp was located a safe distance from where the eruption occurred. Though they were in no imminent danger, the group was airlifted from the volcano by a helicopter launched from the yacht "Octopus." We are grateful to the Galápagos National Park Directorate for their quick and decisive action to secure the safety of the field team and to the owner and crew of the Octopus.
We are relieved to report that the entire team is now safely away from the volcano. This serves as a reminder of the risks of working in remote volcanic environments, and of the dedication that our scientists and the Galápagos National Park Rangers show in the face of these often hazardous conditions.
At this point, our scientists believe that the habitat of the Pink Land Iguana remains unaffected by the volcanic activity, and as of now no additional actions are needed to protect this species. However, we will not be able to confirm this hope until we can safely conduct return expeditions to Wolf to fully assess the impacts of the eruption.
The entire Galápagos Archipelago has been formed by volcanic activity. This same activity continues to mold the islands to this day, and adds complexity and risk to our essential conservation work. We are so grateful that no members of our team were harmed by this incredible natural phenomenon, and that this eruption is far from any tourism locations so presents no impact or risks to visiting Galapagos.
The Latest Conservation News from Galápagos