BREAKING: Ship found Trafficking Galápagos Wildlife Seized by Ecuadorian Navy
// Versión en español abajo //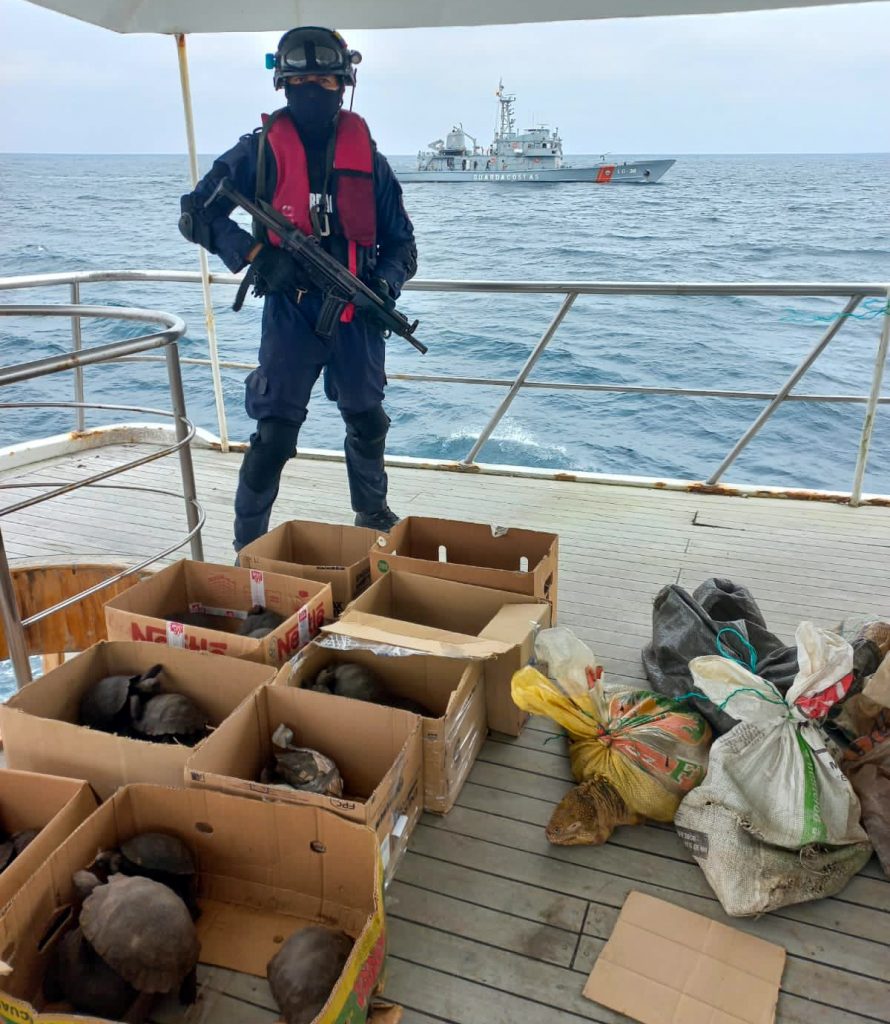 6/25/2022
Galápagos Conservancy fiercely condemns the trafficking of species endemic to the Galápagos Islands. The Giant Tortoises and Land Iguanas native to this archipelago are globally unique species that are subject to different degrees of threat, so each individual removed from a population significantly affects the conservation of the species.
That is why Galápagos Conservancy — in response to the capture of the Xavier III tourist vessel by the Ecuadorian Navy which was illegally transporting Giant Tortoises and Galápagos Land Iguanas — congratulates the maritime authority for this capture and strongly condemns any activity related to wildlife trafficking.
In addition — through Iniciativa Galápagos and as part of Galápagos Conservancy's efforts to support the conservation and restoration of Giant Tortoises, Iguanas, and other species endemic to the Archipelago — will offer the Galápagos National Park Directorate the support necessary for these animals' safe transport back to the Archipelago, each individual's necessary quarantine process, and their subsequent return to their respective islands of origin.
ÚLTIMA HORA: Armada del Ecuador capturó barco en el que se intentaba traficar especies de Galápagos
Galápagos Conservancy condena tácitamente el tráfico de especies endémicas de las islas Galápagos. Las tortugas gigantes e iguanas terrestres de este archipiélago son especies únicas en el mundo y son objeto de diferentes grados de amenaza, por lo que cada individuo que se extraiga de una población afecta significativamente a la conservación de la especie.
Es por esto que Galápagos Conservancy, ante la captura por parte de la Armada del Ecuador de la embarcación de turismo Xavier III, que transportaba tortugas gigantes e iguanas terrestres de Galápagos, felicita a la autoridad marítima por esta captura y condena enérgicamente cualquier actividad relacionada con el tráfico de especies.
Además, como parte de sus actividades de apoyo a la conservación y restauración de las tortugas gigantes, iguanas y otras especies propias del archipiélago, a través del programa Iniciativa Galápagos, ofrecerá a la Dirección del Parque Nacional Galápagos el apoyo que sea necesario tanto para el retorno de los especímenes decomisados al archipiélago, así como para el proceso de cuarentena respectivo y su posterior reinserción a sus islas de origen.
The Latest Conservation News from Galápagos