BREAKING: 185 Baby Galápagos Tortoises Seized from Illegal Traffickers
March 28, 2021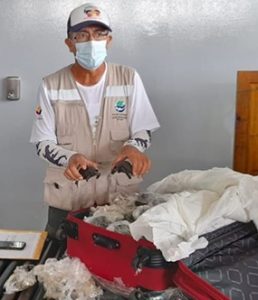 On the afternoon of Sunday, March 28, Galápagos National Park staff discovered 185 Critically Endangered tortoise hatchlings inside a suitcase bound for mainland Ecuador during a routine luggage inspection at Seymour Airport on Baltra Island. The tortoises were individually wrapped in plastic to limit their movement and subsequent detection, and at least 10 of the tortoises had died in the suitcase when they were discovered. Most of the young tortoises are estimated to be between one-six months of age, with some appearing to be newly hatched.
Galápagos Conservancy's Director of Conservation, Wacho Tapia, believes that the tortoises were removed from tortoise nests on Santa Cruz Island. "The young tortoises were found in terrible condition and appear to be extremely underweight. We are in the process of collecting important data, including size and weight, for each tortoise to better assess its health condition," said Tapia in a statement.
The surviving tortoise hatchlings have been placed in secure pens at the Giant Tortoise Breeding and Rearing Center on Santa Cruz Island that is managed by the Galápagos National Park Directorate (GNPD) and Galápagos Conservancy, where they will be cared for under the close supervision of Park veterinarians and guards.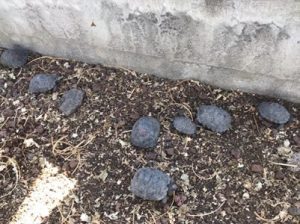 Dr. James Gibbs, Vice President of Science and Conservation at Galápagos Conservancy, noted that the Galápagos National Park and Ecuadorian authorities have been working diligently to prevent the illegal trafficking of Critically Endangered giant tortoises. While the pandemic has exacerbated the challenges, we congratulate Park staff for discovering the 185 hatchlings. Galápagos Conservancy scientists have inspected the hatchlings and are assisting in the care of the surviving babies, along with the Park team.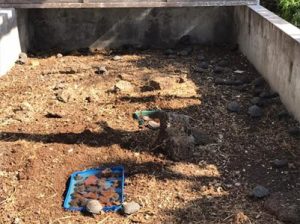 Galápagos Conservancy, which has been supporting the Park for more than three decades, is working closely with authorities to devise strategic tactics to increase security and monitoring efforts around the natural tortoise nesting sites across Galápagos — to prevent further trafficking attempts.
Many species of Galápagos giant tortoises are highly endangered due to past exploitation, with a current population size of only 10-15% of its historical number. A total of 15 Galápagos giant tortoise species are endemic to the archipelago, of which six are Critically Endangered (including the Santa Cruz tortoise species), and three are Extinct.
Galápagos Conservancy and the Galápagos National Park have collaborated closely on the Giant Tortoise Restoration Initiative for the past decade to "rewild" populations of giant tortoises to their historical numbers and distribution across the Galápagos Archipelago.
Watch this space for important updates on this story.
Photo credits: Airport discovery © GNPD; tortoise corrals © W. Tapia
The Latest Conservation News from Galápagos